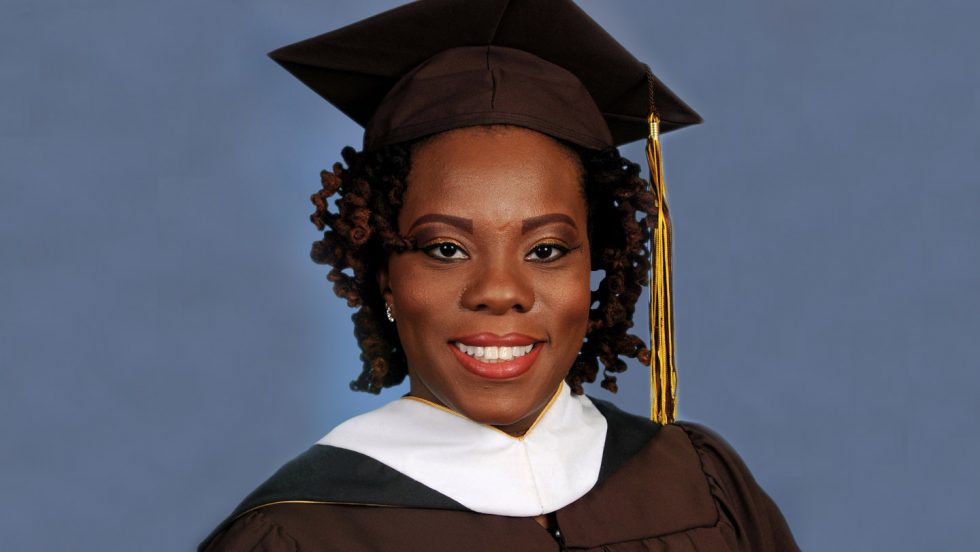 Five adult learners have been inducted into the Alpha Sigma Lambda National Honor Society in recognition of their GPAs of 3.7 and higher, including working mother Janel Smith.
In 2018, Janel Smith, now 33, a paraprofessional at PS 235 in Brooklyn and pregnant with her third child, knew she wanted to earn her bachelor's degree to pursue a career in school counseling. But how does a full-time working mother fit in classes?
Smith enrolled in Adelphi's College of Professional and Continuing Studies (CPCS) Social Science program. Taking the majority of courses online allowed her the flexibility to work, graduate with a BA in Social Science in December 2020, and take care of her children, now ages 12, 8, 2 and five months.
"I definitely needed something where I can take my classes online and still have time to do everything else that life throws at you," Smith said. "And to my surprise, I was able to not only complete my degree, but I aced all of my classes."
As a result, Smith is among Adelphi's Alpha Sigma Lambda national adult honor society inductees, along with 2021 graduates Garfield Forbes, Amy Hasbrouck, Erin Kastner and Andrew S. Marcus.
Honoring Adult Learners
The goal of Alpha Sigma Lambda (ASL) is to recognize the special achievements of adults who accomplish academic excellence while facing competing interests at home and work. It's not an honor society that students apply for; it's one they're chosen to be part of. Each honoree has a 3.7 GPA or higher.
"CPCS has been involved with the Alpha Sigma Lambda Honor Society for a few years and together we want to acknowledge and recognize adult students who are excelling academically," said Sandra Castro, PhD, assistant dean of undergraduate programs. "We are thrilled that this honor society exists to support adult students completing their bachelor's degrees and we want to continue to collaborate with ASL and other higher educational institutional partners in order to uplift nontraditional adult students."
Smith said she is honored by the recognition. "It was definitely a very proud moment not only for me, but for my children, to see that Mom worked hard and she was inducted into this honor society," she said. "It just shows them that nothing is impossible. Now my 12-year-old is competing to see if he can earn more A's than me."
Flexible Courses, Understanding Professors
Smith plans to start a master's degree program next year. She credits her CPCS professors with helping her get through her bachelor's degree.
"The psychology courses that I took with Professor James McGowan were just wonderful. He's so knowledgeable about his field. He made sure that you understood what you were reading and talked about life experiences, personal experiences to make you understand a lot about what we were learning in class," she said. "And Professor Stephanie Lake's class, Minority Groups in America—everything that she taught me throughout that semester I saw happening on a day-to-day, week-by-week basis. Right as I ended her class was when the Black Lives Matter response to George Floyd happened, and I was just like I'm living what I just learned about. It was very emotional."
Smith recommends CPCS programs to other adult learners. "I would advise anyone looking to go back to school and complete their degree to look into Adelphi University because of how flexible it is, how understanding the professors are."