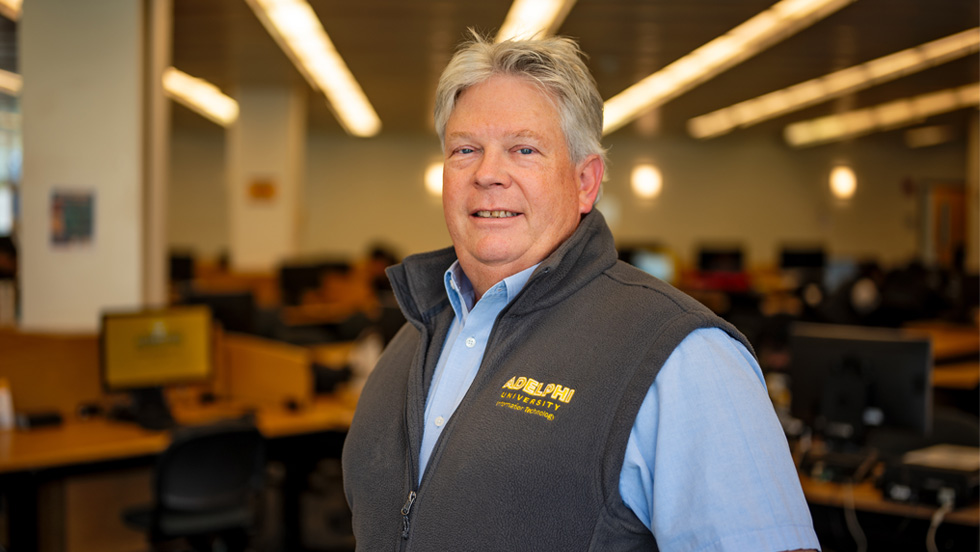 Flexible scheduling and supportive faculty enables IT professional Charlie Kulins to balance school with work, family and volunteering.
When Charlie Kulins joined Adelphi in 2010 as manager of customer experience in the Office of Information Technology (IT), he had years of work experience but no bachelor's degree. He decided to enroll in classes through Adelphi's College of Professional and Continuing Studies (CPCS). He was soon joined by his three children—Sara '15, Marc '19 and John '21—and his wife, Cathy, who came to Adelphi for her Bachelor of Science in Nursing, which she received in August 2023 in the RN to BSN program.
Getting that bachelor's degree is taking a little longer for Charlie Kulins. He puts in long hours at his full-time job managing employees and running the IT Help Desk, work that earned him a 2022 President's Award for Excellence. He's also active in community service, volunteering for scouting and his church. But he hasn't given up and the finish line is in sight—he anticipates graduating in 2024.
We spoke with Kulins about what it's like to attend college as a nontraditional student, how CPCS accommodates students like him, and the value of lifelong learning.
What are some ways that CPCS accommodates nontraditional students?
Having the classes available evenings and weekends. And I think the professors understand that you have other types of responsibilities. [The professors] generally are a little more lenient on due dates. The material still has to be completed and submitted, but I've had times when I've been absent due to travel or had family illnesses, and most of my professors have been accommodating. I think sometimes they're a little more accommodating for the adult learner.
I was taking a CPCS summer class, with all adult learners, called Love and Money in Film. Summer classes are so condensed, and I was going to be in New Zealand for two weeks to visit my daughter Sara. So I called the professor and said, "I'm going to be away. Can you give me a preview of what the class is going to do?" He gave me the first three weeks' worth of assignments and said, "Get to it when you can." I watched the films from New Zealand with my family, one night in Sara's house on her flat-screen and one night in our camper van on my laptop.
How have you used your previous knowledge and life experience to your advantage when encountering obstacles?
Because of my career, I don't have any problems with technology. I usually end up being the one telling everyone else how it works. I have different viewpoints that don't always match with those of the current generation of traditional students. I'm often helping others with organization. Most of the challenges come from classes that have team projects. It's just a different dynamic—here's this old guy in the class with a bunch of 19-, 20-year-olds. It's hard not to take over [in team projects]. Those types of gaps are the differences in the way an adult learner looks at things versus a traditional college student.
Do you think the classes you take work better in an online or in-person setting?
A lot of adult learners want everything online. But you have to use that in-person aspect. I remember Jim McGowan's classes vividly — he teaches psychology. Jim had a certain presentation style and the class was all adult learners with day jobs. I still keep in touch with some of my classmates. It's nice to establish that relationship, and I don't think you get that in online classes … [even so], the online CPCS classes, from an academic standpoint, are very effective. You get the material, and the asynchronous classes usually allow you to work as fast as you want to.
As an adult learner, how do you think that continuing education has enriched your life and helped your career?
When I first started working here, I really didn't know anything about higher ed, and my job position requires that knowledge. Working here, you learn part of it, but putting yourself in the other person's shoes, so to speak, is the key. Our department supports students, staff, faculty, everybody, so seeing the support from the other side adds a totally new dynamic to my job function.