Adelphi remembers the life of alumnus Mark Leighton Bowen '09.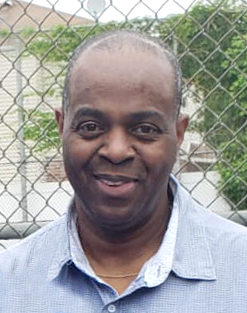 Mark Leighton Bowen '09, a Bachelor of Science in Nursing graduate, was the embodiment of a nurse who put his patients before himself and made the ultimate sacrifice for them.
Bowen worked as a registered nurse, nursing supervisor and preceptor at a residential care facility. He continued to actively work on the front line during the pandemic and lost his life due to complications related to COVID-19 on April 2.
According to his wife and fellow 2009 nursing graduate, Claudia Nicole Ricketts-Bowen, "His objective when caring for the elderly was to aid them in restoring their health and reclaiming their dignity and self-worth in [the eyes of] their families. He believed that the elderly have a tremendous reservoir of knowledge and stories we can learn from."
A graduate of Adelphi's RN to BSN program, Bowen had returned to continue his studies and was to graduate in December with a master's degree in nursing education.
The December 2020 MS in Nursing Education cohort—along with his family, friends and the entire College of Nursing and Public Health—is remembering their classmate with a fund to benefit students pursuing a master's degree in nursing education.
"We want his legacy to embody the spirit of humanity, leadership, integrity and dedication to nursing and the geriatric population," Ricketts-Bowen said.
The Mark Leighton Bowen Nursing Education Scholarship will be awarded to undergraduate or graduate nursing students in financial need who demonstrate academic excellence and embody Bowen's passion, integrity, commitment and tenacity.