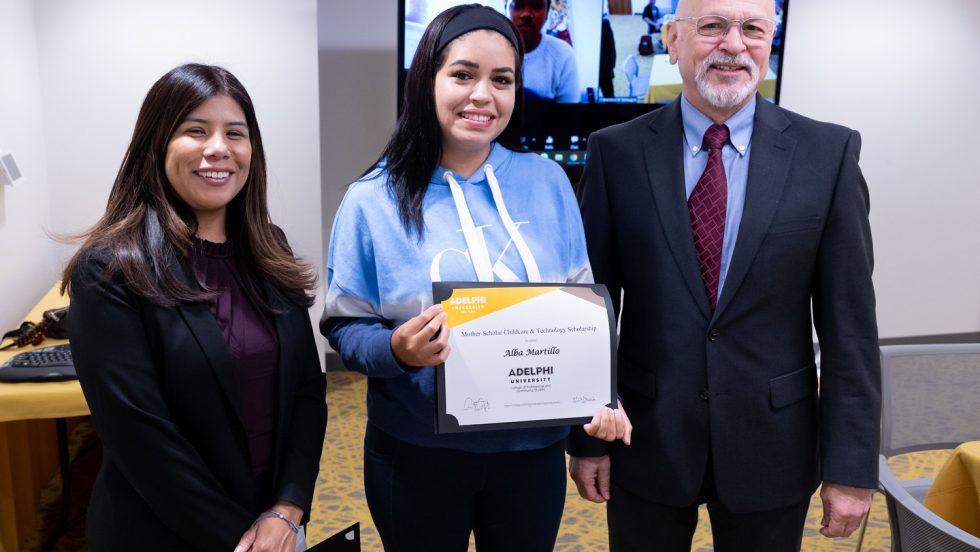 The CPCS Mother-Scholar Childcare and Technology Award provides five scholar-mothers with the support they need to complete their degrees.
Many women face financial difficulties and family responsibilities that cause them to stop out of college. Adelphi's College of Professional and Continuing Studies (CPCS) has granted CPCS Mother-Scholar Childcare and Technology Awards to five student-mothers. The scholarships provide the student mothers with $1,000 each to be applied toward childcare, course materials and technology expenses to help them complete their degrees.
This year, the five recipients were honored on September 27 at a special event attended by 18 guests.
The scholarships were funded by Adelphi's Women's Giving Circle (WGC). "Supporting CPCS students aligns with our mission, which is to celebrate, promote and support the University, its students, faculty and programs," said Mary Byrne, director of the Adelphi Fund.
"The CPCS mother-scholar scholarships bring the Women's Giving Circle mission to fruition in our effort to create an equitable experience for mother-scholars by helping to alleviate the historical burden that mothers have had to carry when they return to school," said CPCS Associate Dean Sandra Castro, PhD.
Returning to School for Their Children
Award recipient Alba Martillo, who was motivated to return to school to "be a role model for my child," said these scholarships show that "professors, advisers and deans are looking into the students' efforts."
Enid Johnson hopes to earn her BA in social science with a specialization in psychology by Summer 2023. She, too, said that her son has been her greatest motivation and that "this scholarship has given me more confidence to pursue school again, all while raising a small son, caring for an elderly parent and working full time."
Nursing major Savitri Marsh decided to return to school because her son was born with a congenital heart disease. "Being a nurse helps me to truly advocate for him," she explained. She greatly appreciates the award's help with such supplies as books, computer repairs and updates.
Honoring Scholar-Mothers
The September 27 event was attended by three of the five awardees, and one who lives in Philadelphia joined via Zoom. "One brought her two children, and another brought her young son and two of her co-workers from the ER at Good Samaritan Hospital, where she works," Dr. Castro recalled.
Janel Smith '20, who earned a BA in social science from CPCS, was a special guest speaker. "She gave an inspiring and motivational speech congratulating the award recipients while also sharing her own experience," said Dr. Castro.
Smith, a mother of four, is currently pursuing a master's degree in school counseling while working full time. She spoke about the support she had received from professors and advisers while finishing her undergraduate degree and emphasized the importance of self-care for mothers to prioritize time off for themselves whenever possible.
Jacqueline Jones LaMon, JD, vice president, and Chotsani Williams West, MA '07, executive director, from Adelphi's Office of Diversity, Equity, Inclusion and Belonging, were also on hand to congratulate the awardees. Erin Gayron, senior director of planning and major giving, represented the Women's Giving Circle and offered words of encouragement to the scholarship recipients.
"Overall, it was a special time to come together to celebrate their unseen work as mothers and students. It was a recognition of all they have to balance just to be able to study and succeed in their programs," Dr. Castro said. "We emphasized the fact that the College of Professional and Continuing Studies was designed for students like them and that we are here to support them from the time that they start until graduation. This award recognizes their continuous efforts towards successfully completing their degrees."