Dear Adelphi Community Members,
I am pleased to bring you news that while most of our University will be closed from Christmas to New Years, we have made arrangements to offer Panther Express shuttle service from Saturday, December 26 through Thursday, December 31. During this time, service will begin at 9:00 a.m. and conclude at 6:00 p.m. 
The Panther Express shuttle schedule is available on the AU2GO mobile app and on the Public Safety & Transportation web page.
All COVID-19 safety protocols will continue to apply.
Regular shuttle service will resume Saturday, January 2, 2021.
Remember, Adelphi Public Safety is here for you 24 hours a day, 7 days a week, 365 days a year and our service to the Adelphi community goes much farther than patrolling and responding to emergencies. We can escort you back to your residence hall late at night, offer help if you have car troubles on campus, answer your questions about safety and security, and help you get around the local area safely on our shuttles.
If you have any questions or concerns, don't hesitate to call the Public Safety Command Center at 516.877.3511. 
Working together as a community, we will continue to ensure a safe environment for everyone at Adelphi University.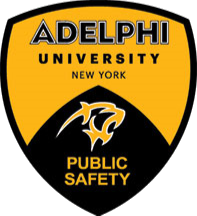 Pride – Professionalism – Service