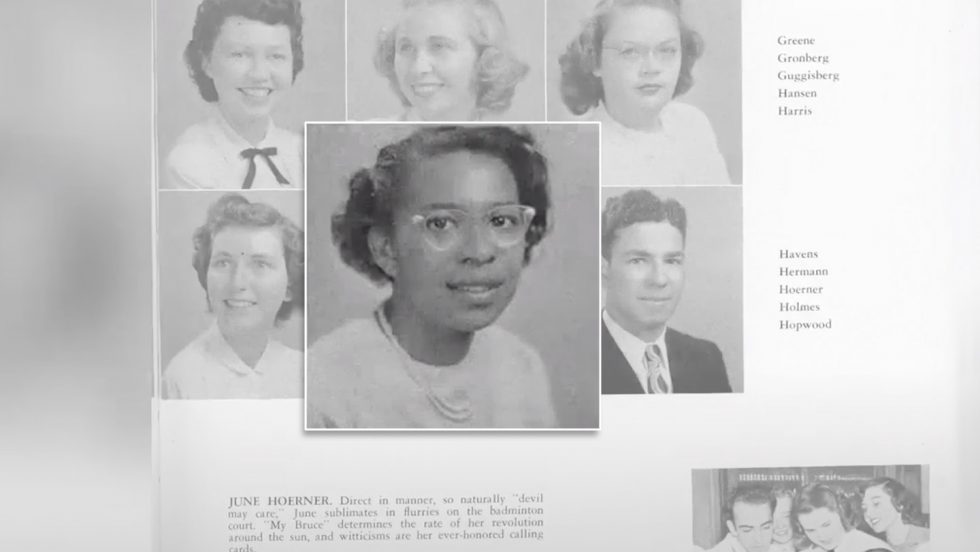 For Adelphi University, the civil rights movement began not in the 1960s but in the '40s—in 1945, when Helen Holmes Taylor enrolled as the University's first undergraduate student of color.
Were it not for her family's longtime friendship with Paul Dawson Eddy, LLD, Holmes Taylor's story would not have become intertwined with Adelphi's… and she likely would not have pursued a nursing career.
And three College of Nursing and Public Health students would not have received the scholarship named in her honor.
A Garden City native, she was admitted to Adelphi only through the assistance of Dr. Eddy, its then-new president—thanks to his prior ties to her family. He was an NYU professor when he first came to know the Holmes family since they lived in the same Garden City apartment building—her father was the superintendent—before the family moved to Hempstead.
When Holmes Taylor was a high school senior, Dr. Eddy suggested she could become a nurse if she joined the new United States Cadet Nurse Corps—with tuition, books, room and board all paid by the federal government. She liked the idea—especially since her mother had died a year earlier and "daddy had three girls to worry about."
After her father vetoed his proposal that she attend a nursing school in Manhattan, Dr. Eddy suggested Adelphi. But first Dr. Eddy had to ask the board of trustees and the senior class to approve, since Adelphi didn't admit African American students in 1945. She lived on campus in the dorm building now called Alumnae Hall, where most of the fellow nursing students shunned her.
Holmes Taylor recalled for Adelphi's Illuminations newsletter article in 2008, "The friends that I had on campus were mostly those who had voted for me to come there. And that was the seniors."
Breaking Ground for African Americans at Adelphi and NYU Medical Center
Adelphi University Board of Trustees member Marc Strachan '81 said, "It is documented that she was the first [African American] to be accepted, matriculate and graduate from the University, and ergo, the School of Nursing. However, it is not widely publicized that she was isolated, had to initially room by herself because she was African American, and no one would room with her. I can't imagine the other injustices and microaggressions she endured during her tenure at the school, and in the world that was Garden City in 1945 to 1949. I admire her fortitude and resilience. I am proud to be her fellow alumnus."
Holmes Taylor overcame those setbacks to achieve a successful career and personal life. Soon after graduation, she took another historic step when she was hired by the NYU Medical Center as a nurse in its pediatrics ward. "She was the first African American nurse employed there," Strachan pointed out. During her eight years there, she rose to staff nurse and then head nurse in the ward's infant section.
She lived at the Harlem YWCA and visited a cousin in Boston on weekends. As she told Illuminations in 2008, a girlfriend who often accompanied her on those trips arranged a blind date for her at a dance following a Harvard-Yale football game. That blind date turned out to be a young Martin Luther King, Jr.
In 1958, Holmes Taylor married Arthur Taylor, a City College grad who at the time worked for Allied Chemical. They lived in Riverdale, New York, and traveled often, including to Spain, Portugal, Ghana and Togo. After her husband died in 1987, she continued working as nursing director of Comprehensive Health Care Center until her retirement at age 65. To be near her sisters, she then returned to her old neighborhood in Hempstead.
The Hempstead of her youth had changed dramatically. "When I grew up in Hempstead, it was a predominantly rural area," she remembered. "The people across the street from us were Polish and they had a farm, and they had cows and chickens and sheep." When she returned, it was a dense, urban center.
A Scholarship Established in Her Honor
Holmes Taylor, who passed away in January 2018, will long be remembered by her alma mater.
Strachan, inspired by Holmes Taylor's courage, established a scholarship in her name in 2017 to help support undergrad students of color.
Hers was one of four scholarships that Strachan and his family launched in concert that year, after he was honored as the Outstanding Alumnus of the Year at the President's Gala. "I wanted to give back to the University in a way that would impact student life in significant, meaningful ways," he explained. "I remember as an undergrad how critical scholarships could be for individuals being able to complete their studies."
Soon thereafter, he added, " I had the pleasure of personally meeting two members of Mrs. Holmes Taylor's family. I believe they were her niece and grandniece. They were invited to the University for a special event announcing the scholarships and honoring her. They were very proud, as was I. A few tears flowed that day."
Adelphi awarded the first Helen Holmes Taylor '49 Scholarship in Nursing recipient in 2018—Georgette Gouenet '19 for 2018–2019. She was followed by Woods Conserve '20 for 2019-2020, said Jodi DiGennaro, director of administrative affairs at the College of Nursing and Public Health.
The scholarship recipient for 2020–2021, Teddy-Ann Miles '21 (anticipated), said, "This scholarship is greatly appreciated and greatly needed. … I am ecstatic to know that my hard work and dedication is noticed. … In Fall 2018, I was forced to take a semester away from school due to financial difficulties. I am proud to say I was able to come back. … My current aspiration is to become a nurse practitioner."
In her thank-you, Gouenet said, "I have the honor to say that I have graduated with my bachelor's in nursing with a GPA of 3.63. … Prior to the scholarship, my GPA was below 3.5 because I needed to work full time in order to cover my expenses. After I received the scholarship, I was able to cut down my hours and focus more on studying." She added, "I completely believe that without the scholarship I wouldn't have graduated with the honor, magna cum laude."
Now, Gouenet said, "I am currently working at NYU Winthrop Hospital as a medical/surgical/oncology nurse and I've applied for my master's degree at Adelphi University."
Watch this video to learn more about Holmes Taylor, the scholarship Strachan established in her name and how you can help.