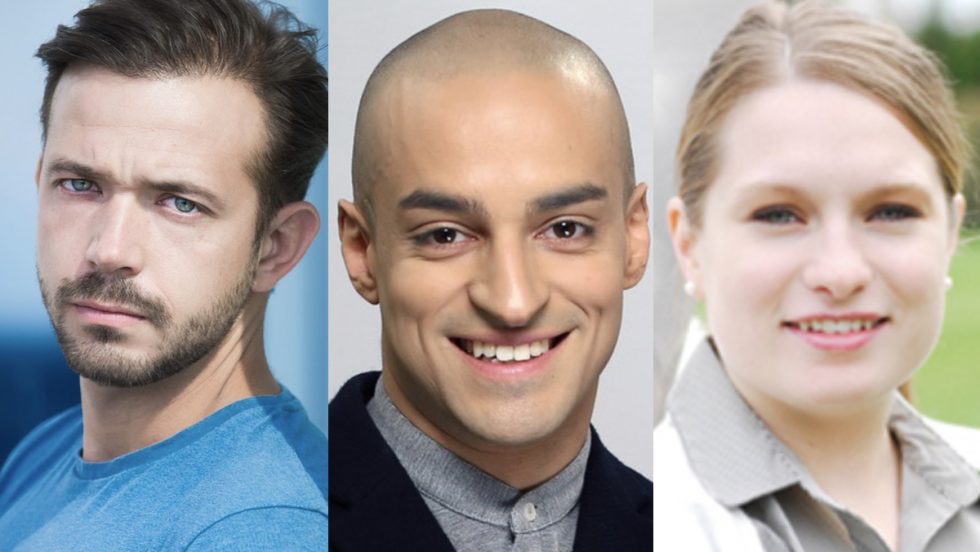 When Russia invaded Ukraine on February 24, 2022, three Adelphi alumni—international students Aleksandar Aleksiev '11, Gabriel Hardy-Françon '14, and Camille Pajor '09, MBA '16—quickly decided they couldn't stay on the sidelines. All three made humanitarian trips to the border—and inside Ukraine—to bring aid and to help refugees escape and get resettled away from the war zone. They all come from different fields. One, Pajor, left her job to dedicate herself to helping those in need.
Aleksandar Aleksiev '11: An Actor and Film Producer Goes Into Action in Real Life
Aleksiev, who has starred in more than 30 movies and TV shows and is a film producer in Sofia, Bulgaria, said that when the war started, he spent about 18 hours watching the news in disbelief about what was happening just 12 hours away from his home by car. "I wanted to figure out a way to be of help towards the community. I knew that hundreds of thousands of women and children needed to escape Ukraine and to find a way to move away from there," said Aleksiev, who was a theater major and an Honors College student at Adelphi.
So he decided he would help to get them. At the beginning of March 2022, he loaded a 12-seater van with supplies like blankets, diapers and food, and drove with a friend to a village in Moldova near the Ukraine border. It was a 40-hour, nonstop journey, but they brought 13 women and children back to Bulgaria. He then posted about it on Facebook, and word spread in the media. Soon he had enough donations to make another trip. He crossed into Ukraine to drop off supplies and bring another 12 people back, working with an organization there. In all, they made six trips into the war-torn country between March and May 2022, directly bringing 64 people out of Ukraine and arranging for another 40 to leave, and also helping to house everyone they brought over. He's raised $60,000 to date to purchase bulletproof vests and supplies.
Aleksiev, who won the Golden Rose award in the Bulgarian Feature Film Festival, said he didn't think about the danger he was in until after, despite being in towns like Vinnytsia when air raid sirens went off; the town was destroyed 10 days later. "That's because every time I was coming back from Ukraine driving a bus packed with women and children, I was listening to their stories," he said. "You try to hold your tears because you cannot be weak in front of them. They have just left a war zone. I was just a driver to help to bring some stuff there and bring back people."
In December 2022, he was one of several activists awarded Person of the Year by the Bulgarian Helsinki Committee for his advocacy for human rights.
Gabriel Hardy-Françon '14: Former Journalist Reaches Out to Colleagues on the Front Lines
Hardy-Françon, who lives in Adissan, France, and works in technology, was also distressed by the news. He had lived in Kyiv, Ukraine, for five years as a journalist from 2015 to 2020 and was now worried about his former team of journalists. "I have so many friends there. Ukraine is my second home," said the political science major. So he reached out to his former colleagues to ask how he could help, and three days later was on a flight from Paris to the Polish-Ukraine border to pick up a friend's wife and son. He also started fundraising on the internet and earned about $25,000, which he used to purchase medical equipment.
Using the town hall as a warehouse, he and volunteers were able to gather about 10 pallets of clothes and medical equipment and arranged for a truck to bring them to Ukraine. "I also bought a lot of military equipment that was very expensive," he said. "I bought two bulletproof vests for two of my best friends just to make sure that they were okay if they had to go fight."
To provide more aid, he launched a nonprofit, Rescue & Equip Ukraine Mission (REUM), the mission of which is to help refugees escape and provide them with medical equipment, clothes, food and protective gear. Money he raised also paid for train and plane tickets to help evacuate people. Now he's trying to buy night vision goggles, which are about $1,000 each, and generators at $700 each.
In March 2022, he returned to Ukraine to deliver medical and military equipment. He is also helping French journalists make connections in Ukraine so that they have access to contacts to enable them to report on the war.
Camille Pajor '09, MBA '16: Returns to Ukraine to Help Refugees
Pajor, a member of the Adelphi 10 Under 10 Class of 2018, also wanted to help with the war effort. For her, that meant heading to Poland, a natural move since her parents had migrated to the United States from there and she is fluent in Polish, Ukrainian and Russian. From 2009 to 2011, Pajor had served in the Peace Corps in Ukraine, where, for next two years, she taught English and worked on projects to counter human trafficking.
"When the war escalated in 2022, it was difficult for me to watch and not do something," said Pajor, who at Adelphi was a member of the Honors College, majoring in philosophy and minoring in art history. "We saw people coming to Poland to help out and wanted to be part of that."
So in May 2022, she and her partner volunteered for the grassroots organization Russians for Ukraine and were sent to a border camp in Medyka, Poland. In July, she joined Oxfam International as a protection officer to safeguard human rights. Pajor and her team help refugees get medical treatment. They also perform psychological first aid, an approach used to reduce stress and help survivors of traumatic events function and recover. And they get refugees the information they need—how to get food, a place to sleep and a social security number, and collect data on what services were needed and administered.
Their Work Continues With the War
The three alumni don't see an end to the aid they can provide. As Hardy-Françon said, "I keep on helping as much as I can. As we approach a year, it's the worst part of war because when it lasts a long time, everybody gets used to it. So I'm helping on a demand basis now."