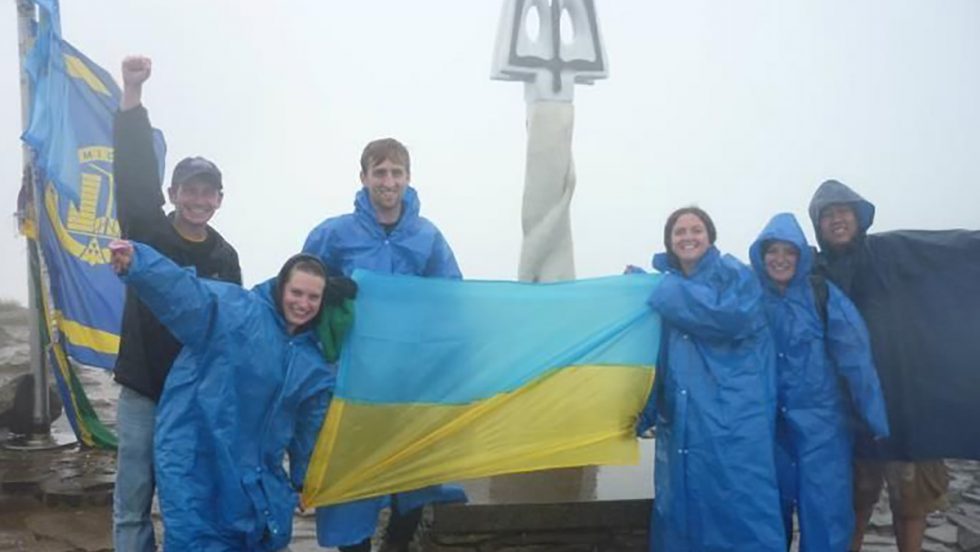 Honors College alumna Camille Pajor '09, MBA '16, shares her inspiring life story and explains how her career brought her to the war-torn Ukrainian border to assist refugees. It's a story of determination, compassion and strength.
On a day in early December, the Honors College students taking Postmodern Condition, an honors seminar taught by associate professor of history Marty Haas, PhD, are grouped around the large table in the center of the room to discuss the day's topic: the war in Ukraine.
But today's class is different. There's a special guest, Camille Pajor '09, MBA '16. She's Dr. Haas' former student and a member of Adelphi's 2018 10 Under 10 class of outstanding alumni. She is here to give her firsthand account of what it's like to work for Oxfam on the Poland–Ukraine border, helping Ukrainian refugees fleeing from Russian assaults. After this brief visit home, she'll return to continue her work.
Pajor left behind a job as Title IX coordinator and director of bias response at The Juilliard School and a comfortable life in the United States. She said it was a big decision, yet an easy one, because "this conflict is too close, too personal, to not help in some significant way… knowing what I have to offer and understanding myself and the skills I can bring to the table."
Pajor is no stranger to taking on challenges and serving others. Her parents were refugees who fled Poland two days before martial law was enforced in 1981. From 2009 to 2011, she served in the Peace Corps in Ukraine, where she taught English and worked on projects to counter human trafficking. She is fluent in Polish, Ukrainian and Russian, and through her work in student affairs at Adelphi and at Juilliard, is experienced with working with people suffering from trauma.
A decision to serve
When the Russian invasion of Ukraine escalated, "It was difficult for me to watch and not do something," she said. In May 2022, she and her partner, himself the son of refugees from the Soviet Union, began volunteering with the grassroots organization Russians for Ukraine, serving at border crossings, transport hubs and shelters throughout southeast Poland.
In July she joined the international nongovernmental organization Oxfam as a protection officer. Her team provides refugees with updated information and safe referrals for a range of critical needs, including medical and psychological support, accommodation, transportation, financial support and access to the Polish social services system. They also provide psychological first aid, an approach used to reduce stress and support survivors of traumatic events. Many of the refugees are women and children, who are in danger of being preyed upon by traffickers. By sharing reliable information in strategic locations, the team raises awareness about potential dangers and how to mitigate them.
Witnessing the "virtues of perseverance, courage and love"
"In my past eight months of service," she said, "I have heard endless stories of horror and destruction from people directly impacted, like the father who ran away from an explosion carrying his 10-year-old son, sustaining burns from his neck to his ankles. His boy's hands were badly burned and wrapped when I met him.
"What stands out in these stories," she continued, "are the virtues of perseverance, courage and love. The boy's injuries did not stop him from practicing tricks on his scooter in the humanitarian center parking lot. They also did not stop him from asking me if I could look up if there were any skate parks nearby. And they did not stop his parents from glowing with pride and joy at their boy."
And through it all, she and her colleagues try their best to look after their own physical and mental health to avoid burnout and continue to be present to help alleviate the suffering of the refugees. "There is sadness and tragedy, but also resilience," she said.
Inspired by her liberal arts education at Adelphi
Pajor later said that Adelphi was and continues to provide her with a supportive environment and that her major in philosophy and minor in art history were good preparation for working overseas.
"Philosophy is a difficult major but a wonderful discipline," she said. While she initially chose it because she heard it would help her get into law school, "… it was the curiosity that kept me rather than it being a means to an end … learning about the big thinkers and asking the big questions and examining how human thought evolved from historical times to now and how it impacted the world." She said that art history required a lot of memorization, good practice for learning multiple languages.
Pajor has stayed connected with many of her professors, including her adviser, Shawn Kaplan, PhD, associate professor of philosophy. "The rigor he expected of his students helped me develop intellectually," she said. She appreciated the way Dr. Kaplan engaged his students outside class, sometimes bringing students together to watch discussion-worthy films, have pizza and then "talk about the film until the conversation was done," not something that could be confined to the time limits of a typical class.
And, of course, she's stayed connected to Dr. Haas, even video chatting with him from Poland. "There are so many things I can speak to [about him]," she said, citing how he lets students choose articles from periodicals like The New Yorker and then lead the classroom discussion. "You get to learn about so many different topics but also the people in the room and what they're passionate about. His presentation style is so open and welcoming, not about 'Did you do the reading?' but the essence of the issue and meandering asides that are interesting and relevant. Every time I talk to him, I leave with a list of books, movies and radio shows that he recommends."
While her path hasn't been a straight one, she says there are plenty of opportunities for career growth with INGOs like Oxfam, "… whether it's continued deployment or work at headquarters or specific teams. There's unfortunately no shortage of humanitarian issues around the world."