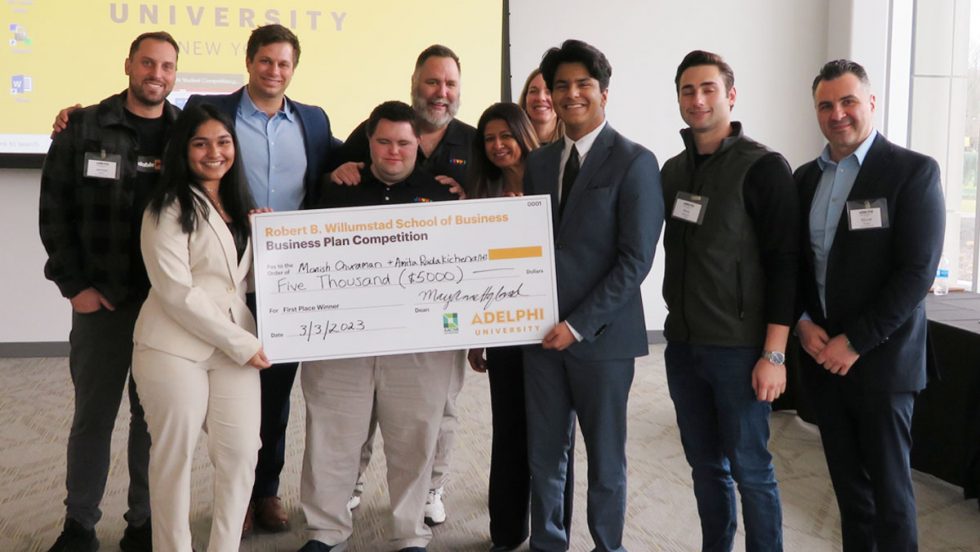 First-year students Monish Churaman and Amita Radakichenane's innovative business idea, SmileLab Printing Technologies, won first place ($5,000) in the latest Adelphi University Robert B. Willumstad School of Business Business Plan Competition. All told, the finalists competed for $11,000 in prize money.
Their winning idea "eliminates the need for crowns, bridges and dentures being produced in labs by dental lab technicians by bringing the production of these dental parts straight to dental offices around the country—saving dental clinics and their customers both time and money," said Associate Professor Murat Sakir Erogul, PhD.
Churaman is a finance major, while Radakichenane is majoring in biology.
Business Undergraduate and Graduate Students Take Second and Third Place
The second-place winner ($3,000)—Money Moving Up, by Ashley Zingale, a junior business management major specializing in information systems—is an app that offers customers a way to practice and develop their personal finance skills through a variety of digital games, as well as offering holistic advice on current financial news. Money Moving Up aims to increase knowledge about personal financial skills and resources, particularly as a way to help young adults avoid massive loan debt and losses in savings.
Third place went to Gloria Gantt's community-minded business idea, Better Health Connects. This not-for-profit organization is designed to connect underserved and high-risk population segments to wellness by bringing healthcare providers and partners together in community centers such as churches, schools and recreation centers. The goal: Engage in health forums, networking, health screenings and health education.
Gantt, a registered nurse who is a business administration graduate student, won $2,000 for third place plus another $1,000 for the best socially responsible plan.
The annual Shark Tank-style Business Plan Competition, which took place March 3, is part of Adelphi's approach to experiential learning and the Willumstad School's goal of providing students with a competitive edge to advance their careers. The contest is made possible by support from alumnus Kevin G. Mahony '83, senior vice president of wealth management and financial adviser at UBS Financial Services; his contributions also funded the cash prizes.
Distinguished Panel of Judges
The 2023 judges, all entrepreneurs, including four members of Entrepreneurs' Organization (EO) NY Long Island, were:
In addition to donating their time, the judges donated money to the Willumstad School of Business Student Success Fund to enable activities like this event.
Also deeply involved in the competition were Dr. Erogul, who provided mentorship, training and advice not only to the finalists but to all the other students who submitted proposals, and Lori Cary, MBA '20, Willumstad School director for student success, who helped to orchestrate the event.
"Adelphi's Business Plan Competition has helped to increase entrepreneurship activity, attitude and aspiration among our students and the wider Adelphi community," Dr. Erogul said.
Until this year, when it moved to March, the annual competition had been scheduled on the same day in April as Research Day, Adelphi's annual Scholarship and Creative Works Conference. It was moved up to allow winning students to participate in a larger competition.
Dr. Erogul explained, "The finalists have been working very hard on their pitches with the potential of also competing in the New York regional business plan competition for Long Island soon after."