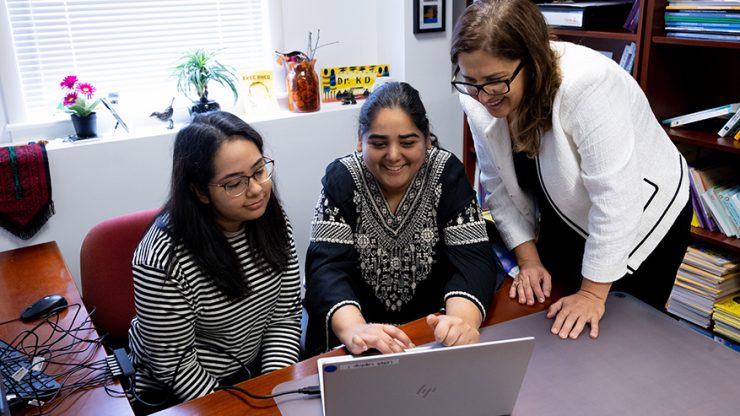 Adelphi's communication sciences and disorders program provides a broad range of treatment, care and support to people of myriad linguistic backgrounds—from toddlers to seniors. We are privileged to work with diverse communities across Long Island.
Voice therapy can be a vital and gender-affirming resource for individuals who identify as transgender. While transitioning, people may wish to modify their communication patterns to better match their gender identities and find their authentic voices. Their insurance providers, however, may not cover this service.
That's why Adelphi's Communication Sciences and Disorders (CSD) program provides a Transgender Voice Program at its Manhattan Center that includes individual and group training at no cost to its clients. The group offers an opportunity for clients to carry over the skills they acquire in the individual sessions. Improvisation, script reading, and role play procedures allow for exploration to enhance confidence and receive support from one's peers.
This is just one of the many resources that Adelphi's CSD program offers to support diverse communities. Run by faculty, students and staff from a range of cultural and linguistic backgrounds, the CSD program provides speech, language and hearing therapies, free of charge, to people in local communities and across the region.
Offering Speech Therapy and Hearing Services to Local Communities
"People often cannot afford these services, and speech therapy is not something that's readily covered by insurance," said Anne Marie Skvarla, director of Adelphi's Hy Weinberg Center for Communication Disorders. "So the Hy Weinberg Center's speech and hearing clinic provides services that may otherwise be inaccessible."
At the Hy Weinberg Center, graduate and undergraduate CSD students deliver speech therapy services to clients of all cultural and language backgrounds and ages—from toddlers to the elderly—under the guidance of certified and licensed clinical supervisors. Pre-Covid, they also provided speech and hearing outreach to schools, libraries and senior centers. This service is tentatively scheduled to resume in Fall 2022
"Prior to Covid, our students provided services at P.S. 134 in Hollis, Queens, which has a diverse population," Skvarla said. "We worked with children to help develop their literacy skills. These children did not qualify for these services in school but really needed the help."
Kayla Figetakis, MS '22, understands firsthand the impact of training and working with diverse populations. As a CSD student, she learned the importance of distinguishing a language disorder from a language difference.
"If a client is making errors in English, you have to understand: Are they making those errors because their primary language—for example, Mandarin—is influencing them, or are they presenting difficulties in both of their languages?" Figetakis said. "So many individuals are misdiagnosed because pathologists might not make this distinction."
Figetakis was recently hired by the New York City Department of Education to be a speech language pathologist at a public school in Brooklyn. Melanie Rosa-Chaves '22, another CSD graduate, won a prestigious Fulbright Scholarship to teach English in Portugal. "More people of multicultural backgrounds need to go into this field so we can better serve all populations," Rosa-Chaves said.
Helping Families Maintain Heritage Languages
CSD also helps Arabic- and Spanish-speaking parents maintain use of their native language with their children. Professor of communication sciences and disorders Reem Khamis, PhD, established Adelphi's Language Environment Analysis (LENA) Start program for Arabic-speaking families in 2019. The program aims to further the understanding—and strengthen the quantity and quality—of parents' verbal engagement with their children. Supported by a grant from the Qatar Foundation International, an educational organization committed to advancing Arabic language teaching and learning, the program has a particular focus on enriching the linguistic environment in families, building early literacy skills in children and preparing them for school.
"With LENA Start, families are empowered to value their native languages and maintain them across generations," Dr. Khamis said in an interview on the LENA website. "Our work must always be centered around the targeted families and their children within a strengths-based approach. We can attempt to do this by facilitating parents' meaningful participation across language policy, pedagogy and practice."
Providing Speech Pathology Services Abroad
CSD programs go well beyond the local area, reaching as far as Kingston, Jamaica. Adelphi is participating in the Mustard Seed Communities program, providing virtual speech pathology support to children with disabilities on the outskirts of Kingston.
"There are very few speech pathologists in Jamaica, so we're providing staff trainings and in-services to staff of the residential clinics who work with children with speech and language difficulties," Skvarla said. "We don't want to just pop in for a week and then leave. We believe this program allows for a sustainable, ongoing relationship."
CSD also provided vital hearing services in El Salvador. In January 2020, seven audiology doctoral students and two audiology professors traveled with the Starkey Hearing Foundation to the Central American country to provide hearing services to more than 1,200 individuals with hearing loss and hearing impairments.
The Global Audiology program has been led by Ianthe Dunn-Murad, ScD, clinical program director of the audiology program, and is conducted as part of the top-ranked Long Island Doctor of Audiology Consortium, Adelphi's partnership with Hofstra University and St. John's University. Participating students have access to each university's faculty, lab facilities and clinical partnerships. They also have local and global opportunities to learn to perform a wide variety of diagnostic, remedial and other critical services within the scope of practice for audiologists.
An Expanding Mission
In the near future, Skvarla looks forward to expanding Adelphi's outreach to communities in need and resuming more in-person services in the wake of the pandemic. The CSD program's own diversity, equity and inclusion task force is also developing new resources for off-campus clinical supervisors, which they'll share through email, on-campus workshops and trainings.
"We'll start implementing this in the fall," Skvarla said. "Our students obtain much of their clinical training off campus. We want to support the sites that mentor them and provide any resources we can. "