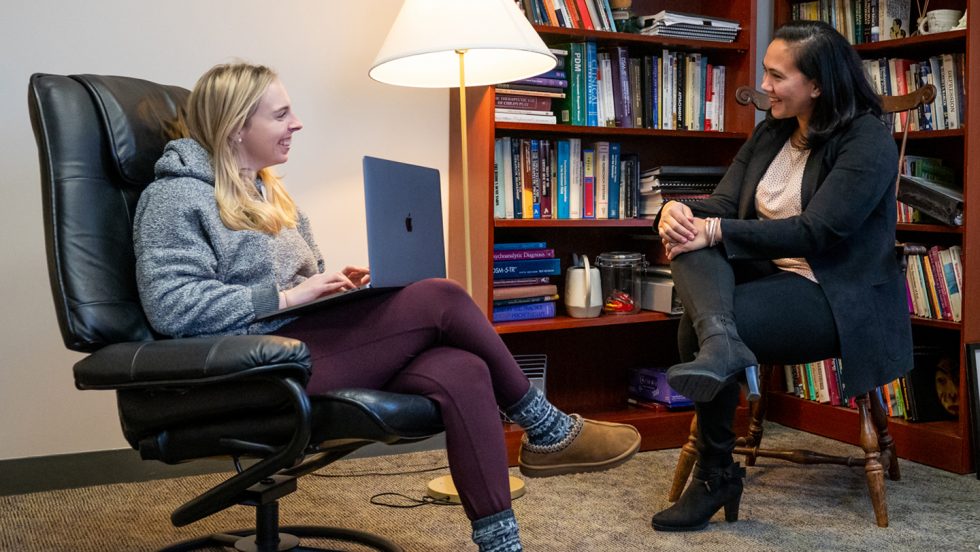 In August, Monica Pal, PhD '13, became director of Adelphi's Center for Psychological Services and director of Practicum Training—stepping into the shoes of her former professor, Jonathan Jackson, PhD, who retired after 36 years in the Gordon F. Derner School of Psychology.
The role is a homecoming of sorts for Dr. Pal, but also the latest in a long connection between Derner and its faculty and students. After earning her doctorate at Adelphi in 2013, Dr. Pal worked in several roles in the field in Nassau County, including working with Derner grad students in her position at Long Beach Reach, which provides services to those struggling with substance abuse as well as to their families.
Teaching has long been at the core of Dr. Pal's life. After her undergraduate studies, she taught in a program in South America and decided teaching should be part of her career—but ultimately, back where she came from rather than abroad.
"Change should come from within rather than from being an outsider," she noted. "I worked at various hospitals in Nassau County while in my doctoral program, and this is where I live and grew up."
With Dr. Jackson retiring, Dr. Pal took the opportunity to return to her roots and training, hoping to give back to students some of what she received at Adelphi: "this gift of a profession."
A Training Ground for Students and Serving the Community
The Center for Psychological Services meets the needs of different populations in many different ways. It offers therapy and other services to clients at Adelphi's Garden City campus as well as at its Manhattan Center. The center also operates a Hempstead clinic for children and their families. Doctoral students, supervised by licensed therapists (some Derner faculty, some in outside practice, many pro bono), work with children and adults who pay on a sliding scale. Services are offered to Adelphi students at no additional cost.
The training for students rolls out over four years, with first-year students learning to do intakes, evaluations and diagnoses. Clients then work with second-, third- and fourth-year grad students who provide psychological testing and individual or group therapy.
The center currently serves about 115 clients for therapy and another 65 just for testing. At the same time, 20 to 22 doctoral students per class gain practical experience and knowledge that prepares them for their careers and for professional accreditation.
"It feels like home, coming back to Derner," Dr. Pal said. "I was a clinical supervisor here for the past nine years, and teaching has always been a part of my life. It's great to have it all back in one spot.
Dean Jacques P. Barber, PhD, said that Dr. Pal "has a very sophisticated understanding of her job and responsibilities and she is doing an excellent job."
Praise From Her Predecessor
While she is still getting to know the center more in depth, Dr. Pal is looking forward to leading the evolution of services that clients require and training doctoral students to best meet their needs.
"There is tremendous support from our faculty and alumni, who are very engaged," she added. "When I came to the position, I wanted to find a home where I could continue to learn and grow, a place to stay. I feel like it's a good fit."
Her predecessor, Dr. Jackson, couldn't be happier to see the future of these Derner programs in such capable hands.
"She was that student who, when she could, sat in the front row and had her hand up early. She had good motivation, was bright, had lots of positive energy," Dr. Jackson said. "I was pleased when she became a candidate for this role—and more than pleased that she's the one."