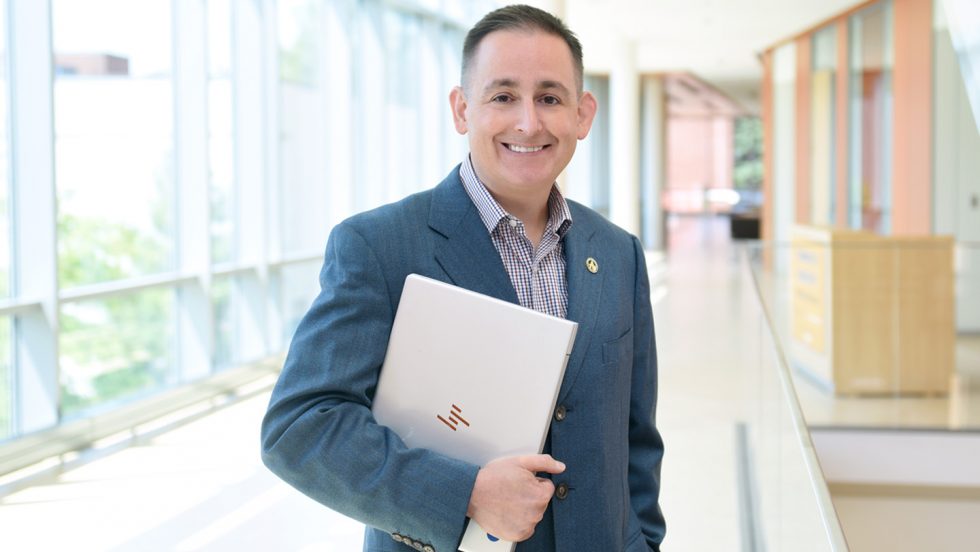 During his presentation "Understanding Omicron," K.C. Rondello, MD, University epidemiologist and clinical associate professor in the College of Nursing and Public Health, told about 130 Zoom attendees that "[COVID-19] variants are going to be part of our lives forever"—but to a lesser degree.
But he added that "our resiliency and adaptability" are "our biggest assets"—and what "will carry us through" this pandemic.
(See the full video presentation)
Speaking on December 17, 2021, Dr. Rondello said the fact that there are COVID-19 variants is "completely expected" by the public health community. "Not all variants are of equal concern," he pointed out. The Alpha variant—which originated in the United Kingdom and was dominant in the United States from January 2021 into August 2021—was classified as a "variant of concern" (VOC), but has since "moved down the scale."
So have Delta, predominant in the United States from April 2021 through November 2021, and the Omicron variant, which had spread swiftly since November 2021, before declining considerably early this year.
To date, none of the variants has been classified by authorities as a "variant of high consequence" (VOHC), he said, because none has resulted in "significantly reduced effectiveness" of countermeasures, which would necessitate new treatments and vaccines.
As was the case with the Alpha outbreak, he said, the New York area would again be "the tip of the spear" with Omicron, meaning that we would experience first what the rest of the country would experience in the subsequent weeks and months. He correctly forecast that Omicron, though less harmful than Delta, would be far more transmissible, given its "extremely accelerated timeline"—spreading infection in weeks, versus months for Delta.
The Pfizer, Moderna and Johnson & Johnson vaccines, while "significantly less effective" at preventing Omicron infection, protected "against most severe disease, hospitalization and death," he said. To maximize protection, he advised the Adelphi community to "get your boosters."
Looking ahead, Dr. Rondello said future strategies now being evaluated include developing annual vaccine shots, à la flu shots, and also a "pan-coronavirus vaccine" to combat all strains of the virus. The latter could enter clinical trials late this year.
Vaccines: "The Game Changer"
How long will we have the pandemic in our future?
During his "Cutting Through the COVID Noise" presentation to the Adelphi community on November 1, 2021, Dr. Rondello told 130 Zoom attendees that we won't go back to pre-COVID life. "The pandemic will end, but we'll be living with COVID," albeit at a lower level than in 2021 and 2020. We're not likely to reach "a pre-COVID normal."
(See the full video presentation)
What is success? Society accepts influenza-level cases and deaths, he said. A key factor in bringing that about will be vaccines.
"Vaccines—that's the game changer," he noted. "The vaccines are exceptionally good in efficacy and safety," he emphasized. For every 102,000 vaccinated, he said there are 100 symptomatic infections and one death—"very different" from pre-vaccine levels. There continues to be COVID-19 "breakthroughs" among those vaccinated, he said, but "no vaccine is 100 percent efficacious."
The 745,000 total deaths in the United States as of October 30, 2021, was more than the 640,000 U.S. deaths recorded for all wars since World War I and II—418,000 in WWII alone—Dr. Rondello pointed out.
That COVID-19 total has since surpassed 991,000.
Dr. Rondello has spent about 20 years at Adelphi as a faculty member in the College of Nursing and Public Health and College of Professional and Continuing Studies and, last summer, was appointed University epidemiologist and special adviser to the Office of University Health and Wellness. For nearly two decades, he served as a disaster epidemiologist with the U.S. Department of Health and Human Services' National Disaster Medical System (NDMS). He has participated in many international service deployments with various nongovernmental organizations (NGOs) to nearly 20 countries on five continents over the course of his career.