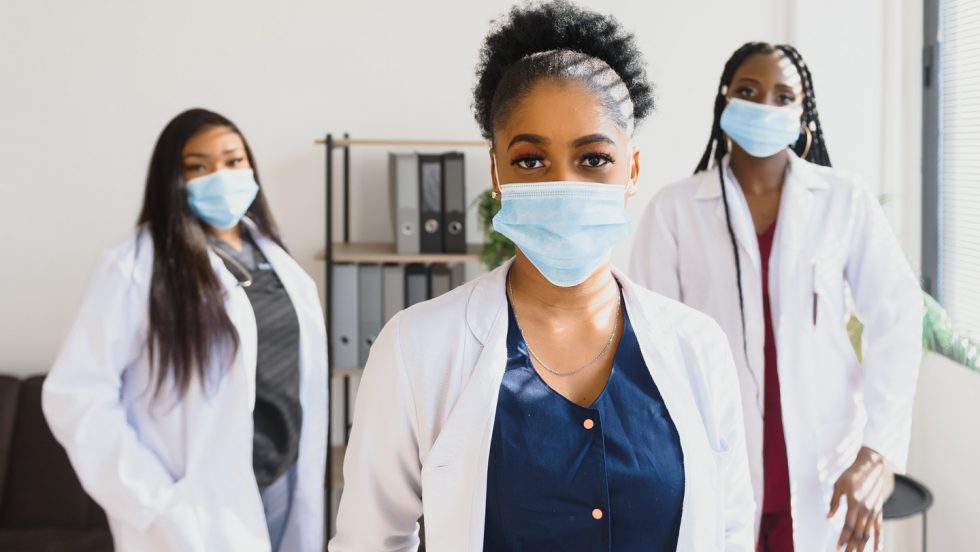 Participants in a virtual panel discussion hosted by the College of Nursing and Public Health (CNPH) Diversity, Equity and Inclusion (DEI) Council on December 2, 2021, suggested ways in which academia can help overcome racism in the nursing profession.
CNPH's DEI Events Task Force–co-chaired by assistant professors Kattiria Gonzalez, PhD, and Korede Yusuf, PhD–presented the screening of a 14-minute documentary Racism in Nursing: The African-American Nursing Experience.
About 45 people attended the CNPH DEI Council-hosted screening and subsequent discussion via Zoom, including CNPH administrators, faculty and students.
In the film, produced and written by filmmaker Denetra Hampton, founder of For Nurses By Nurses Productions LLC, Hampton said that the year 2020 may have been designated the Year of the Nurse—but, for Black nurses, racism remained "a silent truth" due to inequality "ingrained" for decades in the nursing profession. She took the American Nurses Association (ANA) and the Red Cross to task for long blocking Blacks' membership. It took World War II for Black nurses to be encouraged to serve, she noted.
By the numbers, Black nurses still lag behind in a profession that has failed them "from the classroom to the boardroom," she said. Moreover, she said the COVID-19 pandemic has exposed ongoing healthcare disparities among minorities.
Of the estimated 3 million nurses in the United States, the U.S. Department of Health and Human Services (HHS) and the Health Resources and Services Administration (HRSA) reported in their 2018 survey that 73.3 percent were white, 10.2 percent Hispanic, 7.8 percent Black and 5.2 percent Asian.
In the film, Hampton concluded, "We have come far, but not far enough. We still have a long way to go." Afterward, she called the film "my love letter to the profession I have served for 20 years."
Dr. Gonzalez observed that racism in nursing dates back to the Florence Nightingale era, when Mary Jane Seacole, a Black nurse from Jamaica, was "pushed away" from tending to sick and wounded soldiers during the Crimean War. She traveled there on her own dime to help and did much, "but she really doesn't get credit for it," Gonzalez said.
Hampton cautioned that change would come "one person at a time, one step at a time. … It's not going to happen overnight."
Adelphi took steps early on, in 1945, to enroll Black nursing students, Dr. Gonzalez pointed out. "It seems like it was a very tough situation" for that first student and graduate, the late Helen Holmes Taylor '49, who later became the first Black nurse in NYU Medical Center's pediatrics ward. The Helen Holmes Taylor '49 Nursing Scholarship was established in 2018 in her honor, she noted.
Dr. Gonzalez added that she has encountered racism, though not at Adelphi. While in nursing school in central New York state, she recalled being one of two minority students in her nursing program and having minimal minority faculty in her college as a whole. "It was hard." A key reason she entered the nursing education field was to encourage others, she said.
Bringing About Change
When asked by Jacqueline Jones LaMon, JD, Adelphi's vice president of diversity, equity and inclusion, about changes needed in curriculum, Hampton said, "We definitely need to introduce nursing science early on."
Hampton said, "I'm a huge advocate for nursing science. Nurses of color did not even know they were in a science. … A nurse scientist is a researcher, the foundation of everything we do. We need to push [nurses of color] into that space."
Even at the master's level, minority students "can see [themselves in] NP and DNP roles—but not nurse researcher." In the film, she noted that Black nurses trail white nurses in PhD enrollments. "We have to make the nursing scientist as important [in students' eyes] as the NP and DNP."
Patricia Donohue-Porter, MS '78, PhD '87, director of the PhD program, noted that CNPH has "a diverse PhD program," one that's becoming more so, and observed that one reason is that students are encouraged to pursue research topics they are "passionate" about.
One student on the Zoom session said she had never heard about nurse scientists before and now plans to "look into" that career path.
Hampton also lamented the shortage of faculty of color to mentor minority nursing students. "We need to make the profession more attractive for them to stay," she added.
To root out racism, Hampton said, the profession needs to "see who's making those decisions" in leadership. "I have hope … we're going to pull up the weeds," as was done decades ago, for instance, to change past racist ANA membership policies.
When asked by a participant if any college or university came to mind as a DEI role model, Hampton did not respond directly. "Inclusion is where nursing is missing the bet. We can bring them to the table to talk," she said, "but we don't really want to hear what they have to say."
CNPH DEI Council chair, Assistant Professor Charles Cal '95, MS '01, MBA '03, said that group has been active since Summer 2020. Hampton encouraged students to "get involved in things like the DEI Council."