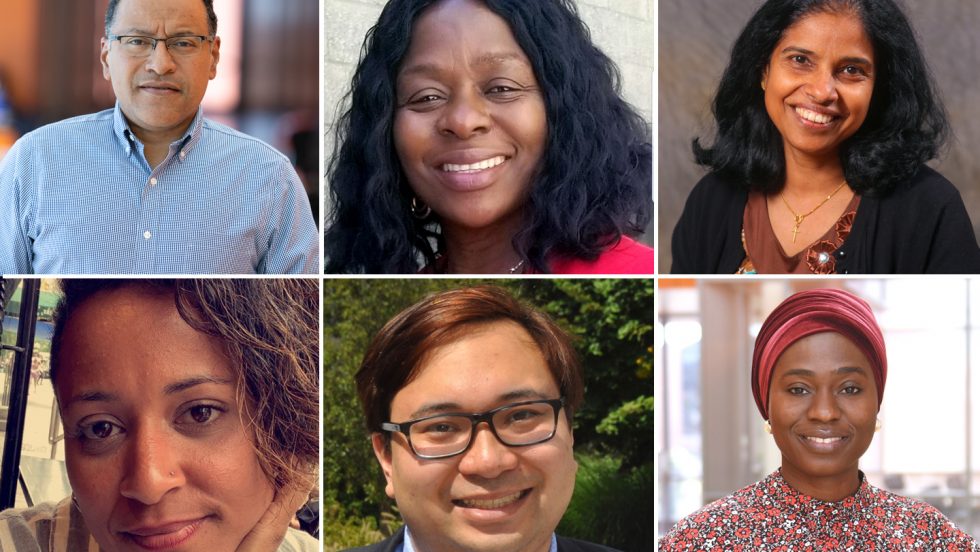 CNPH Diversity Council Faculty Panelists Reveal How Their Heritage and Experiences Influenced Their Research Pursuits
The College of Nursing and Public Health (CNPH) Diversity, Equity and Inclusion (DEI) Council—perhaps inspired by both Maya Angelou's observation, "Diversity makes for a rich tapestry. … All the threads of the tapestry are equal in value, no matter what their color," and Adelphi's own personalized approach to education—made their February 17 panel discussion come alive by focusing on the heritage and personal experiences of the panelists.
Clinical Assistant Professor Charles Cal '95, MS '01, MBA '03, the CNPH DEI Council's chair, who moderated the virtual event, "The Importance of Cultural Humility," told the 60 Zoom attendees that those nurses adopting cultural humility should put "a huge emphasis on self-evaluation," become "other-oriented" and "promote interpersonal sensitivity."
Panelists from Around the World
As a way of "humanizing the process of diversity," Cal then encouraged the five panelists—Assistant Professor Ednah Madu, PhD '18; Assistant Professor Korede Yusuf, PhD; Assistant Professor Kattiria Gonzalez, PhD; Clinical Assistant Professor Ani Jacob, DNP; and Assistant Professor Edwin-Nikko Kabigting, PhD—to talk about how their heritage and personal experiences have influenced their careers.
Both Drs. Madu and Yusuf said they came from Nigeria, which both agreed was very diverse. Dr. Madu noted that Nigeria, with its 525 languages, "epitomizes diversity." She added, "There is beauty in diversity; there is beauty in being different." After 11 years in this country, Dr. Yusuf said she is still adjusting to U.S. culture. "We need to be aware of those cultural differences and be open-minded."
Dr. Jacob hails from India, which she said is far more diverse with its thousands of languages. When she taught in the Middle East, she recalled, she was considered "a second-class citizen" despite having a master's degree. Noting that "I've seen both sides," she said that when she was the sole Indian nurse at a Brooklyn, New York, hospital, "they embraced me as part of the team." After she went to Long Island, however, "[It] felt like the Middle East again…, not good enough" although she was the only nurse on staff with a master's. Then she joined Adelphi's faculty and "I felt like [I was] back in Brooklyn; I felt accepted," she said.
Health disparities and diversity
Diversity, Dr. Madu said, led her to focus on health disparities. While at Elmhurst Hospital in Queens, she said she found hypertension was more prevalent among Black patients mainly due to socioeconomic factors.
Dr. Yusuf was drawn to finding out why pregnant women and children were dying "at alarming rates" in Nigeria and elsewhere. Dr. Jacob found that Indian infant mortality was high, influenced by socioeconomic and education factors more than race.
Cal noted that "health disparities keep coming up as a theme."
The Impact of Studying Abroad
Dr. Gonzalez, a South Bronx, New York, native with Dominican and Puerto Rican parents, said she was the only Hispanic in her college nursing program. After leading study abroad trips to the Dominican Republic and Ghana, she decided to focus her research on the impact of such trips on their targeted communities rather than on the students' experience.
Dr. Kabigting told his study abroad students to keep journals and said his "favorite thing" is when they experience awe: "We got them to think outside the box." Born in the United States to Filipino parents—with his mother one in "a long line of nurses" in the family—he recalled, "I grew up on stories; that's how I learned my culture." Like Drs. Madu, Yusuf and Jacob, he also was raised to be very respectful of elders.
"Study abroad highlights cultural sensitivity," Dr. Madu said. Although she herself once lived without electricity and other niceties, she said her students are often "shocked" at how people in underdeveloped countries live. But thanks to these trips, they "became culturally sensitive and a better person."
Dr. Yusuf felt much the same way after leading a study abroad trip to Guatemala with Dr. Jacob. The students saw the Guatemalans were happy despite having little, while many Americans with a great deal were unhappy. "The students learned to be humble," she said. Dr. Jacob added, "Their [Guatemalans'] happiness is inner happiness" not based on material things. These people were "happy because we acknowledged them as human beings."
Dr. Madu expressed the hope that the various segments of the Adelphi campus community would find a similar spirit in their relationships.