Chelsea Rojas was just beginning her M.S. in Communication Disorders but was already anxious to get a taste of real work. Rather than waiting for the opportunity, she created it—in Uganda.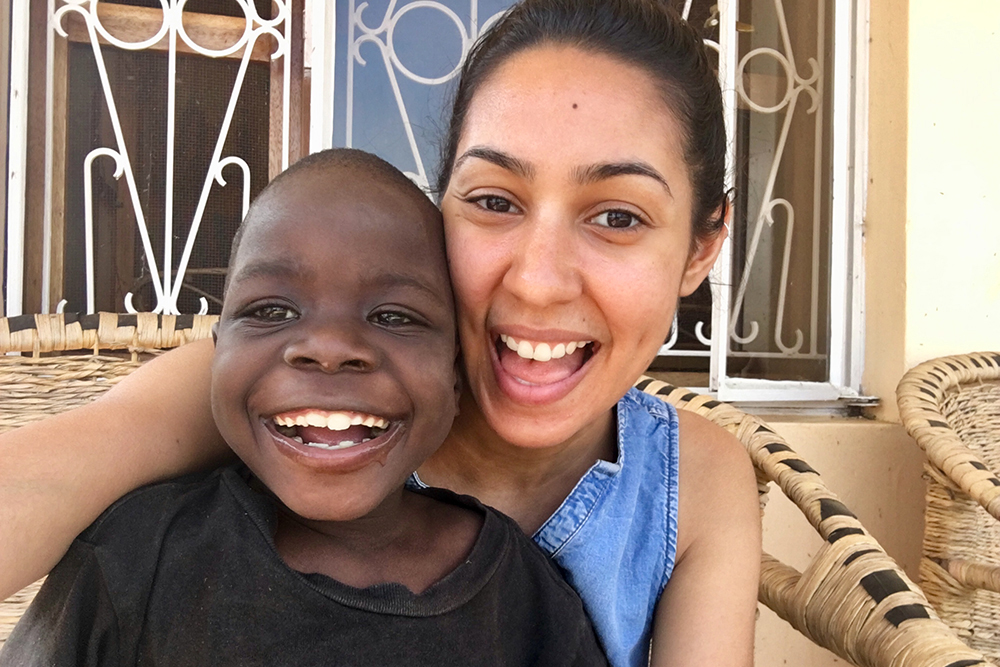 Chelsea Rojas was hungry for experience. She was just beginning her Master of Science in Communication Disorders: Speech-Language Pathology but was already anxious to get a taste of real work with developmentally disabled children and their parents in a third-world country. Rather than waiting for the opportunity, she created it—in Uganda. That resulted in what she called simply "one of the best experiences I've ever had."
Rojas graduated from Brooklyn College in 2016 with a B.A. in Speech-Language Pathology. She was already accepted into the Ruth S. Ammon School of Education and, as much as she wanted to find an extended service opportunity in a developing country, she figured she'd have to wait. But when she heard through friends about Imprint Hope, a newly started nonprofit in Uganda, she made contact. While she was organizing the service trip on her own, she said she felt comfortable knowing that she had friends in common with founder Clare Byrne. She was able to raise funding and went during winter break between her first and second semesters at Adelphi.
One valuable lesson for Rojas was balancing the practical support she could offer within a very different cultural context. There can be a lot of shame and belief in supernatural causes associated with developmental disabilities in Uganda, she pointed out. She had to respect that cultural perspective, while helping parents understand what they could do to meet the needs of their children.
Western statistical norms about behavior and competencies based on age can pose further difficulties if applied to children in rural Uganda, she added.
"I didn't want to impose American norms on these children, because you can't compare them," she said. "I was on a mission to talk to parents and compile these numbers.
"I realized a lot of the children who were being serviced were extremely low functioning" and had not developed language use, she said. "It took a lot of creativity to do something helpful. I used a lot of nonverbal communication to connect with them."
Although she forged her own path in going to Uganda, Rojas benefited from the support of her Adelphi professors, particularly Assistant Professor of Communication Sciences and Disorders Melissa Randazzo, Ph.D., who gave her contacts, resources and articles to read. Dr. Randazzo and another faculty member, Ashwini Namasivayam-MacDonald, Ph.D., are now in discussion with Imprint Hope to bring speech-language pathology trainings and services to their organizations, with the potential to create an international clinical practicum for Adelphi students in the future.
(In other Department of Communication Sciences and Disorders study abroad developments, Ryan Lee James, Ph.D., was invited to partner with the Department of Educational Psychology, Special Education and Communication Disorders at Georgia State University (GSU) to host a collaborative study abroad trip to Jamaica—where graduate speech pathology students from Adelphi and GSU will provide services to individuals with disabilities.)
"[Rojas] readily grasped essential concepts regarding sustainability, neocolonialism, and building organic and culturally sensitive practices in a resource-poor environment," Dr. Randazzo said of her prep work with Rojas. "She successfully implemented this knowledge on her trip, and her ability to do so transcends…what many clinicians are able to achieve after many years of independent clinical practice."
Rojas hopes to be able to return every summer until she gets her degree and is committed to making it possible for other Adelphi students to repeat her experience.
"I believe that their people are capable of helping their people," she said. "Any way I can help them reach sustainability, that's what I want to do. I just want to be a bridge.
"I don't know when…but I'm definitely going again," she added. "I have a connection with those people."
---
For further information, please contact:
Todd Wilson
Strategic Communications Director 
p – 516.237.8634
e – twilson@adelphi.edu