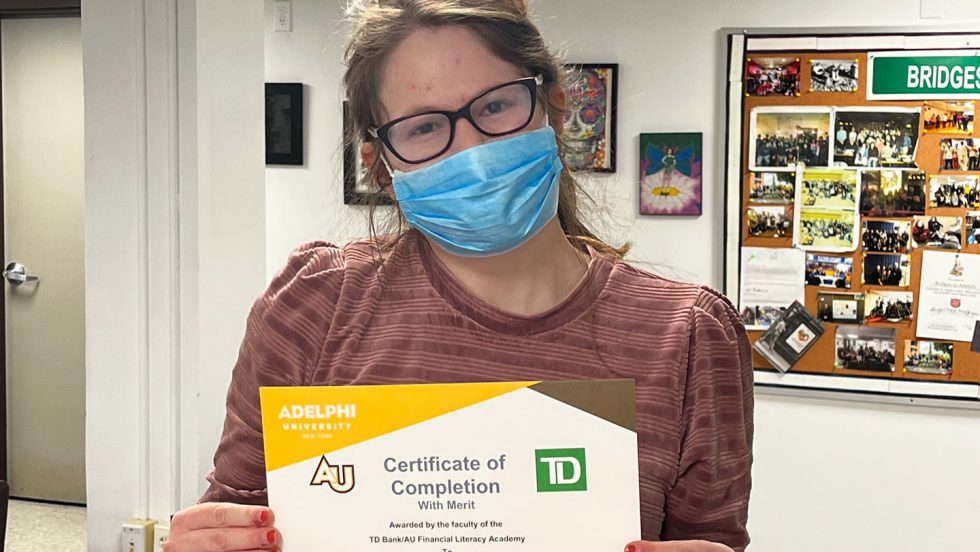 The Bridges to Adelphi program has partnered with TD Bank to assist students on the autism spectrum manage their personal finances.
Students on the autism spectrum often thrive academically and can have IQs that are as high, or even higher than, neurotypical students. Where they struggle is with what's often referred to as "soft" skills—things that their neurotypical peers can pick up on with ease, such as being organized, socializing with others or managing personal finances. The Bridges to Adelphi program, though, has been working to assist with that.
Building Bridges
Bridges to Adelphi was created to help students who are on the autism spectrum or who have nonverbal learning disabilities transition from high school to college to employment. Students enrolled in the program learn how to develop their social and professional skills and be more independent. Now Bridges has expanded its scope to prepare these students to become financially savvy as well.
Funded by a grant from TD Bank, the TD Bank/AU Financial Literacy Academy is a 15-week, noncredit program for Bridges students. "We thought, these are students who can use money-managing skills for the future and learn how to allocate money for different needs and wants," said Ganesh Pandit, DBA, associate professor of accounting and law in the Robert B. Willumstad School of Business, who developed the curriculum.
To fully develop it though, he had to partner with Stephanie Grindell, MA '16, the senior associate director for Bridges. "Ganesh had the business end, I had the Bridges end, and together we were really able to make it happen," said Grindell, who has a master's degree in mental health counseling. "The students we work with see the world in a unique and beautiful way. It's inspired me personally and professionally."
The TD Bank/AU Financial Literacy Academy launched in the Fall 2021 semester. It's taught by four full-time faculty members from the Willumstad School of Business: Rakesh Gupta, Robert Goldberg, Cem Karatas, DBA, and Dr. Pandit himself. The program covers 14 different financial topics, including income, budgeting, investing, retirement and credit scores.
Life lessons
Hannah Schultz, a senior who's graduating in 2022, attended the TD Bank/AU Financial Literacy Academy held in Fall 2021. She said the academy "helped me figure out how to better manage my money in order to benefit myself in the long run. Although I wish I had been taught this in high school, I am glad to have had the opportunity to learn about it now."
Schultz was one of 10 students were enrolled in the Fall 2021 semester, and one of seven who successfully completed the course, earning a Certificate of Completion based on their attendance record and the scores on their final exam. A virtual one-hour closing ceremony was held in December 2021 to honor these students, which was attended by a representative from TD Bank, the dean of the Willumstad School of Business, a number of Adelphi administrators and, of course, the students and their families.
"The Bridges to Adelphi program is a wonderful example of the TD Ready Commitment in action," said Akash Mahajan, senior regional giving manager for Metro New York at TD Bank. "By empowering students with the resources and education to live their lives with greater financial confidence, the TD Charitable Foundation is proud to help open doors for a more inclusive and sustainable tomorrow."