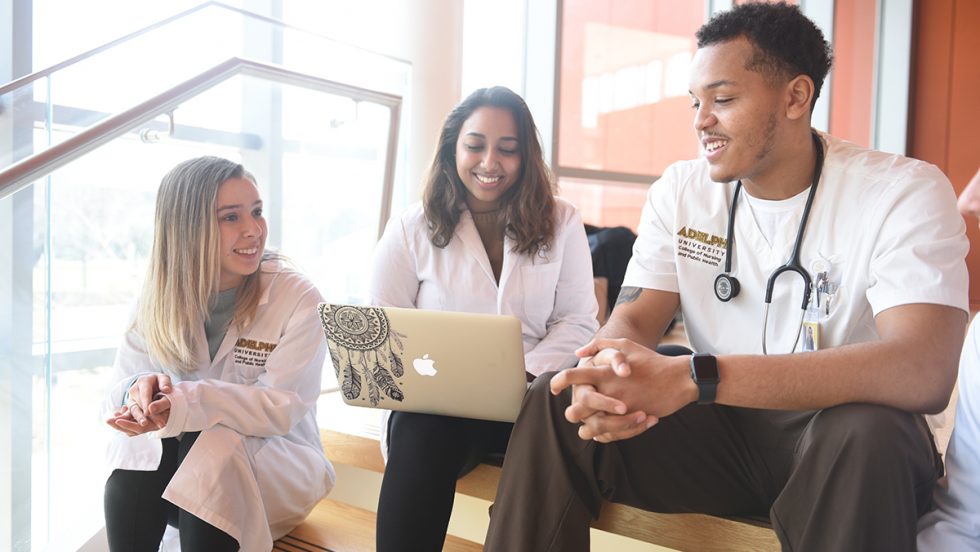 Adelphi's IDEATE program is the sole national winner of the John L. Blackburn Award from the American Association of University Administrators. A "bridge" between our graduate nursing and social work programs, IDEATE trains future practitioners to work together to deliver behavioral health services to children, adolescents and emerging adults.
In any given year, one in seven children and adolescents in the United States aged 3 to 17 experiences a behavioral health disorder.
Yet, a recent analysis of population data shows us that only about half receive needed behavioral health services. In New York, the Office of Mental Health reports that the number of suicide attempts among 15- to 24-year-olds is much higher now than in the past. In fact, suicide is the second-leading cause of death in this group of emerging adults.
Adelphi's Interdisciplinary Education and Training Experience (IDEATE) Fellowship program was created to address this problem. Launched in Fall 2021 with a $1.92 million grant from the Health Resources and Services Administration, an agency of the U.S. Department of Health and Human Services (HHS), its objective is to prepare the future workforce of social workers and psychiatric nurse practitioners who have the skills to care for comprehensive health needs—mental and physical—of children, adolescents and emerging adults.
Earlier this year, the program's uniqueness and high quality were recognized with the prestigious 2023 John L. Blackburn Award from the American Association of University Administrators (AAUA). The award, which is bestowed on just one program each year, recognizes programs that provide creative solutions to common problems in higher education.
Responding to a Healthcare Crisis
Given the alarming data on child and adolescent health, Chrisann Newransky, PhD, associate professor in the School of Social Work, and Marissa Abram, '08, PhD '17, assistant professor in in the College of Nursing and Public Health, joined forces to form what they call an "inspired collaboration" in education at Adelphi University.
"This behavioral health crisis among our children and youth sparked a team of faculty from nursing and social work to see how we could combine our professional talents and skills and collaborate to build an educational model to address these needs," said Dr. Newransky, co-director of the IDEATE program. "The goal is to teach a holistic approach to care. We want to train practitioners to look at a person's health in social context while advocating for change within systems."
The IDEATE program is designed to reach this goal by training graduate students in social work and in the psychiatric-mental health nurse practitioner program to work together to provide integrated behavioral healthcare for children, adolescents and transitional youth in underserved communities in New York. It is a bridge between social work students and nursing students, connecting the dots in communication to improve team-based care.
Students in the program take specially designed seminars that provide evidence-based tools to address contemporary health epidemics, such as substance use and suicidality, and racism. The fellowship also includes one year of specialized training in on-site and telehealth settings, including school-based programs and clinics, offering a hands-on, innovative way to connect healthcare professionals. The placement coordination is led by Livia Polise, LCSW-R in social work, and Roxanna Raffa, PhD, RN in nursing.
"Our fellowship trains students to go out in professional settings and hit the ground running," said Dr. Abram, IDEATE project co-director.
The educational model is an ever-evolving team effort by faculty in the School of Social Work and the College of Nursing and Public Health. The ongoing curriculum coordination for professional development is led by Joanne Quinn-Beers, DSW '09, clinical associate professor in social work, and Adrial Lobelo, DNP, clinical assistant professor in nursing. The ongoing program evaluation is led by Elizabeth Palley, JD, PhD, professor of social work, and supported by Chireau White, doctoral candidate in the School of Social Work, and Stevee Delvaille, Master of Public Health student.
Providing Needed Care in Underserved Communities
IDEATE students train in communities recognized as health professional shortage areas, where a lack of access to healthcare services can increase exposure and susceptibility to harm from social determinants of health, causing poor health outcomes.
The initial cohort of IDEATE fellows included 15 students from the psychiatric-mental health nurse practitioner program and 13 social work students. The current group comprises 12 psychiatric nurse practitioner and 19 social work students. They have diverse backgrounds, an array of professional experiences, and are from rural, suburban and urban communities.
Alumni of the program have given IDEATE rave reviews. "I've learned to approach healthcare in more holistic ways by incorporating appropriate and supportive therapies in patients' treatment, using a patient-centered approach to care that encompasses the total needs of patients," said nursing graduate Maureen Igharosa, a member of the inaugural IDEATE cohort.
Shelita Birchett Benash, a 2022 graduate of the Master of Social Work program, said she "experienced firsthand how collaborative care contributes to improving the mental health and physical well-being of one family member and helps to strengthen the whole family system."
IDEATE will graduate its second cohort in May, and Dr. Newransky and Dr. Abram are recruiting students for the third year of the program. "We're sending our graduates out to be innovators in these jobs," Dr. Newransky said. "That's the Adelphi way."