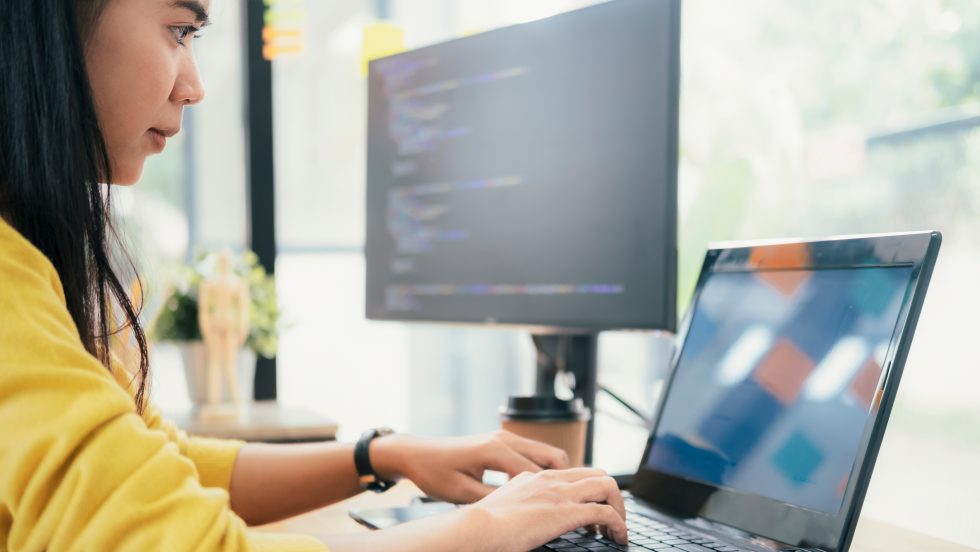 Adelphi University's Innovation Center is providing students and faculty with vital artificial intelligence (AI) and design thinking skills with help from IBM Skills Academy. After a successful pilot program in Summer 2021, Adelphi will once again offer their synchronous, noncredit certificate program in January 2022.
Participating students will gain an understanding of the AI industry adoption that furthers the digital transformation of enterprises—and become familiar with AI technologies such as natural language processing, machine learning, neural networks, virtual agents and computer vision.
The four-week workshop, a combination of lectures, hands-on labs and group work, is led by Adelphi faculty accredited in IBM Skills Academy.
"This flexible, online program will allow our students to develop the digital skills and apply design thinking techniques to create an AI solution for an issue in their field of study," said Graziela Fusaro, assistant provost for innovation at Adelphi. "We are thrilled to be hosting the program this winter."
In addition to the expertise of faculty, students will also enjoy interactive guest lectures from IBM professionals around the world. Upon completion of the program, participants will earn an Adelphi Certificate of Completion as well as certificates in IBM Artificial Intelligence and Enterprise Design Thinking, certified by IBM where students receive an IBM digital badge.
In Summer 2021, 18 students, with their backgrounds ranging from business and industrial engineering to computer science and data analytics, completed the program. Nino Tchavtchanidze, a junior at Adelphi who took the summer program, said it was a highly profitable experience, professionally and personally.
"The program gives valuable knowledge in a very short period of time," said Tchavtchanidze. "The skills learned are in high demand in every field, which makes this course a perfect opportunity to boost your résumé and career. Also, this program enlarged my network. I connected with amazing professionals and students from other countries. I even gained some friends as well."
"The Enterprise Design Thinking badges, provided by IBM Skills Academy, is a proof of concept for the individual because they are enabled to use the set of tools to bring innovation to whatever field you may be pursuing," said Leonardo L de A Freire, a squad leader and innovation consultant at IBM in San Paulo, Brazil, and a collaborator of the design thinking workshops. "It not only provides the student with new knowledge but most importantly that he/she is able to lead innovation workshops and drive any organization to bring new solutions to the world."
The winter session, which will run from January 5 to January 22, 2022, is open for registration.
Learn more about the Artificial Intelligence and Design Thinking program.