In this course, you will expand your understanding of the AI industry adoption that furthers the digital transformation of enterprises — and become familiar with AI technologies such as natural language processing, machine learning, neural networks, virtual agents, and computer vision.
The Innovation Center in collaboration with IBM Skills Academy is offering a synchronous online class led by Adelphi faculty accredited in IBM Skills Academy. Artificial Intelligence (AI) is the science behind systems that can program themselves to classify, predict, and recommend.
Earn these certificates upon completion of this course: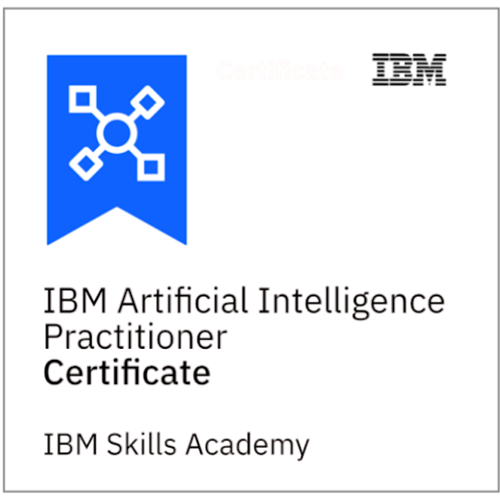 IBM Artificial Intelligence - Certificate
Enterprise Design Thinking Practitioner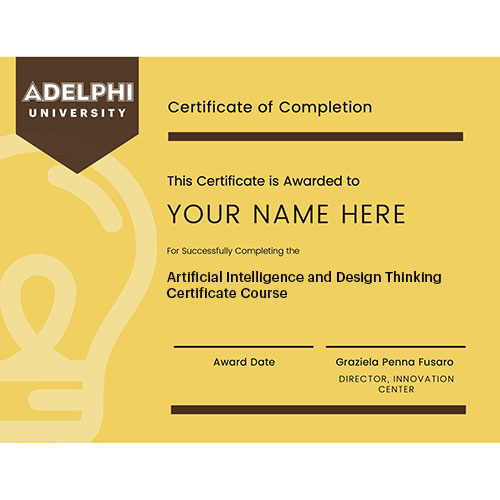 Certificate of Completion
Goals for Your Experience
Real-World Applications
Engage in role-playing challenge-based scenarios to propose real-world solutions.
Cross-Disciplinary Experiences
Explore existing and future implementations of AI solutions across multiple industries including: automotive, education, policy, social media, government, consumer, among others.
Analytical Skills
Gain a competitive edge using low-code cloud-based AI tools, IBM Watson, and pre-built machine learning algorithms.
Design Thinking
Learn in-demand agile industry practices for design thinking and AI through an end-to-end industry use case experience.
Team Building
Engage with other students from different backgrounds and learn how to collaborate remotely and add to each other's expertise to create better solutions.
Program Options & Costs
Note: Once the IBM course token code is activated students will not be able to drop this course.
Status
Course Rates
Lab Fee
Students
$750
$150
Staff
$

700

$150
Other Individuals*
$900
$150
*Corporate discount rates for groups of 7 students or more
Timing & Program Format
Winter 2022 course dates: from January 5-22, 2022
Summer 2022 course dates: from July 18- Aug. 8, 2022
Reserve your place by emailing: InnovationCenter@adelphi.edu 
Winter 2023 course dates: from January 9 -27, 2022
Reserve your place by emailing InnovationCenter@adelphi.edu
Schedule: Mondays, Wednesdays, and Thursdays from 6:00pm – 8:00 pm EST
Students should plan for an average weekly commitment of 10–12 hours a week. Each week students will engage in:
Active Learning: 6 hours of active learning participating in instructor-led lectures, and design thinking workshops.
Self-Paced: 5 hours completing labs, class preparation activities, and office hour visits
Concepts (25%)
Expand knowledge and understanding of the topics through lectures, training, examples, videos, and quizzes.
Hands-on Labs (35%)
Implement concepts learned through simulations, hands-on labs, and games.
Group Work Activities (40%)
Understand the real-world impact of topics covered with a deep dive into industry case studies.
Your Course Journey with the Innovation Center
Wednesday, January 5
Artificial Intelligence Landscape Overview and AI Industry Adoption
Thursday, January 6
Natural Language Understanding
Monday, January 10
Computer Vision 
Wednesday, January 12
Machine Learning and Deep Learning
Thursday, January 13
Future Trends for AI
Wednesday, January 19
Design Thinking Introduction & Exercise Introductions  
Thursday, January 20
Design Thinking Exercise Continued 
Monday, January 24
Design Thinking Final Presentation and Final Exam 
Location
Swirbul Library First Floor