Adelphi University theater, nursing and social work students and faculty, under the guidance of Autism Friendly Spaces, put on a performance for individuals on the spectrum and their families.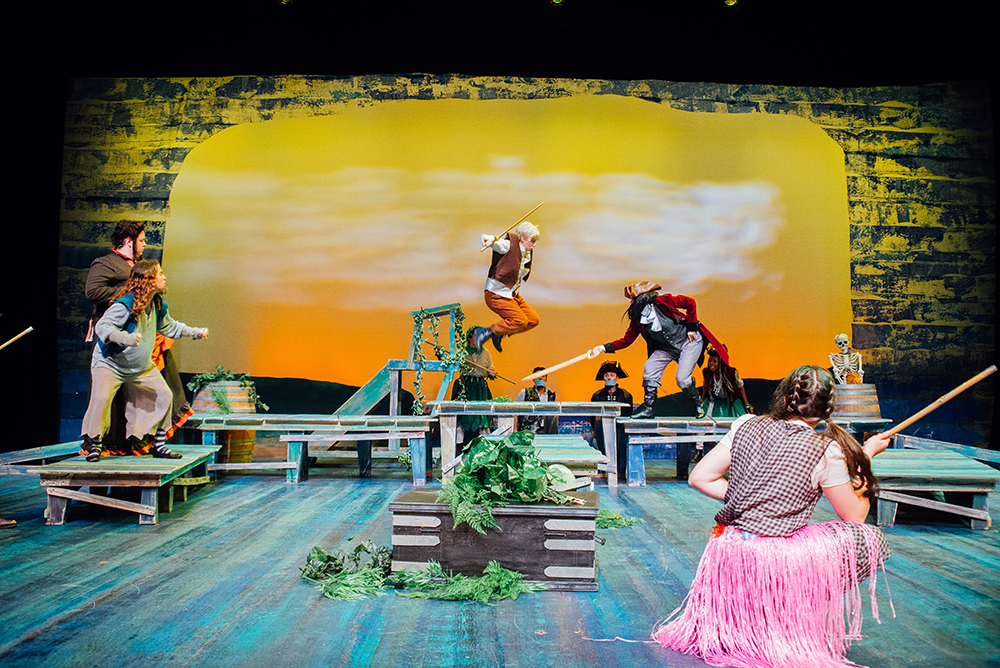 ---
Peter Pan has led children on mythical adventures for generations. But sadly, following him into the theater hasn't always been an option for all children. Adelphi University—which has made accessibility a top priority across campus—has taken strides in making theater accessible to audiences who would have difficulty attending a performance geared toward a general audience.
From Nov. 7-12, the Adelphi Theatre Department staged Peter and the Starcatcher—an award-winning contemporary retelling of the Peter Pan story—with the final evening specifically, and painstakingly, tailored for an audience of people on the autism spectrum and their families–one of the first autism friendly performances of a college production that has ever been staged.
"If we're going to be a model for diversity and inclusion, we need to think about how we can be inclusive in everything we do," said associate theatre professor Margaret Lally, who was instrumental to organizing the production, referring to President Christine M. Riordan's goal of making Adelphi a more diverse and inclusive campus.
The University's Performing Arts Center has already offered performances that feature ASL interpreters, Bluetooth enabled simulcast for the hard of hearing and wheelchair accessibility. For next year's production of the 1928 expressionist drama Machinal, the PAC will for the first time provide open captioning.
But the autism-friendly production of Starcatcher was an even bigger challenge. Faculty and students from the Theatre Department, the College of Nursing and Public Health and the School of Social Work worked with the Autism Friendly Spaces consultants to transform the PAC Concert Hall into a friendly space. Individuals on the autism spectrum have a hard time joining in with a crowd of theatergoers. They might have trouble remaining still or paying attention. Dark rooms, bright lights or sudden sounds can be triggers. The final performance of Starcatcher was designed with such issues in mind.
Autism Friendly Spaces provided guidance and training to Adelphi students. On the day of the performance, nursing and social work students were there to offer help, and a speech therapist and occupational therapist were on hand to support audience members who might need extra attention. Fidget toys were given to anyone having trouble sitting still. Outside the theater, a play area and quiet room were set up for those who needed a break.
"If there's one person who went to the theater that day who wouldn't have been able to if we hadn't do this, it was a success," Lally said.
One such person was a 6-year-old girl whose mother was very apologetic when her daughter was being loud during the production and not staying in her seat. Lally recalled saying to the woman, "You don't understand. This is for her." Mother and child took a short break in one of the designated spaces outside the theater and by Act 2 the child was sitting in her seat. "I was amazed," Lally said.
---
For further information, please contact:
Todd Wilson
Strategic Communications Director 
p – 516.237.8634
e – twilson@adelphi.edu