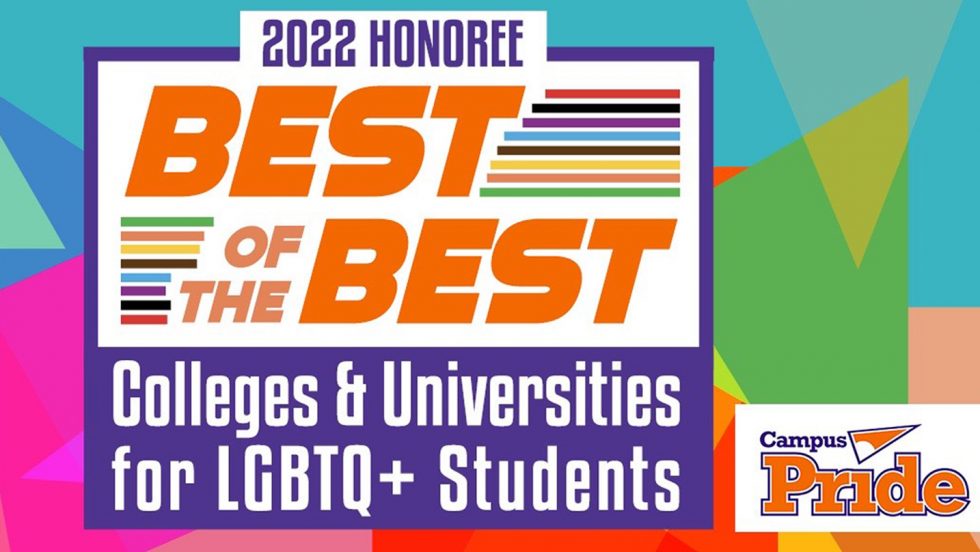 Adelphi University has earned the exceptional achievement of a five-star rating on the Campus Pride Index—a nationally recognized measure of LGBTQ+ friendliness and inclusivity. Campus Pride also chose Adelphi as one of the Top 40 Best of the Best LGBTQ-Friendly Campuses.
On the index, Adelphi earned a score of 100 percent in LGBTQ+ campus safety, support and institutional commitment, and recruitment and retention efforts. These major achievements reflect years of campus wide planning, collaboration and openness to innovation and change.
"This ranking is a symbol of our commitment and the investment that we've made in really making sure that our campus is a model for diversity and inclusion," said Anna Zinko, assistant vice president for student affairs. "It's another way of letting students know that when they come to Adelphi, they can show up as their whole authentic selves."
An inclusive hub for the LGBTQIA+ community
A range of new initiatives contributed to Adelphi's five-star rating.
This fall, Adelphi is launching its new Multicultural Center, supported by coordinator Robby Fahrenholtz, who will have specific responsibilities in supporting LGBTQIA+ students. The Multicultural Center will serve as an inclusive hub for students, faculty and staff to interact, collaborate and celebrate.
"We're really excited about the Multicultural Center opening and being a space where students from all different identities can gather," Zinko said. "It's a place that was specifically designed with them in mind."
Along with building new initiatives, Fahrenholtz will work with students to build on existing programs like the Out for Lunch series, which brings LGBTQIA+ students, faculty, staff and administrators together to speak about their life experiences. "Robby is really invested in collaborating with students and getting their feedback about what they want to see here on campus," Zinko added.
A variety of initiatives create a more supportive campus
Students have also been instrumental in building a more supportive and equitable campus experience. Last year, as a senior, Mylo Fisherman '22 formed the new organization, Students Beyond the Binary, to create a safe space for transgender and gender-nonconforming students and their allies on campus. The Student Government Association also established a scholarship fund to send a student to attend LGBTQIA+ events like the Camp Pride Summer Leadership Academy.
Additionally, the Safe Zone training program is used to identify community members as Safe Zone advocates for the LGBTQIA+ community. And academically, the gender studies minor program has become more inclusive by changing to the gender and sexuality studies minor.
Zinko credits the success of these initiatives to the LGBTQIA+ Task Force, which has met regularly for several years and includes administrators as well as members of the faculty and student body.
"The way we've approached this work at Adelphi, by making incremental and sustainable change, is something that really can be a model for other institutions," Zinko said. "It's taken the work of people all across campus—from public safety and admissions to faculty and academic partners. They've all really helped us get here."
Going forward, the task force will continue to develop programs for LGBTQIA+ acceptance and inclusion at Adelphi.
"Being ranked as a five-star campus is really exciting, but we want to make sure we're living up to that every day," Zinko said, "so all members of our community have the best possible experience when they get here."