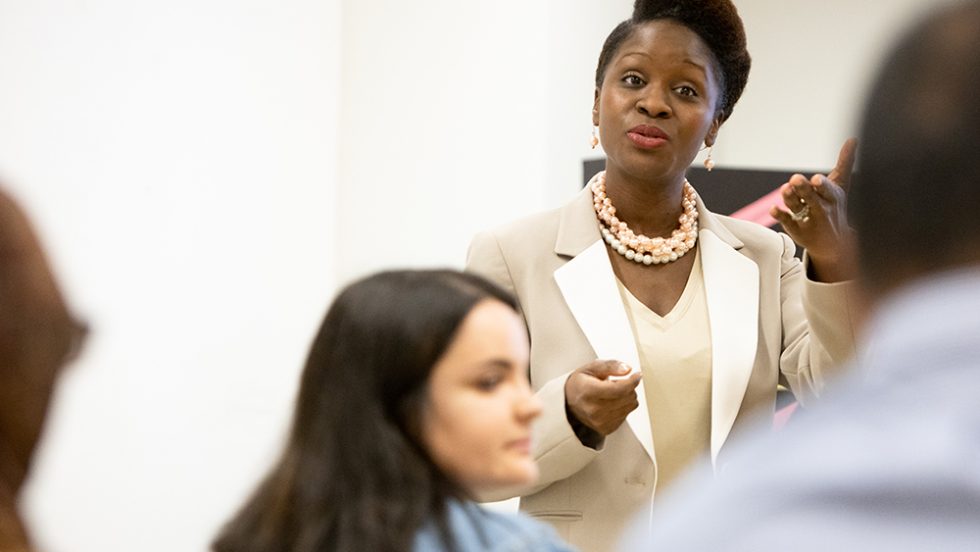 Created five years ago to help students of color, Adelphi's expanding mentoring program has just received a prestigious Eduventures Innovation Award. The honor is only one measure of the program's success.
In 2014, Adelphi faced a troubling issue: the low retention rate of students of color. Many of these students were the first in their family to attend college. Many felt marginalized and that they had little connection to life on campus.
Adelphi realized that it needed to provide better support for these students. That year, it launched a novel mentoring program matching students with faculty or staff members on a one-to-one basis. Concentrating on recruiting first-year students, the idea was to provide support for students from the moment they stepped on campus in order to address problems as soon as, or even before, they arose.
Now, just five years later, Adelphi's first-year mentoring program has been recognized as a model program with an Eduventures 2019 Innovation Award. The award was presented on June 6 to Chotsani Williams West, MA '07, the founding director of the program.
"The award is an incredible win for our Adelphi University community," West said. "This recognition acknowledges the role that innovative student-centered programming has in education and reflects our belief in student potential."
The program has grown significantly since its inception. Starting with 10 students and 10 mentors, it had 74 students and an equal number of mentors this academic year. It has also expanded to include LGBTQ+ students, veterans and first-generation students, as well as any students who wish to improve their leadership skills.
It has served as a model for other new mentoring programs on campus, including a recently launched peer mentoring program in the College of Nursing and Public Health.
And it has helped raise the four-year graduation rate of African-American students by almost 18 percentage points. In addition to that, the GPA of students in the program is higher than the University average.
West attributes the success of the program to its "meeting students where they are" approach. Students are carefully matched with mentors, who are trained to focus on their mentee's unique needs in order to build trust. Mentees drive the relationships, free to discuss the issues that are important to them; mentors are trained to listen and help guide in a way that encourages academic and social growth.
Anysa Lewis, a psychology major and rising senior, is just one of the students who have benefited from the program.
"Joining the mentoring program was one of the best decisions I've made while in college," she said. "Having someone there to let you know that they've been through what you're going through is refreshing. I would advise any incoming students to join the mentoring program freshman year because it changed my whole perspective on college and I know that it will do the same for others."