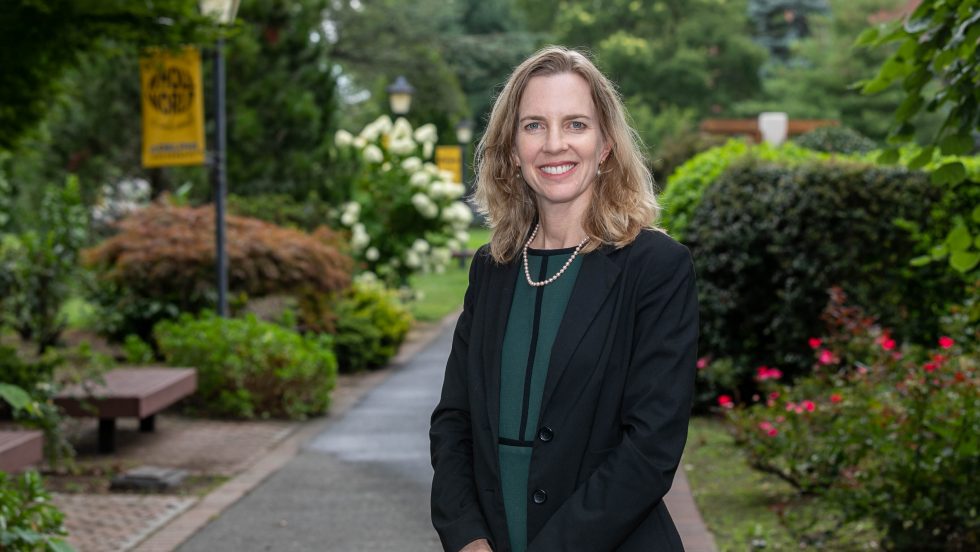 Following an extensive search process, MaryAnne Hyland, PhD, has been selected as dean of the Adelphi University Robert B. Willumstad School of Business, effective immediately.
Dr. Hyland has been part of the Adelphi community for more than 22 years, serving as a professor, faculty adviser, associate dean, and leader of many committees and task forces that have successfully advanced the business school's goals and stature. In March 2021, she was appointed interim dean of the business school.
"I am confident that Dr. Hyland's experience and commitment to the next era of business education, combined with her vision, highly effective management style, and strong relationship with the faculty, will serve Adelphi University well," said Christopher K. Storm Jr., PhD, provost and executive vice president.
"Her long experience at Adelphi, along with her connections in the business community and higher education nationally, position her well to lead the Robert B. Willumstad School of Business," Dr. Storm added. "Her collaborative style has had a tremendously positive impact by bringing more voices to the table and engaging the full business school community in setting a standard of excellence."
As interim dean, Dr. Hyland established a summer faculty development initiative focused on enhancing the curriculum with technology, and created the James F. Bender Endowed Clinical Professorship using an existing endowment. Additionally, she developed the student exchange component of Adelphi's Trans-Atlantic Virtual Exchange and Collaboration project with Hochschule Fresenius University of Applied Sciences in Cologne, Germany.
Her previous accomplishments at Adelphi include oversight of the Willumstad Winning Edge co-curricular initiative and the Willumstad Leadership Scholars Program. Both programs provide career-readiness opportunities throughout the undergraduate business experience. Dr. Hyland oversaw the creation of a Manhattan-based global immersion business course and led a curriculum review task force that resulted in a new undergraduate specialization in business analytics. Additionally, inspired by the Willumstad School of Business faculty, she led the development and implementation of three-year tracks for each undergraduate business degree program to ultimately reduce the cost and time for students to begin their careers or graduate studies.
Dr. Hyland earned a Bachelor of Business Administration from Loyola University Maryland. She completed her Master of Human Resource Management and PhD in Industrial Relations and Human Resources at Rutgers University. She is also a Society for Human Resource Management Certified Professional (SHRM-CP).
Before joining Adelphi faculty in 1999, Dr. Hyland was a training associate and benefits analyst for Hewitt Associates (now Aon) and has been a consultant for various organizations in her specialty, human resources and performance management. Along with regularly publishing in academic and professional journals, she has contributed book chapters and invited presentations and papers at academic and professional conferences.
The Robert B. Willumstad School of Business belongs to a select group of higher education institutions that meet the highest standards for business education, having been continuously accredited by AACSB International since 2007. The School offers undergraduate degree programs in business, business administration and economics, as well as master's degree programs in supply chain management, accounting, business analytics as well as business administration (MBA along with a Global MBA and Accelerated MBA).