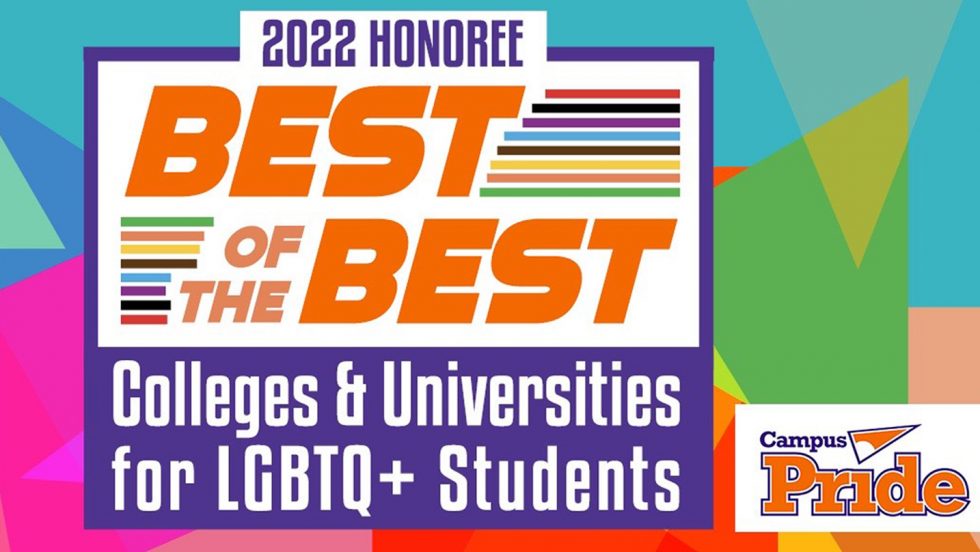 Adelphi University has been named to Campus Pride's annual Best of the Best Colleges and Universities for LGBTQ+ Students in the United States for creating a safe, welcoming environment for students, faculty and staff alike.
The announcement from Campus Pride features 40 four-year campuses from across the country that have achieved five out of five stars on the Campus Pride Index.
"Being recognized by Campus Pride as the best of the best is a tremendous honor," said Anna Zinko, assistant vice president for student affairs. "It is an affirmation of the efforts of the faculty, staff and students across Adelphi's campus who have dedicated their time, energy and passion to ensure that Adelphi is inclusive and supportive of our LGBTQIA+ community members."
"Campus Pride created the Best of the Best list to recognize the outstanding accomplishments of these colleges and universities, creating safer, more welcoming campuses for LGBTQ+ people," said Shane Windmeyer, Campus Pride executive director. "Students, prospective students and their families, along with faculty and staff members, deserve to know whether they will be safe on campus, so they can make the best choices for their own academic success. By creating inclusive, safe environments, these colleges are taking responsibility for all students."
Adelphi's latest effort to further support its LGBTQIA+ community will be the opening of its new Multicultural Center in the fall of 2022. The center's staff will include a coordinator dedicated to providing programming, education and support for the LGBTQIA+ community on Adelphi's campus. In addition to being a hub for cultural activities and celebrations on campus, it is a place where all students, and especially BIPOC, LGBTQIA+, international, and first-generation students from underrepresented groups, can feel at home.
"The work Campus Pride does every day to foster safer, more welcoming campuses across the country is creating positive change for students, staff and faculty, as this year's Best of the Best list reflects that with 40 colleges represented, up from 30 last year," said Tom Elliott, Campus Pride board chair. "At a time when LGBTQ+ rights and other civil rights are under assault in states across the country, including Texas and Florida, it is as important as ever to recognize the campuses in these states working to create spaces where the next generation of LGBTQ+ leaders can learn and flourish."
Learn more about Adelphi's LGBTQIA+ support initiatives.
Read the full list of Campus Pride's 2022 Best of the Best Colleges & Universities.