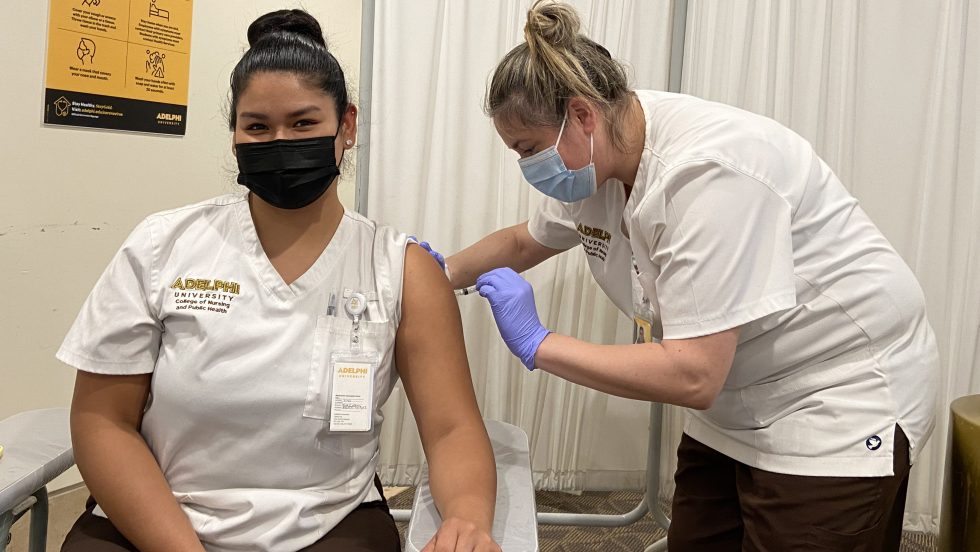 Adelphi University has announced its participation in the White House COVID-19 College Vaccine Challenge. The new initiative invites colleges and universities across the country to join in taking action to end the pandemic by encouraging students, faculty and staff to get vaccinated.
"We are proud to be one of the first private colleges on Long Island to join this vaccine challenge and to do our part to help conquer this virus and safely get back to normal," said Nicole Gaudino, executive director of University Health and Wellness at Adelphi.
Announced on June 2, the challenge asks participating colleges to commit to taking three key actions to help get their campus communities vaccinated. These actions include engaging every student and faculty and staff member in awareness of vaccine eligibility, organizing their college communities to promote vaccine efforts, and delivering vaccine access by offering on-campus vaccinations and connecting communities with local resources.
The COVID-19 College Vaccine Challenge is part of President Joe Biden's National Month of Action, which aims to get 70 percent of Americans vaccinated by July 4. According to Gaudino, so far more than 300 colleges have already committed to the challenge.
Adelphi is among the first universities in the state to offer on-campus vaccinations for students and has engaged community members through informational forums, email, social media, online FAQs and calls to action and more throughout the pandemic. Information about COVID-19 vaccinations and other comprehensive information and resources are updated regularly on the Adelphi website.
In addition to joining the COVID-19 Vaccine Challenge, in May Adelphi announced a COVID-19 Vaccine Incentive Program that rewards Adelphi community members who have gotten fully vaccinated. Those who share proof of vaccination with the University will receive gift cards and be eligible for raffle prizes, including tickets to professional sports games and theater performances.
To learn more about the challenge, visit WhiteHouse.gov/COVIDCollegeChallenge. To learn more about Adelphi's COVID-19 initiatives, visit adelphi.edu/coronavirus.