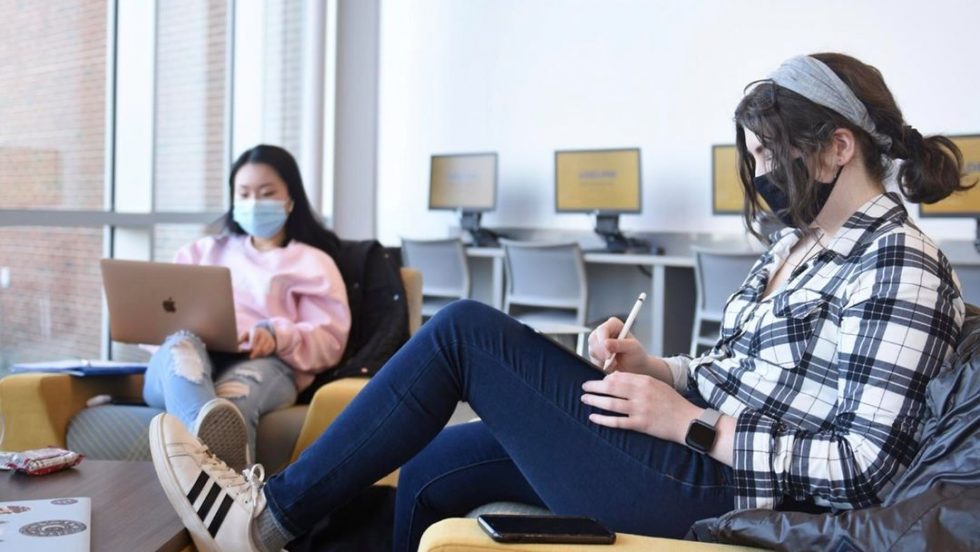 Dear Adelphi Community,
In preparation for a safe return to campus this fall, we urge students, faculty and staff to get vaccinated and to voluntarily notify the University of your vaccination status. This will enable our Health and Wellness team to add anonymized metrics to the Adelphi COVID-19 Dashboard, complementing our COVID-19 case tracking and testing reports. 
Benefits of Uploading Your Completed CDC Vaccination Card 
Adelphi students, faculty and staff are encouraged to complete their full vaccination by August, 1, 2021. A full vaccination is presently defined by the Centers for Disease Control and Prevention (CDC) as two weeks after the second dose of the Pfizer-BioNTech or Moderna COVID-19 vaccine, or two weeks after a single-dose Johnson & Johnson's Janssen COVID-19 vaccine. 
All Adelphi community members who upload proof of full vaccination between June 1 and August 1, 2021, will:
Choose from one of the following:
$25 Panther dollars, which can be used at any dining location on campus
$25 Adelphi Bookstore and spirit shop gift card
$25 Panera gift card
$25 Starbucks gift card
Be entered into a raffle for larger prizes including:
A reserved parking space on the Garden City campus for the fall semester
Two tickets to a New York Mets game
Two tickets to a New York Yankees game
Two tickets to an Adelphi PAC performance
Two round-trip LIRR tickets to New York City
Wellness gear, such as folding bicycles, air fryers and blenders
Individuals who submit their proof of vaccination will no longer have to participate in ongoing random (surveillance) COVID-19 testing.
Resident students who upload proof of full vaccination between June 1 and August 1, 2021, will also be entered into a drawing for one of ten (10) $500 housing credits for Fall 2021.
Gift cards will be mailed and raffles will be drawn after August 1, when the upload period is complete. 
Benefits of Being Vaccinated
According to the Centers for Disease Control and Prevention (CDC):
All COVID-19 vaccines currently available in the United States have been shown to be safe and effective at preventing COVID-19. 
All COVID-19 vaccines that are in development are being carefully evaluated in clinical trials and will be authorized or approved only if they make it substantially less likely you will get COVID-19.
Based on what we know about vaccines for other diseases and early data from clinical trials, experts believe that getting a COVID-19 vaccine also helps keep you from getting seriously ill even if you do get COVID-19.
Getting vaccinated yourself may also protect people around you, particularly people at increased risk for severe illness from COVID-19.
Experts continue to conduct studies to learn more about how COVID-19 vaccination may reduce spread of the virus that causes COVID-19.
Being fully vaccinated makes you eligible for the New York state Excelsior Pass, a mobile app that provides a free, fast and secure way to present digital proof of COVID-19 vaccination or negative test results. This can help you get into places and do things that require proof of vaccination.
How Do I Get Vaccinated?
Community members can be vaccinated through a state-administered site or through an authorized vaccination site, including hospitals and pharmacies. 
Through a state-administered site:
Use the New York state online vaccine finder, or call the New York state COVID-19 vaccination hotline at 833.697.4829.
 Through an authorized vaccination site (including hospitals and pharmacies):
How to Upload Your CDC Vaccination Card
Your proof of vaccination will be securely stored on Adelphi University's Health Services portal and becomes part of your confidential health record. 
Scan or photograph your vaccine card. If you will be uploading it via your desktop, please send the image to your computer. Please note that the Health Portal limits the file size to 4 MB. 
Go to eCampus, click on the Health Portal tile and follow the instructions for uploads.
Although the AU2GO mobile app can be used to access the Health Portal, uploads are not supported by the Android platform. Android users must open eCampus in an internet browser.
If you have any questions or concerns about Adelphi's COVID-19 vaccination incentive program, you can reach out to our University Health and Wellness team via email at healthandwellness@adelphi.edu or by calling Adelphi Health Services at 516.877.6000.
Sincerely,

Nicole Gaudino
Executive Director
University Health and Wellness