Adelphi is investing in new labs that are transforming students' learning experiences and driving them into fields like health informatics to cybersecurity.
All around campus, Adelphi is investing in new labs that are transforming students' learning experiences and setting them up for success in some of today's most in-demand careers—from health informatics to cybersecurity.
With the aid of a $104,000 grant from New York state, a new Health Sciences Lab for students in Adelphi's anatomy and physiology courses will open this fall in the Science Building. "We have a strong anatomy and physiology program right now," said Susan Briziarelli, Ph.D., acting dean of the College of Arts and Sciences. "But this is going to allow us to build a cornerstone of our program."
The new lab will be equipped with all-new skeletons and torso models, with round tables for groups of students to collaborate, and with large screens on the walls, SurfacePro tablets for students and cutting-edge apps, all allowing for high-tech simulations and attention-grabbing 3-D modeling.
With more creative and entrepreneurial opportunities in medical and biomedical careers than ever before, the lab is also opening a new world of possibilities to students.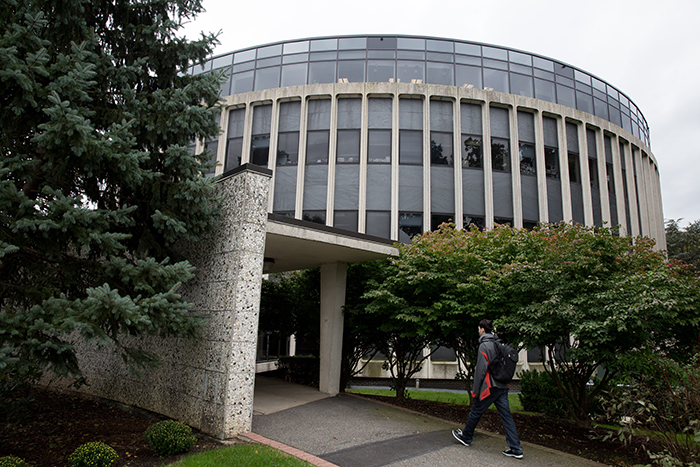 "The way a lab worked when I was a student, it was very much you go sit at a bench and do the experiment and then go home," said Dr. Briziarelli. "It was interactive in the sense that you were carrying out the experiment, but this is so different. It makes you think critically. It shows the creative side of science. It's exact, but it shows that science is in many ways artistic."
In the Nexus Building, another infrastructure update is creating a new Health Informatics Lab. New remote monitoring, telehealth, and robotic technologies are transforming the existing Home Health Lab into a smart-home space that better trains nursing students and provides a wealth of data for students in Adelphi's health informatics program to work with behind the scenes.
"This is going to give students a state-of-the-art experience in how home care will be managed and cutting-edge skills to leave school with," said Elaine Smith '78, M.S. '88, Ed.D., acting dean of the College of Nursing and Public Health.
Adelphi math and computer science students have also benefited from upgrades, with a new Math Lab, a new Computer Science Lab, a new Cybersecurity Lab and a Game Development Lab almost completed.
With comfortable furniture, whiteboard walls and large tables for groups to gather, the new Math Lab draws both students and faculty, said Tuval Foguel, Ph.D., professor and chair of the Department of Mathematics and Computer Science. "It's always busy," Dr. Foguel said, with math tutors holding office hours in the lab, students talking with one another and with faculty, and even gatherings for card games and board games. "It's a great advantage for creating a community of math and computer science majors," he said.
The new Computer Science Lab is a similarly significant improvement, Dr. Foguel said, with more comfortable workspaces and many more computers—critical resources for Adelphi's growing number of computer science majors.
In the new Cybersecurity Lab in Alumnae Hall, students studying information security are now able to study not just traditional Internet security, but the "Internet of Things," everyday devices increasingly connected to the Internet, from refrigerators to doorbells.
An almost-completed Game Development Lab, also in Alumnae Hall, will be equipped with cutting-edge equipment, including Oculus Rift, Google Cardboard, and HTC Vive virtual reality headsets, high-end desktops and even a development edition of the not-yet-released Microsoft HoloLens.
"This is exciting for faculty research and development, while also helping prepare our students to find employment in this rapidly evolving field," said Lee Stemkoski, Ph.D., associate professor of mathematics and computer science, who oversees the lab.
Health, science and technology are continually advancing, but with investments in labs like these, Adelphi students and faculty are better equipped than ever to meet the future of their fields.
---
For further information, please contact:
Todd Wilson
Strategic Communications Director 
p – 516.237.8634
e – twilson@adelphi.edu