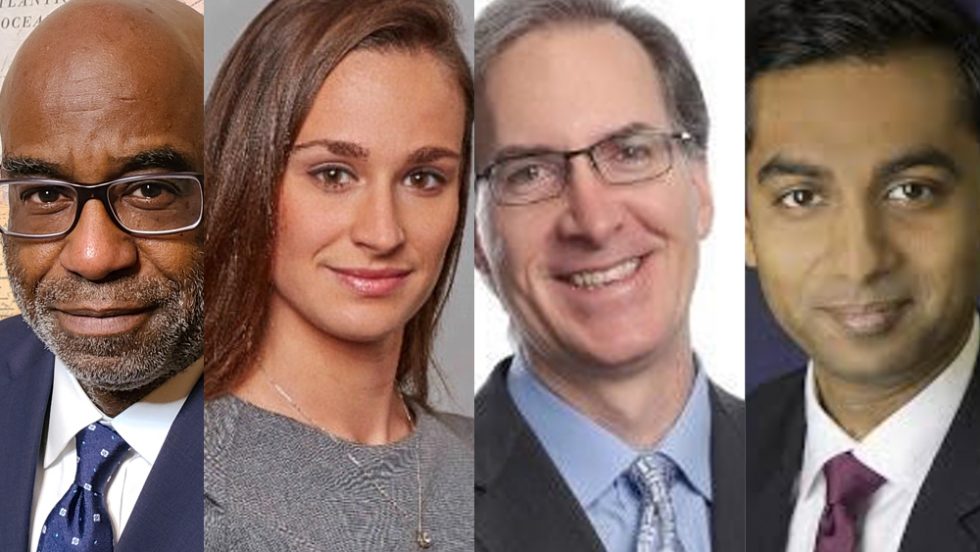 Four successful leaders were elected to the Adelphi University Board of Trustees at the end of 2020. Our institution is fortunate to gain the expertise of these dedicated and accomplished Adelphi alumni.
With a commitment to all our students and to providing a transformative Adelphi experience, the Adelphi University Board of Trustees plays a pivotal role in guiding the University by ensuring we stay on mission and continue to be on a firm financial footing.
A diverse group of accomplished leaders, the board recently welcomed four newly elected members. Our new trustees are all alumni, and each brings unique expertise, perspective and commitment to serving our University.
Suhit Gupta '00 is senior vice president and chief information officer at General Atlantic, a growth equity firm based in New York City. After graduating from Adelphi with a BS in computer science and mathematics, he earned a PhD in computer science at Columbia University. He has served on the Adelphi University President's Advisory Council since 2017, where he provides valued feedback, advice and direction on key strategic initiatives.
Steve Jones '89 is president and chief operating officer of Skyview Networks, a broadcast technology and national sales solutions company providing services to national news organizations, professional and collegiate sports organizations, and syndicated radio. He has held senior management positions at the Walt Disney Internet Group and ABC News and has more than a dozen Edward R. Murrow Awards, a Peabody Award, the Ward L. Quaal Leadership Award from the Broadcasters Foundation of America and the First Amendment Award from the Radio Television Digital News Association. A mentor to Adelphi students who has organized annual career events for graduating seniors, he has served as a member the President's Advisory Council since 2018.
Curtis O. Minnis '77 retired as managing director of global sales at FedEx after 15 years in that role. An active and engaged alumnus, he was a founding member of the Multicultural Alumni Chapter in 2003 and has served as a member of the Panther Club Executive Board since 2015 and the President's Advisory Council since 2017. An athlete who starred in cross country and track and field at Adelphi, he was presented with the Frank Cassell Memorial Award in 2007 for his ongoing support of the University's student-athlete community. In the larger community, he has devoted himself to the Kips Bay Boys & Girls Club in New York City, serving as vice president of its board of trustees since 2004.
Monika Mohacsi '14 is a senior project engineer at Jaros Baum & Bolles, a mechanical, electrical and building services engineering firm based in New York City. She is a graduate of Adelphi's joint degree program with Columbia University, earning a BS in physics at Adelphi and a BS in electrical engineering at Columbia. A dedicated mentor, she has served as a member of the ACE (Architecture Construction Engineering) Mentor Program of America for high school students and is currently a member of the mentorship committee of Professional Women in Construction (PWC). She was recently nominated for and accepted into the Beverly Willis Architecture Foundation (BWAF) Emerging Leaders Program, a New York-based professional development opportunity.
Read more about our trustees and how the board helps to advance the mission of Adelphi University.