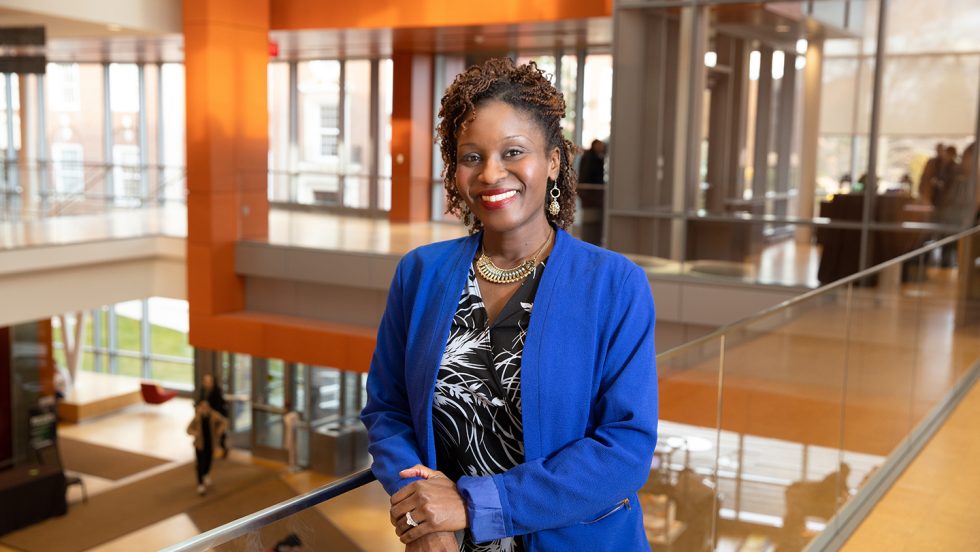 As a thought leader in the mentoring movement, Adelphi University is a two-time winner of the Eduventures Innovation Award for student-centered programming. At the core of the University's Office of Diversity, Equity and Inclusion's work is the belief in the role mentoring can play in increasing equity through human connection.
This commitment made Adelphi a perfect fit to cohost the 2021 Mentoring Matters Conference organized by MENTOR New York. The conference's aim was to address the dimensions of mentoring for diverse populations in educational spaces with a focus on ensuring students of color in particular do not miss out on mentoring opportunities amidst the heightening racial tensions in America.
The daylong event was attended by mentoring professionals and youth leaders from across the United States, who participated in workshops such as those designed to equip the professionals with the tools they need to facilitate and have conversations with young people about race in America.
Chotsani Williams West, MA '07, executive director of diversity, equity and inclusion at Adelphi University, joined a panel discussion with Brenda Jimenez, CEO of MENTOR New York, and Rolanda Ward, PhD, associate professor of social work at Niagara University, to discuss ways to ensure students do not miss out on opportunities to be mentored.
Answering questions about steps taken by Adelphi to ensure diversity, equity and inclusion, West highlighted the different measures being taken by the University's Office of Diversity, Equity and Inclusion including getting students involved in shaping the University's diversity agenda.
"The College of Nursing and Public Health has a [Diversity, Equity and Inclusion Council as well as a Peer Mentoring Program, both of which include students," West said. "Within the Peer Mentoring Program, students are encouraged to be aware of the disparities that exist in hospital systems. Including our students in these conversations allows us to have it threaded through the fabric of the University so that it's a shared collective responsibility and then we talk about it and go back to hold ourselves accountable."
She noted that getting nursing students involved in their College's diversity program puts them in a position to become advocates and help translate concerns of people of color they encounter on the job.
Laura Quiros, PhD, associate professor of social work at Adelphi University, led a workshop on addressing trauma through mentoring. Dr. Quiros, whose research interests include racial and ethnic identity and trauma-informed practice, stressed the need for mentors to know and understand their connection to trauma.
"We are living in a time of complex trauma and so it is crucial to know how to use yourself and your learnings during this time in order to move any work forward," Dr. Quiros said. "The practice principle of 'use of self' means working with mentees from a place of personal storytelling and vulnerability."
She said mentors should create brave spaces of learning where both mentor and mentee can collaborate and urged mentors to employ five key principles—safety, empowerment, collaboration, trustworthiness and choice—through the lens of diversity, equity and inclusion in their daily work.
Brooks Frederick, senior adjunct faculty in Adelphi's Department of Art and Art History and co-facilitator of Adelphi's external Diversity Certificate program, led a workshop on practical strategies for racial equity in youth support programs. Frederick, who is a facilitator of the Confronting Implicit Bias and Microaggressions workshop at Adelphi, lauded the conference's focus on supporting mentees of color in the midst of "recent racialized violence in our country."
During his workshop, Frederick shared his experience of working with students from his Peer Mentoring Program at Adelphi.
"Peer leaders assist me by leading icebreakers and discussions that foster an inclusive, fun and 'brave' space for all their fellow students," Frederick said. "Having their input at every stage of the class has become crucial as we work toward a liberated, antiracist environment."
The Mentoring Matters Conference was sponsored by PSEG Long Island, Bethpage Federal Credit Union, Dunkin' and The McKoy Group. Adelphi University and Niagara University were community partner cohosts.