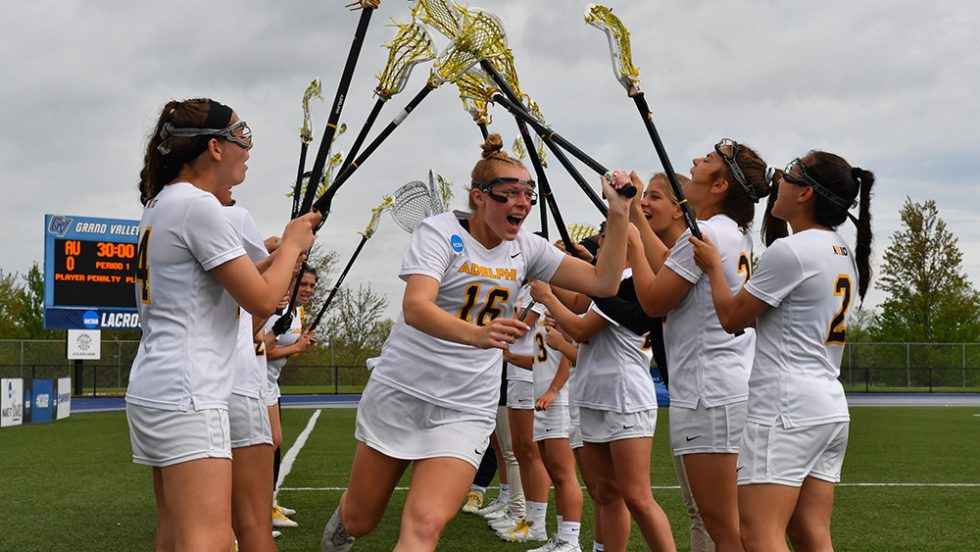 Despite grueling schedules, our scholar-athletes continue to lead academically among all Northeast-10 institutions. Finishing first in Fall 2020, they've taken the top spot in eight of the past 11 semesters—winning in their sports and their studies.
Winning isn't everything. Graduating is.
That's the approach to athletics at Adelphi University. Adelphi athletics teams have an illustrious history, winning 17 national championships in the NCAA's Division II.
But Adelphi athletes also shine in their studies. Adelphi University Athletics has one of the best academic records in its conference, the Northeast-10. For Fall 2020, Adelphi led the NE10 academically, with 89 percent of its 390 student-athletes named to the Academic Honor Roll. Fifty of Adelphi's student-athletes earned perfect 4.0 GPAs, and the average GPA for Adelphi's student-athletes for the semester was an impressive 3.5. Fall 2020 was the eighth semester in the past 11 that Adelphi led the conference in academics.
This stellar balance between athletics and academics is the result of putting student success first, said Emily Dorko '13, MBA '15, associate athletic director for external relations and senior woman administrator.
"At a DII school, a very small percentage of our student-athletes—if any—will go on to pursue a place in professional sports," Dorko said. "Our main priority for each of our student-athletes is for them to graduate and get a degree. If you happen to win a national championship or two along the way, or earn All-Conference or All-American accolades, that just adds to an overall great experience of being a student-athlete at Adelphi."
The focus on student success has resulted in Adelphi student-athletes having an impressive 92 percent graduation rate, nearly 20 points higher than the national average for DII schools.
Time management is key to success
Adelphi doesn't have tutors or academic programs specifically for student-athletes. Instead, the athletics department works to help students manage their classwork with their sports. "We try to teach them to manage their time," Dorko said.
Student-athletes spend a lot of time on the road, traveling to away games during the season. For some sports, student-athletes play as many as 20 away games, which means they potentially can miss a lot of class.
To help them communicate their needs to their professors, the athletics department asks each student-athlete to complete a form detailing their travel schedule at the beginning of the semester and give it to their professors. "They highlight the days that will be affected by their schedule, whatever classes they're missing, so the professor and student both know what's going on ahead of time," Dorko said.
Coaching staffs may also set up group study times for members of their team, where the members of an athletics team all get together in a single space on campus and hit the books together. In some cases, study sessions are mandatory for first-year students and sophomores and optional for juniors and seniors.
"We met in the Learning Center or the library," said Jackie Brown '21, of the team study sessions. Brown, who is about to be a fifth-year member of the women's field hockey team, said she kept going to the sessions throughout her undergrad career, even when they were no longer mandatory. "It was just nice to have a place to go and be quiet, to have the whole team go at the same time and sit in the same place and study together. It was a good place to get a lot of work done."
Brown graduated with a 3.75 GPA after spending many semesters on the NE10 Academic Honor Roll. She won Adelphi's Panther Leadership Award in 2020 and was also named a co-vice chair of the NE-10's Student-Athlete Advisory Committee for the 2020–2021 school year.
A long list of top-performing scholar-athletes
Adelphi has produced many outstanding student-athletes. There's soccer player Paolo Marciano, a junior majoring in management who was second runner-up for the prestigious 2021 Arthur Ashe Jr. Male Athlete of the Year award, an honor given to athletes who excel in the classroom and on the field. Star lacrosse player Alison Johnson '20, MA '21, is this year's NE10 Woman of the Year as well as a three-time CoSIDA Academic All-American. Johnson is the third Panther to be named Woman of the Year in the last four years. Softball player Brenna Martini '18, MS '20 won it in her graduation year, and Chelsea Abreu '19, MBA '21, won it in 2019. Abreu was also a finalist for the NCAA's 2019 Woman of the Year award.
Brown said support from Adelphi faculty, coaches and her teammates has been key to the great student success rates on the field and in the classroom.
"Everyone gets to know who you are here," Brown said. "You're not just a number or a name. They become very involved in your academic and your athletic career. There's a very good atmosphere at Adelphi, and there's focus on helping you balance academics and athletics. I'm so happy I came to Adelphi."