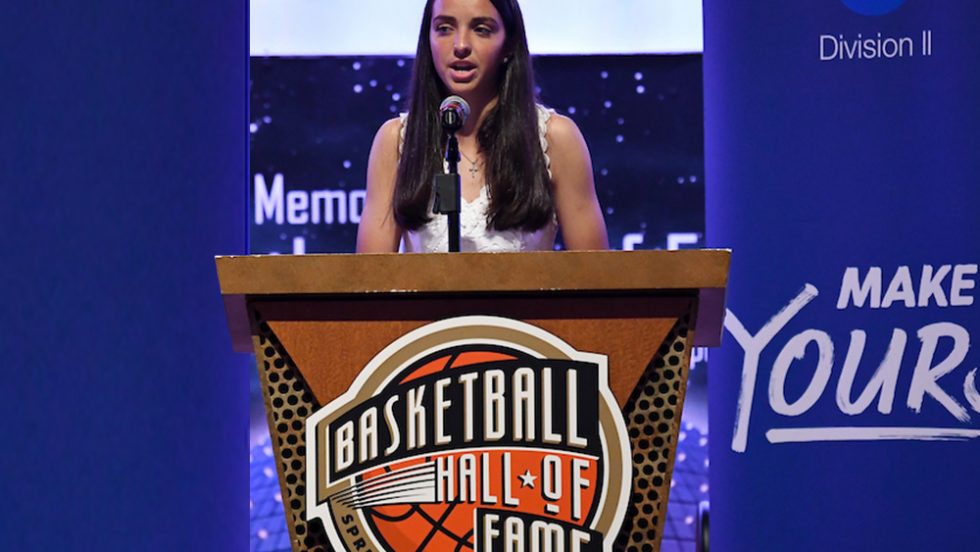 Already named the NE10 Woman of the Year, lacrosse star and classroom standout Chelsea Abreu '19 also became the first Panther to be named a finalist for the NCAA Woman of the Year award.
Chelsea Abreu '19 has hit plenty of milestones during her Adelphi career, from an almost perfect GPA to a powerhouse record on the women's lacrosse team. National leadership programs are taking note.
Abreu, a 2021 MBA candidate who also earned an undergraduate business degree from Adelphi, was chosen as a finalist for the National Collegiate Athletic Association 2019 Woman of the Year award.
She's the first student-athlete in Adelphi history to make the elite class of nine finalists for the award, which recognizes graduating student-athletes who have distinguished themselves in athletics, academics, leadership and community service.
She didn't win, but just being a finalist was an incredible honor. "The women I met were just awesome," she said after attending the award ceremony in Indianapolis on October 20. "Just to be in the room with them was inspiring. I was humbled to be part of the conversation."
In addition, after leading the Adelphi women's lacrosse team to the 2019 NCAA Championship, the second national title of her collegiate career, Chelsea Abreu has been named NE10 Woman of the Year.
[pullquote direction="right"]"I gained all these fundamental life skills. My Adelphi experience shaped me into becoming a well-rounded woman, athlete and professional."[/pullquote]
Abreu says she owes her academic and athletic success to Adelphi.
"I gained all these fundamental life skills. My Adelphi experience shaped me into becoming a well-rounded woman, athlete and professional," she says.
She found her career path in her first year in a marketing class taught by Adelphi lecturer Lily S. Lev, MBA '91. Abreu says Lev invited clients to class and had students create a campaign to increase brand awareness for their businesses. The clients were so pleased with the student plans that they implemented them, Abreu says.
"I was so grateful to be a part of a project that was much more than simply a grade," she said. "I instantly fell in love with marketing. [Lev's] passion for the field, coupled with her vast experience, was a guiding light for me."
Currently, Abreu is a graduate assistant in Adelphi's athletics department, handling budgets and travel arrangements for the University's 23 teams while she earns her MBA, concentrating in marketing.
"Without Adelphi, I wouldn't be here," she said. "They've helped open my mind to the possibility of what you can do."
Student success is a priority at Adelphi, and the University has many programs to encourage it. Efforts begin as soon as students arrive on campus. Workshops during Orientation help new students acclimate to the academic and social demands of college, and First-Year Seminars focus on high-impact learning experiences that promote intellectual growth. This year, U.S. News & World Report named Adelphi to the list of schools across the nation offering the best first-year experiences.
The University's Mentoring Program also guides students to success. It matches first-year students, as well as students in any class, with highly trained mentors who can provide insights into academic, social, career and even financial issues. Created to help raise the graduation rate of students of color, the program has seen all of its mentees earn their degrees. Students in the program have a higher GPA than the University average. Now in its fifth year, the program now includes veterans, LGBTQ+ and first-generation students. It is completely full, with 91 mentees and an equal number of mentors.
The Mentoring Program exemplifies Adelphi's personalized approach to learning, which meets students where they are and helps them get their degrees. The program won an Eduventures Innovation Award in June 2019, lauding Adelphi for focusing on each student's needs and goals—whether academic, social, financial or career oriented—and helping them connect to campus life.
As for Abreu, she is looking for her next success off campus and off the lacrosse field, handling brand management for a company after she graduates.
"I'm excited about the future," Abreu said. "I'm ready to go out and put my knowledge and skills to work."
---
For further information, please contact:
Todd Wilson
Strategic Communications Director 
p – 516.237.8634
e – twilson@adelphi.edu