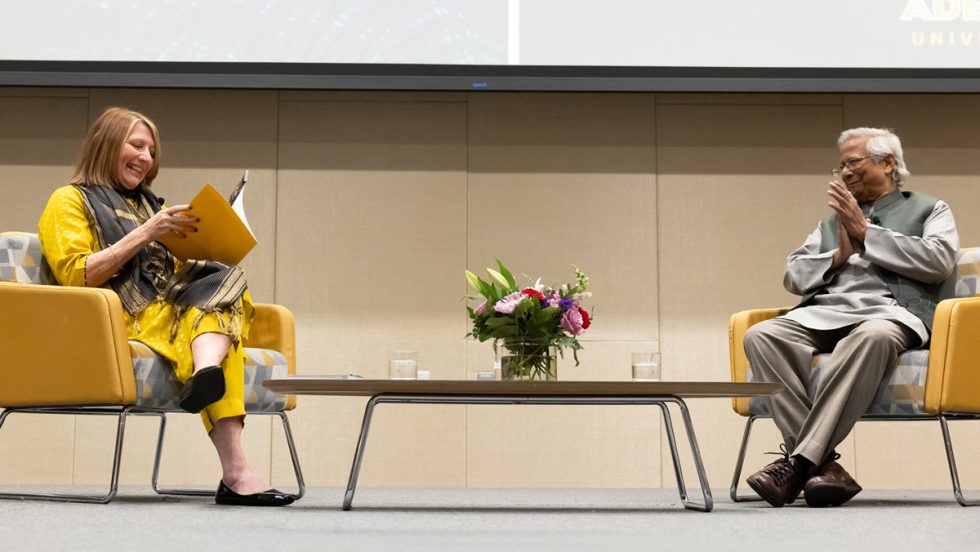 Nobel Peace Laureate Muhammad Yunus and Adelphi's dean of the College of Nursing and Public Health, Deborah Hunt, PhD '12, will be sharing knowledge, resources and research to improve health outcomes and build their respective missions in healthcare.
An International Partnership Begins. Adelphi hosted an exceptional visitor in March 2023, Nobel Peace Prize winner, professor and renowned Bangladeshi social entrepreneur Muhammad Yunus.
"I did not expect dreams to come true so quickly," he said to the crowd who gathered to meet the Nobel Laureate. "Not only am I here in Garden City, but I am holding our agreement, signed and sealed."
He referred to a new partnership between the Adelphi University College of Nursing and Public Health and the Grameen Caledonian College of Nursing (GCCN) in Dhaka, Bangladesh. The two colleges—the latter founded by Yunus in 2011—are exploring ways to mutually benefit each other's missions.
It is difficult to believe that Yunus would be surprised by dreams coming true—he candidly admits that his success has mostly come to him by chance. "Everything I've accomplished I know nothing about," he teased. "Opportunities jump in front of me, and I pay attention. I start with a tiny seed and see if it will grow into something big."
The new partnership aligns with the key goals of Adelphi's strategic plan Momentum 2—creating distinct academic experiences for students and faculty, building connections that enhance our community and the world, and growing purposefully in support of our University's mission.
Deborah Hunt, PhD '12, dean of the College of Nursing and Public Health, agreed. "Having an international partner like Professor Yunus is an exceptional opportunity. We have gained an immersive new way to explore nursing and learning through a new lens—different circumstances, cultures and healthcare settings."
Concepts for Collaboration
From both colleges, leadership and faculty have been discussing ideas for collaboration. Dr. Hunt said concepts have ranged from:
Piloting co-teaching with virtual reality simulation labs
Performing joint research
Creating a visiting scholar scholarship program
Inviting GCCN faculty to participate in Adelphi programs
Pairing faculty mentors
Introducing social business education opportunities at Adelphi
As GCCN works toward building its master's level programs and eventually a doctoral pathway, Adelphi looks forward to introducing a student exchange program in the future, Dr. Hunt said.
After a Chance Encounter, Stars Aligned
Several serendipitous events and introductions brought Yunus to Adelphi that day, beginning with Adelphi's renewed connection with alumnus Bharat Bhisé, MBA '78.
In June 2022, then newly appointed Dean Hunt was introduced to Bhisé, founder and CEO of Bravia Capital, at the University's 22nd Annual President's Gala. At the gala, Dr. Hunt and Bhisé talked informally about his friend Muhammad Yunus, the renowned Nobel Laureate who founded a nursing college in Dhaka, India.
Planting the Seed
When Bhisé returned to Adelphi later that fall, it was to formalize his establishment of the Bhisé Global Learning Experience, intended to help advance the values of Adelphi's Levermore Global Scholars program. He also toured Adelphi's state-of-the-art College of Nursing and Public Health facilities and met again with the newly installed Dean Hunt. Another star fell into place that day because Bhisé was joined by his friend Susan Gibson—a noted speaker on volunteerism abroad and global-mindedness.
In January 2023, Gibson was Dr. Hunt's liaison and sponsor on a trip to Dhaka, Bangladesh, to visit GCCN and meet Yunus. They toured both GCCN and the region's public college of nursing. Dr. Hunt said the differences were intriguing—their midwifery program is a non-nursing option and their students gain more clinical experience.
The colleges signed their agreement three months later, less than a year from when Dr. Hunt first met Bhisé. Dr. Hunt said, "When I think back to Adelphi's gala less than a year ago when I first learned about this amazing opportunity to partner with Professor Yunus, I believe all the stars aligned. I am grateful the seed was planted and look forward to seeing where the journey takes us."
More about Nobel Laureate Muhammad Yunus
Prior to establishing GCCN, Yunus became known as the father of the microfinance movement. He founded Grameen Bank in Bangladesh in 1983, fueled by a belief that credit is a fundamental human right. He began by lending small amounts—$5, $10, $50—mostly to women. Today, Grameen Bank has more than 10 million borrowers—97 percent of whom are women and boasts a 98 percent repayment rate.
"Imagine millions of the poorest illiterate women in Bangladesh taking tiny loans and transforming themselves into entrepreneurs, "said Yunus. "Their empowerment is changing our society."
In 2006, the Nobel Foundation awarded him and Grameen Bank the Nobel Peace Prize "for efforts to create economic and social development from below."