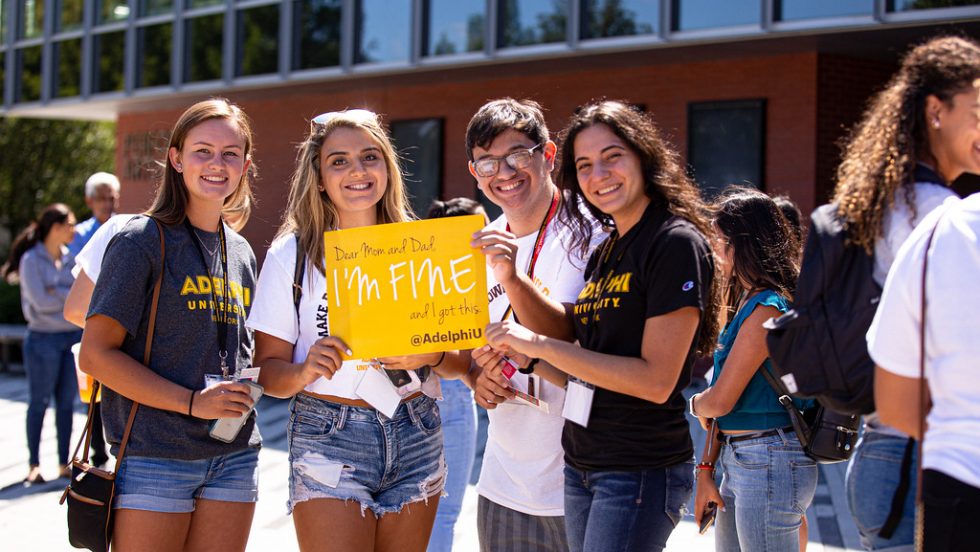 The fall semester kicks off with Welcome Weekend, an opportunity for incoming students to start their journeys and for the Adelphi community to welcome them aboard.
Adelphi community: Get ready to kick off the start of the Fall 2022 semester and welcome the Class of 2026.
Incoming students start their Adelphi experience with a virtual Orientation and our Panther Portal. This on-demand Orientation experience is designed to help students and their families learn all about Adelphi's academics, support services, student life, campus safety and financial aid. Though Panther Portal provides easy access to student resources online, the fun isn't just virtual.
A Weekend of Welcome
From August 26 to August 28, Adelphi will kick off Welcome Weekend, a three-day extravaganza of fun events and activities where students connect with their fellow Panthers, explore the campus, attend a job and internship fair, and take advantage of leadership and involvement opportunities. A student favorite event from Welcome Weekend is the Panther Palooza Club Fair and Carnival. Students snack on cotton candy and play games while discovering what clubs they'd like to join.
According to Anna Zinko, assistant vice president for student affairs, "For our new students, this might be the moment where they find their Adelphi home, find an organization to participate in, a campus event to attend or make new friends that they will carry with them for the next four years and beyond."
Wishing Students Success
Another beloved Welcome Weekend event is the Matriculation ceremony, a time-honored tradition that welcomes new students and celebrates the beginning of their academic journey. On Sunday, August 28, President Christine M. Riordan, along with Provost and Executive Vice President Christopher Storm, PhD, members of Adelphi's Executive Leadership, board of trustees and faculty, as well as alumni, will come together for the ceremony to wish the Class of 2026 success.
"We are so excited to welcome them to campus," said Arianna Livreri, director of the Center for Student and Community Engagement. "This allows students to connect with different clubs and organizations to help them find their Adelphi home and community."
Panthers Who Give Back
Welcome Weekend is meant to prepare students for the semester. But that's not early enough for some incoming students. They start their Adelphi journey before the semester begins by joining the First-Year Community Action Program (FCAP), which gives them the opportunity to participate in various volunteer and community service projects.
"Programs like FCAP are important because they help our newest students find a sense of belonging," said Zinko. "Students have an opportunity to make friends while serving the community and learning about the importance of civic engagement and service."
The program received a Circle of Excellence Bronze Award from the Council for Advancement and Support of Education (CASE) for connecting first-year students with community partners and helping them build leadership skills. It also gives students the chance to move in early so they can get a head start on the Orientation fun.
"There are so many great things happening before and during Welcome Weekend," said Livreri. "Whether it's FCAP or Welcome Weekend in itself, there is something for everyone."