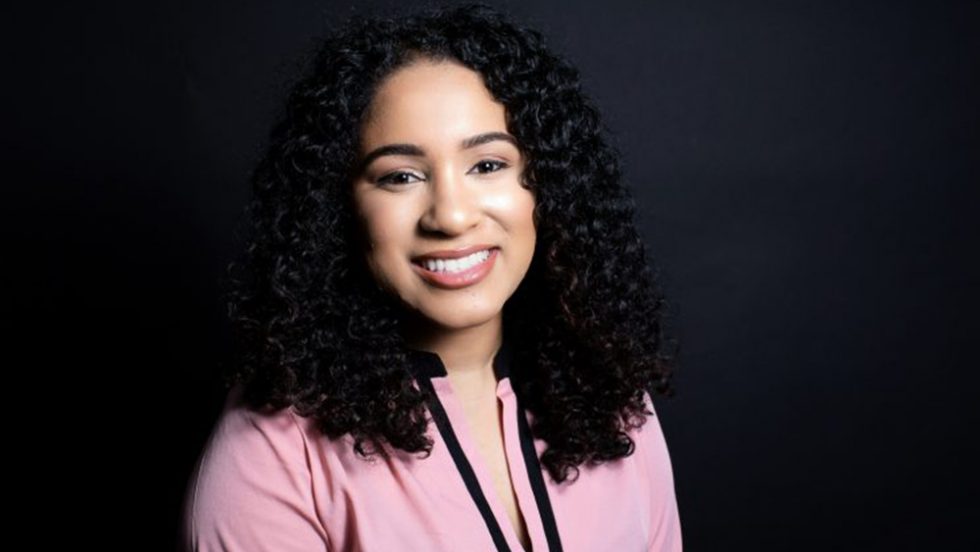 Dr. Monique Mohammed '14, MS '16, earned her Doctor of Optometry degree this spring. She couldn't have done it, she said, without the support she received from the CSTEP and mentoring programs as a student at Adelphi. Read her inspiring story.

This all-caps note from graduate Monique Mohammed '14, MS '16, OD, to Chotsani West, MA '07, the founder of Adelphi's mentoring program and now executive director of diversity, equity and inclusion, shows Dr. Mohammed's excitement at achieving her academic goals. But behind the excitement is a story of how tough it can be for a woman of color to earn a "Dr." in front of her name.
Dr. Mohammed, who earned her Doctor of Optometry degree at the State University of New York (SUNY) College of Optometry in Manhattan in May 2020, was the only Black graduate in her class of 100 students.
"I didn't have anyone that looked like me in my class, and that made it harder," she said.
The 27-year-old said she couldn't have become a doctor without the support she received in Adelphi's Mentoring Program, led by West, and its Collegiate Science and Technology Entry Program (CSTEP).
"I owe them everything," she said. "I learned so much about myself."
Dr. Mohammed, who earned her bachelor's degree in biology from Adelphi in 2014 and a master's degree in biology with a concentration in molecular biology from Adelphi in 2016, got involved with the University's CSTEP in her first year and its Mentoring Program in her junior year.
Learning From Connections, Not Google
Her mentor was Terry Ann Joseph '04, MS '15, a senior residence hall director at Adelphi.
"One of the greatest things about the mentoring program is your mentor doesn't have to be in the field you're going into," Dr. Mohammed explained. "You just need someone to make you accountable. Terry Ann helped me stick to my study schedule. She would check in at least once a week and make sure I had done what I was supposed to do."
And Joseph, a Black woman, understood the unique challenges Dr. Mohammed faced.
"Even the most educated people have implicit biases," Dr. Mohammed said. "Facing people who say they're color-blind and are unwilling to see your culture and you as an individual is a challenge. It's good to hook up with someone who has shared your experiences."
Adelphi's Mentoring Program also offered workshops that brought students and their mentors together to hear speakers on topics ranging from time management to leadership. Dr. Mohammed was able to build a network of peers and professionals who helped prepare her for success by teaching her life lessons one can only learn from another person.
"There are things I have learned from other people that you cannot Google, things you can only get from meeting someone who has experienced them." Things like how to tackle her board exams and how to manage in a profession with few Black practitioners.
Dr. Mohammed was so pleased with her experience in Adephi's Mentoring Program that she joined a mentoring program at SUNY College of Optometry. She was paired with Camille Cohen, OD, a Brooklyn optometrist, whom she credits with helping her study for and pass her board exams. Dr. Mohammed said her mentors at both the undergraduate and graduate level also helped her identify her strengths and weaknesses and gave her advice customized for her.
"I've struggled with self-doubt and my mentors brought that to my attention," she said. By making her aware of her tendency to question herself, her mentors helped her work on the issue and improve.
"When someone has invested their time in my life, it makes me feel valued as a person," she said. "That made a tremendous difference for me. I have a lot more confidence now."
Realizing What's Possible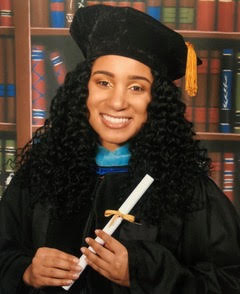 Adelphi's CSTEP program, which aims to increase the number of students from under-represented groups in mathematics, science, technology and health fields, helped Dr. Mohammed learn about, and prepare for, professional school. Through the group, she met other students interested in STEM fields, as well as working professionals.
"Being exposed to people already in the field helped me understand what's possible," she said.
A CSTEP internship at SUNY College of Optometry sparked her interest in the field. "I always knew I wanted to pursue a health profession," she said, "but after spending time at SUNY and meeting the students, I could see myself there."
CSTEP paid for her Optometry Admission Test (OAT) practice books, which she returned to the program after taking the test so other students could use them. And CSTEP took Dr. Mohammed and her fellow students on a trip to visit optometry schools around New York state.
Giving Back
Now that she's reached her goal of becoming an optometrist, Dr. Mohammed is ready to give back to the CSTEP and Mentoring Program at Adelphi. She's signed up to be a mentor to a minority student at Adelphi this fall. She gave a presentation this summer on time management and goal setting for high school students in a CSTEP program. She's passionate about getting more minorities into STEM careers, and she figures mentoring is the way to make that happen.
"I wouldn't have gotten here if I hadn't gotten a lot of support from other people: my parents, friends, fellow students," Dr. Mohammed said. "Because I know I got help, it's important for me to give back. You need to raise other people up."