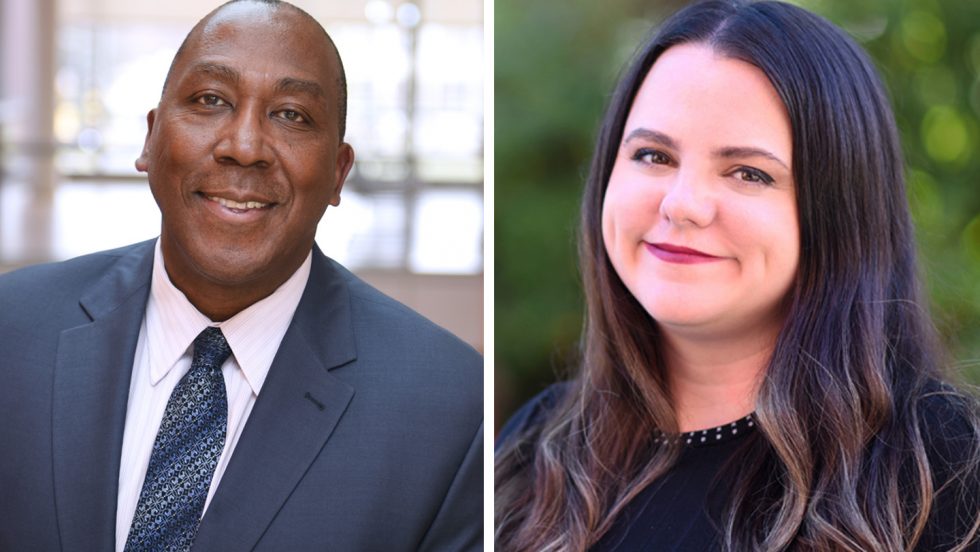 With racial tension continuing across the country, Adelphi has responded to include voices of students, faculty and administrators by creating a new diversity and inclusion action team this summer, the Equitable Adelphi Action Team. Formed by the Division of Student Affairs, the Equitable Adelphi Action Team is "a student-centered council that will provide the University with recommended action steps and suggested strategies for how our community can address and combat racism and other forms of oppression, implicit biases and microaggressions," according to R. Sentwali Bakari, PhD, vice president of student affairs and dean of students.
University leadership has been vocal about combating oppression on and off campus. They have even come out to talk about University responses to student social media posts that propagate racism.
Dr. Bakari said, "Posts displaying hatred of any sort do not represent the values and ideas of Adelphi University. Although free speech is a constitutional right in America, we will not tolerate acts of racism among our community and will not allow intolerance or bigotry to find ground at Adelphi."
As a part of these efforts, the University is depending on students reporting incidents. The Division of Students Affairs has created the Bias Incident Report Form to provide students the means of reporting acts of racism, hatred or threats of violence seen on campus.
Dr. Bakari said that Adelphi is a campus that is committed to celebrating diversity.
"We are a proud university with exceptional students who value compassion, integrity and equity," he said. "Use this moment in time as an opportunity to exert leadership within our Adelphi community and within the communities in which you live, work and operate."
The project to create this team was initiated by Dr. Bakari and from there it took off. Anna Zinko, the director of the Center for Student Involvement (CSI), said, "We always want to center student voices in our work in the Division of Student Affairs and we felt that student voices were critical to helping guide our diversity efforts."
The purpose of the action team is to provide feedback on and recommend policy changes, according to Zinko. "The goal of this team is to help create a more equitable, inclusive and just Adelphi University community."
The group meets monthly with the Division of Student Affairs and other University leaders. Additionally, it will consist of both undergraduate and graduate students. So far, over 30 students have signed up.
Tommy Severin, the assistant director of CSI, added, "We do ask that students make a commitment to participate for the full academic year to ensure continuity and make sure we are able to effectively follow up with issues.
"Students on the team shared a variety of concerns, which the Division of Student Affairs staff has developed suggested follow-up plans for," Severin continued. "At our upcoming meeting, we'll review these suggested actions for student feedback, alter plans as appropriate based on their feedback, and then move forward with implementation."
Two students have become greatly involved in the Equitable Adelphi Action Team. Teddy-Ann Miles is a senior nursing major and the new president of Black Students United. Niamh Condon is a sophomore nursing major and the vice president for external affairs in the Student Government Association (SGA).
Miles stated, "In the height of COVID-19 and a cry for social justice, the Equitable Adelphi Action Team was created to respond to years of injustices in our society, which trickled down in every aspect of our daily lives."
Miles specifically mentioned the goals of bringing about change in academia and campus life. "The action team is composed of a group of student voices who are given the opportunity to help faculty who are in charge of creating opportunities, rules and regulations for those choices that will be in the best interest of all students and faculty at large."
Condon added, "As an organization, SGA found it imperative to speak out against the racial injustices in our society that underlie the deaths of countless people of color such as George Floyd, Ahmaud Arbery and Breonna Taylor. At the first meeting, individuals discussed their rationale for joining the action team and explored their desire/wishes for what they hoped to see accomplished by the action team in the future."
The Equitable Adelphi Action Team is still being developed. This is a great opportunity for students to get involved, have their voices heard and help establish a new team on campus. If you are interested in joining, email multicultural@adelphi.edu.