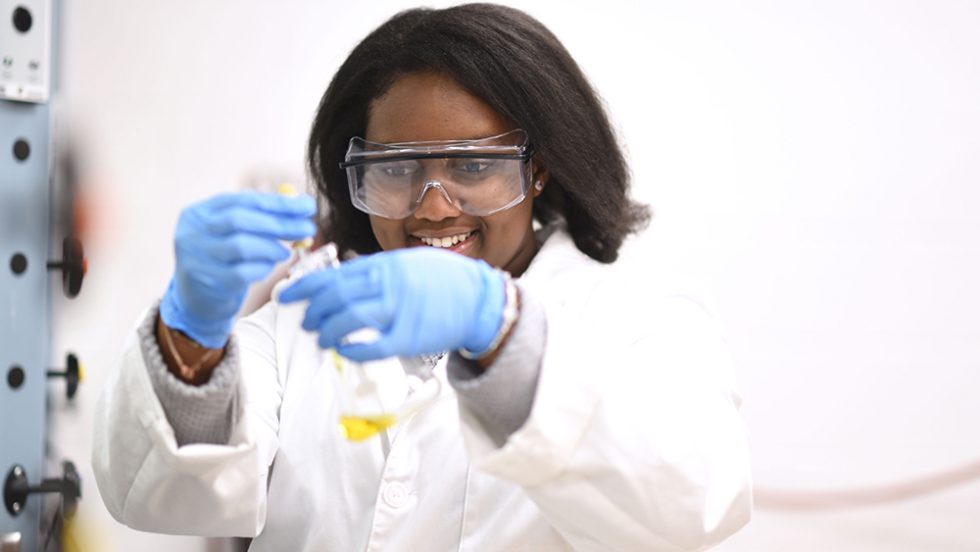 It's one of Adelphi's newest majors and one of the most innovative ways we are expanding in the field. Our BS in Health Sciences creates pathways to a variety of careers in healthcare.
Adelphi has a new undergraduate program that's taking a fresh approach to preparing students to work in health careers. The Health Sciences program, launched in Fall 2020, doesn't just teach students the technical side of healthcare. It also teaches leadership and communication skills to prepare students for the real-world experience of working with teams of medical experts.
"People often think healthcare is strictly about medicine, but it's way more than that," says Michele (Mike) Aquino '11, MS '12, DPT, director of the health sciences program and assistant professor of health and sport sciences. "In a hospital, you have physicians communicating with therapists communicating with radiologists communicating with social workers," he said. "To succeed, one must be able to work on a team of professionals to solve a problem. That means having a broad base of knowledge and understanding the larger environment."
Classes range from anatomy to accounting
The program offers a bachelor of science with a concentration in one of five areas: Biomedical, Health Promotion, Healthcare Administration and Leadership, Foundations in Communication Sciences and Disorders, and Social and Behavioral Sciences. Each is aimed at specific career paths like physician assistant, lab technician, medical assistant, healthcare program planner, hospital coordinator, audiologist or patient service liaison.
Adelphi's program takes an interdisciplinary approach, including coursework from the School of Social Work, the College of Arts and Sciences, the College of Education and Health Sciences, as well as the College of Nursing and Public Health. There are some business classes in the curriculum, too.
Adelphi has also created brand-new courses just for the health sciences major. Social Epidemiology focuses on the ways societal structures affect public health. Technology in Health Sciences addresses the role tech is playing in diagnosing and managing disease. And Interprofessional Practices: Working With Diverse Populations has a focus on working effectively with different experts to deliver the best care possible to patients.
There's also a medical ethics class that every student in the program takes, no matter their concentration.
"We had some very clear program objectives when we established the program," said Andrea Ward, PhD, associate dean for Student Success Strategic Initiatives. "We've really dialed in the classes to prepare students for the real world."
Students spend their first two years taking liberal arts and basic science courses, choose a track, and then devote their junior and senior years to courses within their concentration. Dr. Ward says the science classes that health science majors take are not "watered down." "All students will take anatomy and physiology," she said. "They'll be sitting right there with students on track to be doctors and nurses."
Internships deliver real-world experience
The program combines classwork with experience in the field. Students do independent study or an internship related to their concentration before they get their degree. "We want to place them in an internship that hopefully translates into a job," Dr. Aquino said.
Right now, there are 10 students in the program, with the first of those set to graduate in Fall 2021. Dr. Aquino expects the number to grow, given the demand for healthcare professionals. According to the Bureau of Labor Statistics, healthcare careers will have a much faster than average projected job growth rate between 2018 and 2028. About 1.9 million new jobs have been added, mostly due to demands placed on the healthcare system by an aging population.
The COVID-19 pandemic has put a renewed focus on the need for healthcare workers, too. "I have one student interested in changing her major from business to health science for the simple fact that the pandemic has motivated her to be interested in frontline healthcare work," Dr. Aquino said. Frontline healthcare work doesn't stop in the ICU, he said. "The administrative work associated with hospital care is frontline work, and it's really underappreciated."
The new program is part of Adelphi's mission to be a leader in healthcare education, said Dr. Ward. "Adelphi University has a long history of training students for health-related careers," she explained. "This program builds on that distinguished history by developing a truly interprofessional degree program that will prepare students for a range of careers across the healthcare field."