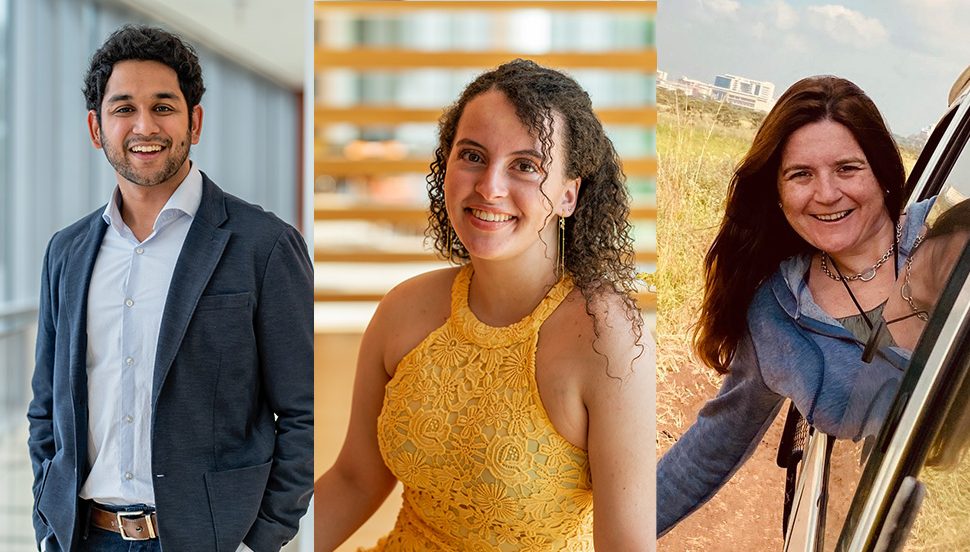 A rising senior conducting research on retinal imaging; a trilingual future speech-language pathologist; and a doctoral student who brought social work to an orphanage in Kenya—our three Fulbright Scholars share their stories.
Adelphi has had untold numbers of outstanding students over the years. But it has never had three students who have won prestigious Fulbright awards in the same year. Until now.
The trio—rising senior Dhruv Gupta; Melanie Rosa-Chaves '22; and doctoral candidate and adjunct professor Jennifer Eileen Reddin Cassar, JD, MSW '99—will be spending time abroad for periods ranging from 12 weeks to a couple of years, using their skills and knowledge to make the planet a better place.
Fulbright programs have a storied history of sending American scholars and students around the globe to create connections in a complex world. Fulbright grant recipients teach, work and advise in nations around the world, advancing knowledge and increasing cultural understanding.
Studying Macular Degeneration in Canada
Dhruv Gupta, a rising senior majoring in biology in the University's joint BS/MD program with SUNY Upstate Medical University, won a scholarship with the Fulbright Canada MITACS Globalink program. Gupta, who is considering a career in ophthalmology, will do a 12-week internship in Canada at Dalhousie University in Halifax. He'll research new methods of retinal image analysis that can help in the treatment of macular degeneration, an eye disorder common in people over the age of 50 that causes reduced vision. "We'll be using ocular imaging to see how we can detect the illness earlier so patients will have a better prognosis," Gupta said.
The program is about more than study abroad. "Fulbright's mission is to cultivate people who will act as ambassadors in their field," Gupta explained. The program is highly selective. Just 50 top-ranked American undergrads get into the program each year.
Gupta learned of the Fulbright program from Robert Schwartz, EdD, who, until the end of this academic year. was director of Adelphi's Office of Pre-Professional Advising and Fellowships. The office provides students information about their professional field, puts them into the right courses and prepares them for those all-important entrance exams.
"I have a very close relationship with Dr. Schwartz," Gupta said. "He's been my number-one mentor. I wanted to meet new people, explore a new environment and get some international experience, so he encouraged me to apply for the Fulbright program. He said 'Hey, you can do this.' "
Gupta got up his courage and applied for the Fulbright internship at the last minute, days before the application was due. Dr. Schwarz helped him make the deadline. "He was driving back from a wedding and he edited my (application) essay in the car, while his wife drove the car," Gupta said. "I don't think I could have done any of this without him. He's been wonderful."
Teaching English in Portugal
Melanie Rosa-Chaves '22, who graduated in May with degrees in communication sciences and disorders as well as Spanish, won a 2022–2023 Fulbright English Teaching Assistant scholarship that will take her to Portugal this year to teach English at the University of Madeira's School of Arts and Humanities.
Rosa-Chaves, who is Portuguese American and bilingual, brings special insight into her Fulbright assignment. Her father immigrated from Portugal and her mother was born here to Portuguese parents, so she is steeped in the cultures of both countries.
Rosa-Chaves came to Adelphi for the University's Levermore Global Scholars (LGS) program, which prepares students to become global thinkers and leaders in a changing world. She also came for the opportunity to study Portuguese.
"Adelphi is one of the few schools to offer Portuguese, even though it's considered a critical language by the U.S. government," she said. "It turned out that there weren't enough students for the program, but I was allowed to design an independent study. Adelphi went above and beyond to accommodate my interest."
She was guided by Neil Miller, PhD, an adjunct faculty member in the Department of Languages, Literature and Cultures, who deepened her understanding of Portuguese literature and opened her eyes to cultural nuances she was unaware of. He also inspired her to apply for the Fulbright, which required six essays, recommendation letters and interviews with the Adelphi Fulbright Committee. Thrilled when she received the fellowship, she will be one of only three college students from the United States to teach in Portugal.
Rosa-Chaves, who has won a National Science Foundation fellowship and was president of the LGS Student Leadership Council this year, will be teaching English language classes to undergraduates at the University of Madeira along with cultural modules to postgraduate students. She sees the experience as an opportunity to "do work that is much bigger than myself," to make an impact on students in Portugal.
"I want to be a medium to share the similarities between the two cultures," she said. "I want to show English-language learners that America is diverse and that there are pockets of Portuguese culture in the country. I want to show students that we have much in common, and that it's important for all of us to remember and respect who we are and where we come from."
Being on a Dream Team of Global Experts
Jennifer Eileen Reddin Cassar, JD, MSW '99, a lawyer and adjunct professor in the School of Social Work who is also working on her PhD in social work at Adelphi, won a Fulbright Specialist Scholarship, the highest Fulbright honor there is. Fulbright specialists are essentially a dream team of experts who are on call for four years. They go anywhere in the world their expertise is needed to work on projects that make the planet better. Reddin's area of expertise is social work and the law. She's a lawyer and social worker who is director of family court practice at the New York-based nonprofit child advocacy group JCCA (formerly known as the Jewish Child Care Association).
Reddin has not officially gotten her first assignment, but she's in the middle of the matching process that may take her to the Vietnam Women's Academy, a university in Hanoi, Vietnam, where she will develop a Master of Social Work curriculum. "They have a bachelor's-level program, but they want a master's-level program," Reddin said. She would be working with faculty and administrators there to develop core courses, electives and teacher training. She would do part of the project on site, in Hanoi, and part of it remotely from the United States.
So how does this lawyer, adjunct professor, PhD candidate, nonprofit administrator and mother of three find time to be a Fulbright specialist? "I don't sleep a lot," she said.
She decided to go back to Adelphi for her doctorate when her oldest child went away to college. The idea to apply for a Fulbright came when she got an email about the specialist program. She went to an informational session, where she met Carol Cohen, DSW, professor in the Adelphi University School of Social Work, who also happened to be a former Fulbright specialist. Meeting Dr. Cohen inspired Reddin. But what really convinced her was the experience she had in a study abroad class in 2020 in Kenya with Anne Mungai, PhD, now associate provost for strategic initiatives and graduate studies, who was then running Adelphi's Global Studies Program. Reddin taught a course at an orphanage there, and even though the class wasn't for credit, the international studies bug bit her. Reddin wanted to see the world and do good on a global scale.
"My experience in Kenya was amazing," she says. "It made my application to Fulbright much stronger because I had a global connection to service work. Without the support of Adelphi and Dr. Mungai, I wouldn't have taken this chance."
Reddin said her Fulbright experience will help make her better at her work in the United States, too. "Different cultures have the same family problems that we have, and understanding how they approach them could offer good solutions to bring back here," she explained. "Looking at another culture may make us realize we're doing this all wrong and that we need to do things differently."