Lockers are located in the Ruth S. Harley University Center in the Student Lounge and Performing Arts Center on the lower level.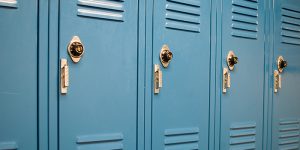 All lockers are free of charge and are full academic year rentals. We do not allow summer rentals, unfortunately. All belongings must be removed from lockers by the last day of finals of the spring semester or items will be donated or disregarded. The Office of Auxiliary and Event Services is not liable for any lost or damaged property.
If you have any problem with your locker, please contact the Office of Auxiliary and Event Services, located in Res Hall A, Room 13 Lower Level, at 516.877.4299 or email us at AUCommuterLockers@adelphi.edu.
Location
Ruth S. Harley University Center, 106