The Ruth S. Harley University Center (UC) dining experience has been completely transformed to fit our community's needs: more food options and choices, expansive new spaces, stunning views of campus, and a terraced outdoor dining option.
Our mission is to offer delicious, satisfying and fresh food in beautifully designed spaces, and to upgrade the ways we dine together as a campus community.
New Dining Award
Our new dining hall in the Ruth S. Harley University Center—along with our menu selection and other dining venues—has lifted Adelphi University to No. 4 among the Colleges of Distinction Best College Dining Halls.
Full-Size Starbucks
Fans of the Paws Café in the Nexus Building—and fans of Starbucks everywhere—now have a full-sized Starbucks just inside the UC main entrance.
Mobile Ordering App
Want a safe, convenient way to order food at Adelphi?
UC Dining Hall
Choose from these delicious food stations:
The deli sandwiches you know and love have been upgraded. And we are now offering soup and panini specials made fresh daily to help enhance the sandwich of your dreams.
Using only the highest-quality ingredients, and locally sourced produce, sushi will be prepared on-site daily to ensure maximum freshness and the best quality possible. Along with an extensive sushi menu, an upgraded Asian hot buffet will now be offered.
Offering individual hand-stretched pizzas with toppings fresh and vast, the pies are crafted to perfection. Pizza not your style? Enjoy calzones and rolls prepared daily, along with freshly made mozzarella for sandwiches or platters.
Innovation Kitchen features creative culinary concoctions as well as student favorites such as poke bowls, barbecue and bibimbap.
The Back Bar Grill offers a variety of grilled favorites ranging from steak and fish to chicken fingers and french fries. Our newly added rotisserie now allows us to feature fresh meats and whole roasted chickens, giving you an upgraded meal and your taste buds upgraded flavor.
The Market offers traditional convenience store fare like chips, drinks, snacks, and grab-and-go sandwiches and salads. It also offers à la carte dining options for students, including a hot breakfast buffet and hot entrée station, as well as a specialty item offered daily. Additionally, baked pasta will be offered through our mobile ordering app during lunch, and omelets will be offered through our mobile ordering app on weekends.
Grilled items will be available inside The Market after 5:00 p.m. on weekdays and during lunch and dinner on weekends.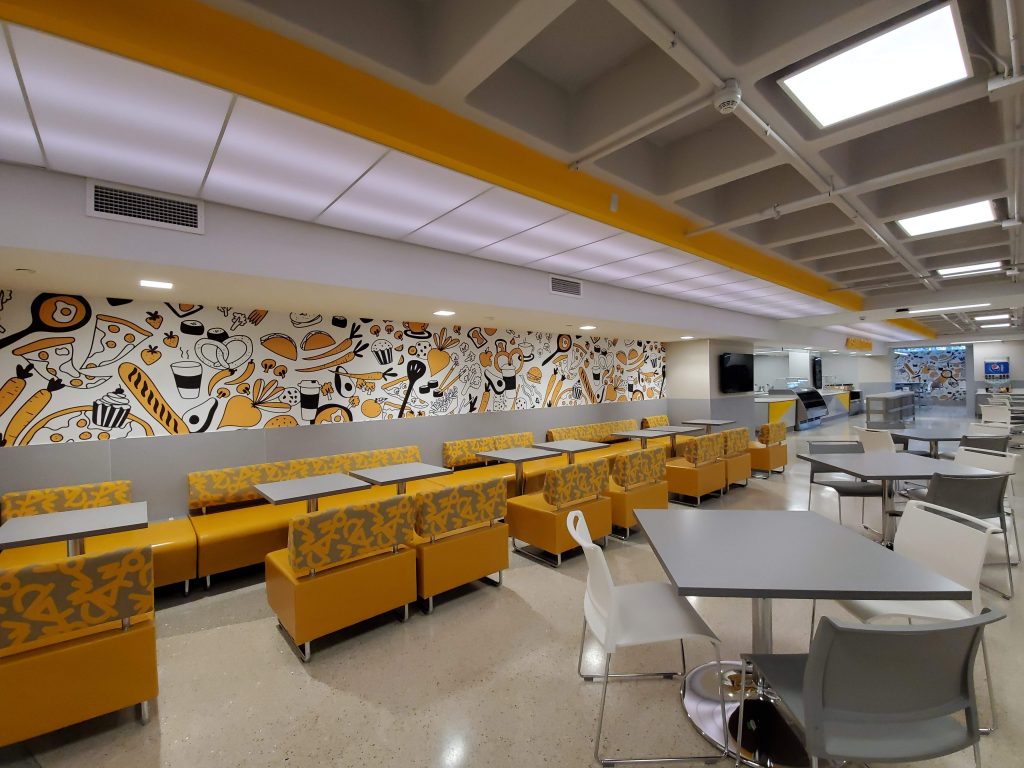 Special Diets
Our dedicated staff is happy to accommodate students with special dietary needs. We offer many menu items that accommodate vegan and vegetarian diets at each station. We also have a campus dietitian, Jessica, who can help any of our guests who need guidance in our facilities. Should you have any questions about menu items, please seek out a manager, supervisor or chef, who will be able to assist.
Accessibility
The dining area was designed to meet ADA counter accessibility requirements. A number of tables are height adjustable, a seating counter is accessible and an accessibility lift that lands directly in the dining area has been added to the west end of the building. Additionally, mobile ordering is ADA compliant.
Charging Your Devices
Outlets have been included at as many tables and locations as possible in the dining area as well as in seating areas throughout the building.
Food Safety During COVID-19
Adelphi Dining is fully committed to providing a wide variety of delicious, healthy and nutritious meal options to the Adelphi community, all while adhering to the recommended Centers for Disease Control and Prevention (CDC) and New York state guidelines. All meals will be associate served and packaged to go for guests. Grab-and-go options, such as salads and sandwiches, will also be available for purchase.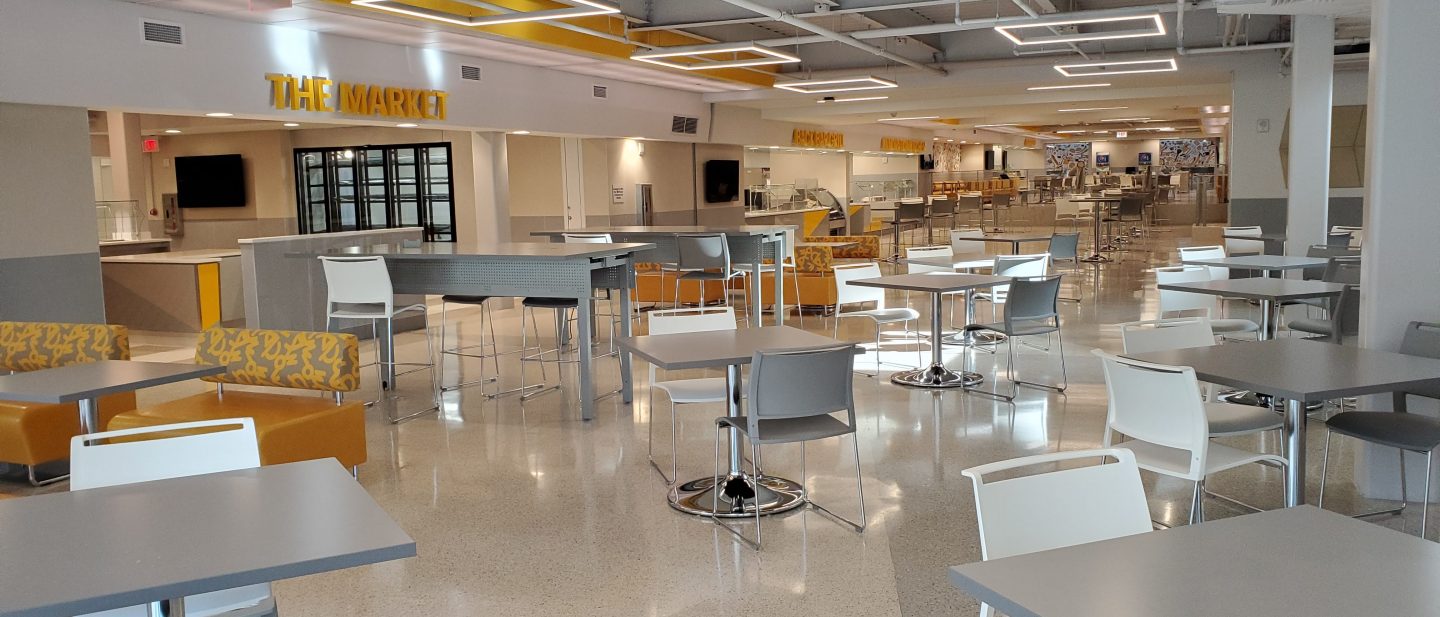 A Menu of Meal Plan Options
Adelphi offers convenient meal plans for every taste and every budget. See which plan fits you best.