Helping raise money for the Adelphi New York Statewide Breast Cancer Hotline and Support Program with their Star Wars Creative Cup
News from the Adelphi NY Statewide Breast Cancer Program
Contact: Lyn Dobrin, 516-997-8545
September 19, 2016

You're Never Too Young To Learn About Helping Others

Four year old Alyssa Lichtman and her mother Kimberly Newman, North Bellmore residents, are helping to raise money for the Adelphi New York Statewide Breast Cancer Hotline and Support Program with their Star Wars Creative Cup—a bra decorated in the theme of the Star Wars films. The bra, along with 136 other creations, will be auctioned at a special event on the evening of March 17.
The mother-daughter team decided on the Star Wars themes after some discussion. "I had asked Alyssa if she wanted to decorate a bra with me and suggested a Halloween Bra with the title 'Scare Away Breast Cancer.'" Alyssa rejected that idea. "I wanted Star Wars,' says Alyssa, wanting particularly to focus on Rey, a female character from 'ThenForce Awakens' and one of her favorite action figures. "Rey is a good person," says Alyssa. The two decided on naming the bra "Use the Force." Alyssa was very keen on adding shiny gems and silver ribbon to their Creative Cup.
To learn more about Creative Cups, visit http://creativecups.adelphi.edu
To reach the hotline, call 800-877- 8077.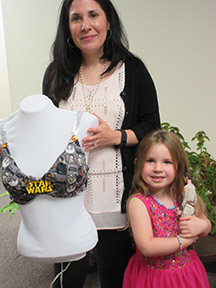 End
---
For further information, please contact:
Todd Wilson
Strategic Communications Director 
p – 516.237.8634
e – twilson@adelphi.edu