Adelphi's First-Year Seminar program gets students in the habit of using the city's amazing resources for art, learning and entertainment. It's everyone's favorite homework.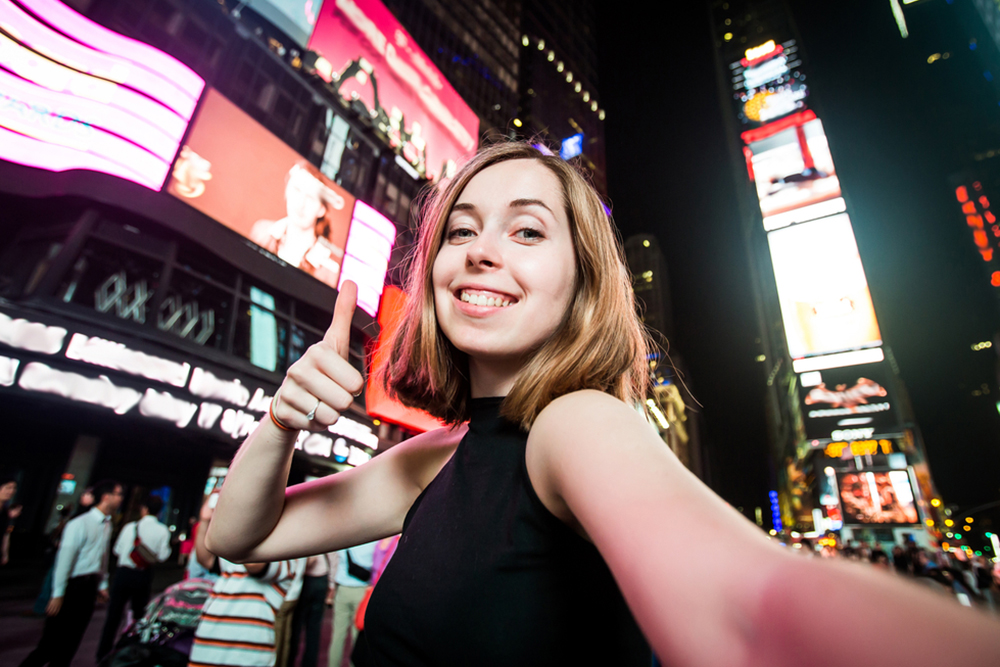 One of Adelphi's greatest assets is New York City, just 23 miles from campus. It offers countless educational opportunities—opportunities the University wants its students to begin taking advantage of as soon as they begin their college studies. That's why the University's required First-Year Seminar (FYS) program is making trips to the city a part of an increasing number of its courses.
"The 4-credit FYS offered each fall to incoming students is explicitly focused on introducing college-level thinking and learning while engaging them in experiences outside the classroom," said Peter West, Ph.D., associate provost for student success.
The emphasis on experiential learning in the city came about with a revised First-Year Seminar program in Fall 2018. Dr. West said the new model is designed to help students connect with a diverse group of their peers through academic exploration and engagement in on- and off-campus activities, which prepares them for careers in a more global workplace.
The seminars are taught by Adelphi faculty from a variety of academic disciplines. There are about 50 seminars each year covering a wide range of topics that have included gender studies, medieval Vikings, migration, horror stories, fitness and personal finance. Nearly half of the seminars include trips to New York City or cultural institutions on Long Island.
"With these trips, students can see firsthand the kind of relevance of some of the work and the ideas they are learning about in the classroom," said Dr. West, who until recently was in charge of First-Year Seminars as associate dean for general education and academic operations in the College of Arts and Sciences.
For example, a class focused on the immigrant experience in New York City took a historical walking tour of Coney Island. Students in the Exploring Black Digital Humanities class visited the Schomburg Center for Research in Black Culture in Harlem. A class on New York City in the early 20th century went to the Tenement Museum, and a biology class got a private tour of the dinosaur exhibit at the American Museum of Natural History.
"My First-Year Seminar program was an absolutely amazing experience. It helped me not only grow mentally, but spiritually," said sophomore Candace McPherson. "With various guest speakers along with the care and support from my professor, I have learned so many life lessons that I know will help me in the future."
Lisa Minicozzi, Ed.D., assistant professor and program director for educational leadership in the Ruth S. Ammon School of Education, took her First-Year Living-Learning Community students to Ellis Island, where many looked up their family roots. Classes leading up to the tour included writing poetry about their individual heritages.
Dr. Minicozzi also brought students to the United Nations for a docent-led tour and an interactive classroom session with two human rights activists. It was the first time any of the 20 students on the trip had been there.
"We wanted to expose them to the larger world so they know they are part of a much bigger system in society and to give them greater awareness of global issues," said Dr. Minicozzi.
What stood out for her about these excursions was that some of the students who had grown up on Long Island had never been to the city.
"They were so excited about it," she said. "That always just surprises me as a person who's grown up here—the infrequency with which some of our students make connections to the city."
That's why Dr. West said that one of the First-Year Seminar goals is to help students develop the habit of going to the city with the hope they will take advantage of it as a resource when planning their internships and careers.
For Dr. Minicozzi, teaching her seminar has been a chance to engage with students beyond academics. "I think students today more than ever need to see that adults care for them in a way other than challenging them academically, but also helping to foster their social growth," she said. "It's not just about the grade; we care about who they are as human beings. We care about who they might become, and we want to give them a chance to explore all facets of themselves at college."
---
For further information, please contact:
Todd Wilson
Strategic Communications Director 
p – 516.237.8634
e – twilson@adelphi.edu