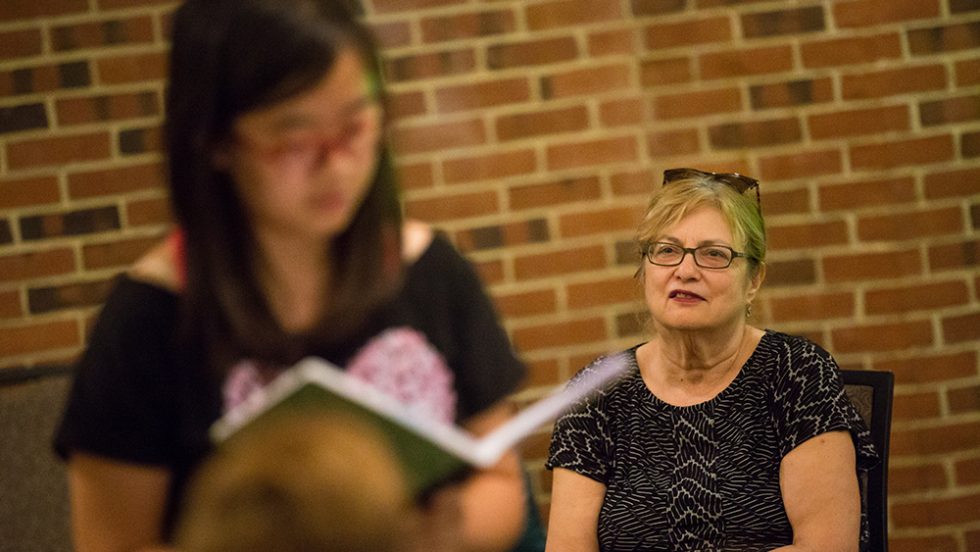 For the 14th year, Adelphi is offering the Alice Hoffman Young Writers Retreat, organized for high school students with a passion for writing to get a glimpse of their future life as a writer.
For young writers, the most powerful lessons can come from learning they are part of a community. At Adelphi this summer, some 40 high school students who are passionate about writing fiction will gather to learn from one another, as well as from authors, editors, agents and teachers, to help them get a glimpse of what life as a writer might look like.
For the 14th year, Adelphi is offering the Alice Hoffman Young Writers Retreat, directed by Adelphi professor of education Robert Linné, PhD, and Alice Hoffman '73, the bestselling author who has made an ongoing commitment to her alma mater to help young authors on a journey toward a writing life.
Hoffman returns each summer to help pass on the knowledge and experience she has gained in her successful career. This year, the retreat runs from July 23 to July 27.
"We want participants to leave the retreat with more tools to use as writers, as well as the confidence to put their voices out into the world," said Dr. Linné, who explained that the idea for the event came from a conversation he had with Hoffman 15 years ago.
The annual workshop is hosted by Adelphi's Ruth S. Ammon School of Education and is open to high school students who have just completed their junior year. It offers an intensive five days of learning about the craft of writing, including ways to develop the building blocks of fiction—characters, place, dialogue and conflict.
The workshop is held on Adelphi's main campus in Garden City and features creative writing workshops with Adelphi faculty, accomplished writers and artists, and Ammon School graduate students studying to be English teachers. All attendees receive a full-program scholarship.
Hoffman is the bestselling author of more than 30 novels, three books of short fiction, and eight books for children and young adults. Her most recent novel, 2017's The Rules of Magic, is a prequel to her 1995 bestseller, Practical Magic, which itself was the basis for the 1998 film starring Sandra Bullock and Nicole Kidman.
For at least one of the writing retreat's instructors, the event represents a return to his roots. Anthony Brienza received his bachelor's degree in English from a Adelphi in 2011 and his master's degree from the Ammon School in 2012. He's currently teaching 11th-grade English in the Patchogue-Medford School District and also teaches English at Suffolk County Community College. This summer, he will help run workshops and give individual feedback on student work.
When Brienza was in high school, he attended the Young Writers Retreat and remembers it as an important experience that taught him life lessons in addition to creative lessons.
"It was the first time I got to see what it was actually like to be a writer," he said. "They give feedback in a workshop, and it's real feedback that makes your work better."
He said all young writers must eventually learn the lesson that "just because you wrote something and it's finished, just because you put in the effort, doesn't mean it's good yet." He said he recalls Hoffman herself as someone who can deliver meaningful criticism while remaining encouraging and compassionate.
"It's important that you don't sugarcoat it, but also you don't want to hurt anyone, and [Hoffman] is particularly good at that," Brienza said.