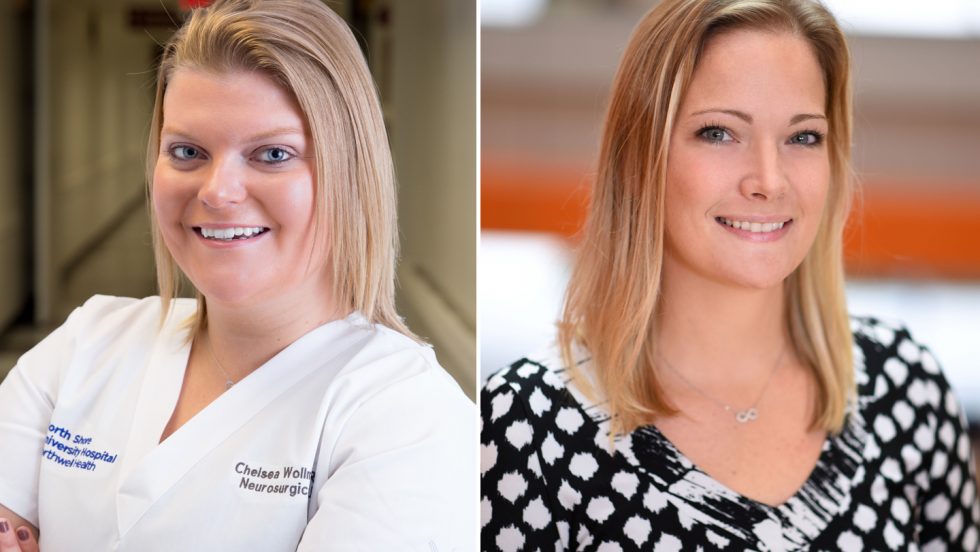 Every year, through its 30 Under 30 and 40 Under 40 ceremonies, Long Island Business News (LIBN) honors bright and dynamic young professionals across Long Island who have made significant strides in their careers. The 30 Under 30 award recognizes 30 professionals who have made remarkable achievements in their career before turning 30, while the 40 Under 40 award recognizes 40 accomplished professionals under the age of 40.
This year, two Adelphi alumnae were honored for their contributions to the community and their accomplishments within their fields. Chelsea Wollman Imbriano '14, a Clinical Ladder III registered nurse at North Shore University Hospital, is a recipient of the 30 Under 30 award, and Kaitlyn Woods '12, MBA '15, senior associate director of special events and engagement in the Adelphi University Office of External Relations, is a recipient of the 40 Under 40 award.
Imbriano was one of the honorees at the 30 Under 30 ceremony, held on November 17. She is a graduate of the College of Nursing and Public Health and serves as chair of the Adelphi Women's Giving Circle, a philanthropic organization committed to enhancing the community, forging new relationships and uniting female philanthropists. Her efforts don't end there. Imbriano is also president-elect of the Alpha Omega Chapter of Sigma Theta Tau International Honor Society and chairs its Community Service and Volunteerism Committee, organizing initiatives to help charities such as the Ronald McDonald House of New Hyde Park and Island Harvest.
In 2017, Imbriano was named one of Adelphi's own 10 Under 10, which recognizes alumni who have achieved exceptional career and professional accomplishments within 10 years of graduating. In her current role at North Shore University Hospital, she works alongside renowned neuro-intensivists to gain a better understanding of the human brain.
Woods was honored at the 40 Under 40 ceremony on December 14 at Crest Hollow Country Club in Woodbury. She earned her bachelor's degree in business administration from Adelphi's Robert B. Willumstad School of Business in 2012 and her MBA in 2015. While at Adelphi, Woods worked as the head student assistant for the director of community relations in Adelphi's Office of Public Affairs and as a student worker in the Office of Human Resources. Her commitment to the community continued throughout her career. She is on the board of directors of the Garden City Chamber of Commerce, where she strategizes on University-community collaborations and regularly advocates with local and state officials about the importance and needs of higher education.
Woods is also the board director of the Garden City Chamber of Commerce, where she works strategically on collaborations between the University and the local community. Along with Imbriano, Woods is a member of the Adelphi Women's Giving Circle and formerly served on its executive committee.
Long Island Business News is a weekly business journal based in Ronkonkoma, New York. Since 1998, LIBN has taken nominations for future leaders on Long Island who have a proven track record of career success and are involved in mentoring and promoting their professions and find time to give back to their communities.