Program Highlights All Four of Chopin's Ballades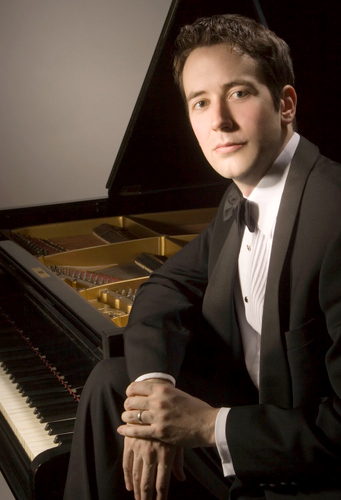 The Adelphi University Performing Arts Center (AUPAC) is pleased to welcome world-renowned concert pianist Philip Edward Fisher back to the Westermann Stage of the Concert Hall on Saturday, January 16, 2016, at 4:00 p.m. The centerpiece of this afternoon of music will be all four of Chopin's beloved Ballades, some of his most popular and enduring compositions. Mr. Fisher last performed at AUPAC when he was the guest soloist with the Adelphi Symphony Orchestra on February 1, 2013.This concert is made possible through the support of Drs. Louis and Julie Pannullo.
Pianist Philip Edward Fisher is widely recognized as a unique performer of refined style and exceptional versatility Mr. Fisher has toured extensively across his native United Kingdom, Italy, Austria, Denmark, Switzerland, Norway, Kenya, Zimbabwe, the Ukraine, and the United States. Mr. Fisher has performed with the Royal Scottish National Orchestra, the Copenhagen Philharmonic, the Tampere Philharmonic, the Toledo Symphony and the Juilliard Symphony, working with Conductors Hannu Lintu, John Axelrod, James Lowe, Larry Rachleff and Giordono Bellincampi. As chamber musician, he has worked with renowned performers and ensembles such as The Brodsky Quartet, tenor Robert White, pianist Sara Buechner, and violinists Elmar Oliviera, Philippe Graffin and Augustin Hadelich.
Mr. Fisher studied at the Royal Academy of Music and the Juilliard School. His recent release on the Chandos label, Piano Works by the Mighty Handful, was featured on Classic FM as John Suchet's "Album of the Week", as "Classical Album of the Week" in The Telegraph, and has been nominated in the "Best Solo Instrumental Album" category of the International Classical Music Awards 2012.
AUPAC is one of Long Island's premier cultural arts venues for entertainment of all kinds. Tickets are currently on sale and are priced at $30, with discounts available to seniors, students and alumni. For more information about all events at AUPAC and to purchase tickets, visit online. Information is available at the Lucia and Steven N. Fischer Box Office at 516-877-4000 or via email. Regular box office hours are Tuesday through Friday from 1:00-6:00 p.m. The box office is also open two hours before most scheduled performances.
---
For further information, please contact:
Todd Wilson
Strategic Communications Director 
p – 516.237.8634
e – twilson@adelphi.edu