Grandin will deliver the talk "The World Needs all Kinds of Minds."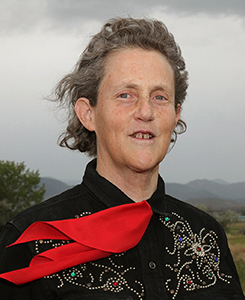 As part of the Joseph Napolitano Memorial Lecture series, Temple Grandin, doctor of animal science and professor at Colorado State University, will deliver the talk "The World Needs all Kinds of Minds" at Adelphi University on Wednesday, September 25, 2013. This is her third lecture at the University. Dr. Grandin is a best-selling author and activist on the topics of autism and animal welfare. She is also a consultant to the livestock industry on animal behavior and humane slaughter. The event, which is being cosponsored with the Ruth S. Ammon School of Education, will take place at 8:00 p.m. in the Ruth S. Harley University Center, Thomas Dixon Lovely Ballroom, 1 South Avenue, Garden City, NY. Additionally, the lecture will be Simulcast in the Adelphi University Performing Arts Center Concert Hall.
Since the 1980s, Dr. Grandin has been advocating for autistic individuals. She has spoken world-wide on autism and livestock handling. In 2010, Grandin delivered the TED talk "The world needs all kinds of minds." Grandin's own experience with autism has influenced much of her writing on the subject. Her most recent book, The Autistic Brain, focuses on the latest autism research and new diagnosis and treatments.
As a consultant for companies with huge slaughterhouse operations, among them Burger King, Wendy's, McDonald's, and Swift, Grandin advises on practices that improve animal quality of life. Humane livestock facilities, designed by Grandin, currently make up half of those used in the U.S. and Canada alone. She has authored numerous publications on the livestock industry and animal behavior, including the best-sellers Animals in Translation and Animals Make Us Human.
Dr. Grandin became interested in animals while attending a boarding school where they kept dairy cows and horses. This led her to pursue a career as a scientist and livestock equipment manager. Before earning her Ph.D., Grandin was the livestock editor for the Arizona Farmer Ranchman and an equipment designer for Corral Industries. She received her B.A. in psychology from Franklin Pierce College, her M.S. in animal science from Arizona State University, and her Ph.D. in animal science from the University of Illinois.
Grandin has appeared on major television programs such as ABC's Primetime Live and 20/20, CBS's 48 Hours, CNN's Larry King Live, NBC's Today Show, and has been featured in People Magazine, The New York Times, Forbes, U.S. News and World Report, and Time Magazine. Among her many achievements are being named in Time Magazine 2012 as one of "The 100 Most Influential People in the World," receiving the Meritorious Achievement Award from the Livestock Conservation Institute, being named a Distinguished Alumni at Franklin Pierce College and receiving honorary doctorates from McGill University, University of Illinois, and Duke University.
In 2010, HBO released the movie, Temple Grandin, based on her life. The movie garnered 15 Emmy Award nominations, and won five including the Emmy for outstanding made for television movie and best actress in a drama (actress Claire Danes). It also won a Golden Globe and Peabody Award.
At Adelphi, autism awareness and education is incorporated into campus initiatives and curriculum. In 2006, Adelphi established an Autism Task Force, made up of Adelphi faculty who are experts in the field of autism, with the purpose of discussing and promoting autism-related activities on campus. The Ruth S. Ammon School of Education includes courses on autism as part of its degree programs in special education and offers a graduate certificate program in Autism or Severe or Multiple Disabilities. For Adelphi students with Autism Spectrum Disorders, the Bridges to Adelphi is a multifaceted intervention program that includes coaching, learning strategies, behavioral modeling, and peer mentoring which addresses social, academic and vocational areas. Since its launch, the program continues to grow, with a current total of 75 students enrolled.
Tickets are free for both Adelphi students and for the General Public. Reservations are required. Tickets will be available by telephone, or in person at the Lucia and Steven N. Fischer Box Office (located in the lobby of the Performing Arts Center and by phone at 516.877.4000. Box Office Hours: Tuesday-Friday from 1:00 to 6:00 p.m.
Due to overwhelming demand, tickets for the Temple Grandin lecture are available for the simulcast only (announced on September 6). The simulcast will be presented live in the Adelphi University Performing Arts Center Concert Hall. Doors open at 6:30 p.m.
---
For further information, please contact:
Todd Wilson
Strategic Communications Director 
p – 516.237.8634
e – twilson@adelphi.edu