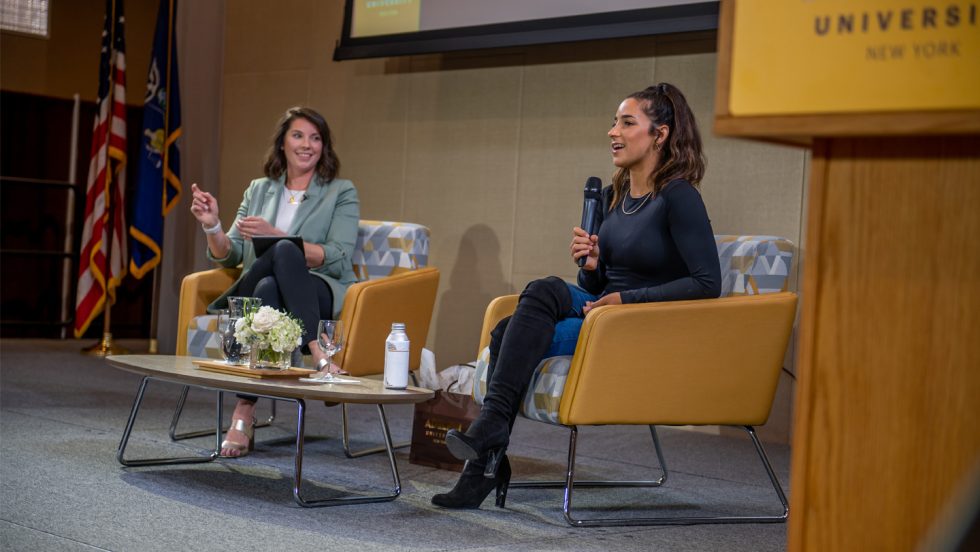 Throughout our 125-year history, many of Adelphi's women leaders were the only women in the classroom, boardroom or corner office—and had to blaze a trail for the women who followed in their respective fields.
This sentiment also held true for the alumni and guest speakers at the Fifth Annual Women's Leadership Conference. Usually held in November, the conference was moved to March 26, 2022, to coincide with Women's History Month. Themed "125 Years of Women in Leadership" in honor of the University's milestone anniversary, the event celebrated the school's long history of educating and developing leaders. From Adelphi's beginnings as an all-women's college in 1912 to the formation of one of the first dance departments at an American university in 1938 (under the guidance of dance legend Ruth St. Denis), and the training of WWII nurses in 1943 to Christine M. Riordan, PhD, becoming the 10th and first woman president of Adelphi, the University continues to support and prepare women leaders—of today and tomorrow.
More than 350 mostly female participants attended this hybrid event. Professionals from a wide field of industries shared valuable expertise in powerful networking presentations and conversations. The fifth conference, held in the newly renovated Ruth S. Harley University Center and via livestream, included a kickoff and four breakout sessions, as well as a dinner where the headline keynote speaker was author, advocate and gold-medal-winning Olympic gymnast Aly Raisman.
Adelphi will continue our mission of creating stronger futures for women and finding ways the University can be the catalyst for meaningful change. A new strategic plan, Momentum 2, will guide the University through 2027 as we build on our illustrious past educating the women leaders of tomorrow. One way that the University plans to continue to do that is with this daylong Women's Leadership Conference, focusing on helping the women—and men—in the room take away valuable skills they can apply to their careers.
President Riordan credited the audience for making the choice to attend. "What I love about this conference is for all of us to accept the challenge of helping pave the way, not only for ourselves, but for all women and to really become dedicated servants to helping women succeed in life and in their career."
Fight for the Changes You Want
The day began with an armchair conversation titled "Leadership Lessons Learned: A Conversation With Trailblazing Women" and featured LeeAnn Black '83, chief operating officer at Latham & Watkins, as the moderator, who is also a co-chair of the event; President Riordan; Marjorie Magner, a founding member of Brysam Global Partners; and Trustee Carmen Ortiz '78, JD, '12 (Hon.), a partner at Anderson & Kreiger LLP. The panelists focused on empowering other young women leaders to fight for the change they want to see.
Magner, who spent 45 years in financial services, said that what matters is not the job titles she had or the work she did, but the reality that she was in the minority for so many years.
"I hated that and I made commitments all through my career that I would do everything I could to see that it was not the way it would be in the future," she said. "My mission was that for each generation of young women it would be easier, faster and more fulfilling, and they would have the opportunities that were not available to me without a fight."
Four Inspirational Breakout Sessions
The kickoff was followed by four breakout sessions held simultaneously throughout the afternoon.
"Shattering Expectations": Moderated by Thomas J. Ward Jr. '93, Adelphi's assistant vice president for career development and strategic partnerships. Panelists: Trustee Emerita Lois Schlissel, JD, counsel and former managing attorney at Meyer, Suozzi, English & Klein PC, and one of the event co-chairs; Elizabeth Daitz '02, JD, assistant commissioner of the Suffolk County Police Department; and Malika Grayson '11, PhD, program manager at Northrop Grumman.
"Caring for Every Body (and for Ourselves)": Moderated by MaryannForbes, PhD '99, interim dean of the College of Nursing and Public Health (CNPH). Panelists: Chelsea(Wollman) Imbriano '14, registered nurse in the Neurosurgical Intensive Care Unit at North Shore University Hospital; and CNPH assistant professors Marissa Abram '08, PhD '17, and Deborah Ambrosio-Mawhirter '81, MS '96, EdD.
"At the Forefront of Change": Moderated by Manoj Pardasani, PhD, dean of theSchool of Social Work at Adelphi. Panelists: Christine Tiedemann, a New York state–certified holistic health coach; and Lynda Perdomo-Ayala '78, administrative department head at the Renaissance School of Medicine at Stony Brook University and a founding member of Adelphi University's Women's Giving Circle.
"Climbing the Ranks": Moderated by Jacqueline Jones LaMon, JD, Adelphi's vice president of diversity, equity and inclusion. Panelists: Nicholas Iadevaio, MBA '00, vice president of diversity, equity and inclusion at L'Oréal USA; Joseph Moscola, MBA '06, executive vice president of enterprise services at Northwell Health; and Trustee Humera Qazi '93, managing director at Morgan Stanley, also a conference co-chair.
The event ended with the headliner Raisman, America's third-most-decorated female Olympic gymnast, who was the team captain for the gold-medal winning U.S. Women's Gymnastics teams in 2012 and 2016. Emily Dorko '13, MBA '15, Adelphi's NCAA senior woman administrator for athletics, led the conversation. Raisman spoke about her experiences as a gymnast, the need for self-advocacy and her courage in surviving sexual abuse. Among the many tips she shared was this: "Put your mask on before assisting others. Being a good leader is prioritizing yourself. I'm better when I'm happier."
History of the Conference
It is exactly these honest and moving conversations by the speakers and the impacts they had on the attendees that were the goals of the Women'sLeadership Conference when it was just an idea six years ago. At that time, Qazi, who has been a member of the Adelphi University Board of Trustees since 2016, was serving as co-chair of KPMG's Network of Women for Long Island. She says it was the school's history of being traditionally more heavily weighted toward women that made her question what leadership opportunities besides clubs were available on campus. That's when she suggested to President Riordan that they start a women's leadership conference that reflects women's leadership, not just for students, but faculty, staff and the community. She says the president and others ran with it from there.
That first year the event was held in one room with about 70 people. Qazi said it has steadily grown since then, not just in terms of participation, but also in the nature of conversations taking place, the number of panels and the types of guests now attending, especially keynote speakers. "There weren't any that first year, but look at the gravitas of the event that we just held and having an Olympian gold medalist come be the keynote," she added.
One of the ways the University has been growing the conference has been engaging local high schools and applicants, which can serve as a pipeline for leaders on Long Island and beyond. Participants include Adelphi's Hispanic Community Partnership Program and Prize for Leadership recipients. Organizers have also been cross collaborative, partnering with the Center for Student and Community Engagement and Center for Career and ProfessionalDevelopment, engaging both female staff and students. With the momentum from this successful fifth year, the goal is to put Adelphi on the map as a change maker in this area, that, as Qazi said, "draws attention to Adelphi and raises our presence in the region. Hopefully someday we can get it to a national level."
Qazi added, "The intent really is to amplify our women, to give our women at Adelphi the awareness that they can reach for higher, they can reach for better, they can be equal. My foremost goal was to share stories, share experiences that others have had who have come before us so that our younger women can hear them and know them and be inspired. At the core, that's what I hope we can achieve through this."
Save the Date
The Sixth Annual Women's Leadership Conference will be held on Saturday, March 25, 2023.
What Attendees Are Saying
Current students and alumni attended the breakout sessions. Here's what some of them had to say about how the speakers inspired them.
"My greatest takeaway was that you have to do the best you can, there will always be challenges that discourage you, but you have to remember what you are working toward. Every great leader has failures, and it's about embracing those failures and learning from them, as they motivate you to continue pushing onward."—Bianca Viana, junior, nursing major and Levermore Global Scholar
"Boldness is a personal value, not being afraid to take risks and make headway. That's what a lot of the women had to do in their own life and struggles. It's something I want to do in both my career and in my personal goals of navigating the University and meeting people. It's good to learn from leaders and their own experiences so I can become my own leader as well. I benefited from listening."—Jonathan Brill, junior, social work major
"I learned the value of the ability to listen … and that it's important to identify mentors, that it's okay to not navigate everything alone, and to find people who can help you."—Eilean Calderon '15, MA '18, family medicine residency coordinator at Good Samaritan Hospital
"I learned you have to be assertive, but you have to show empathy to your co-workers and your team. I just learned so much about all the inequality toward women in the workplace and that it's in every industry, unfortunately. But their stories were all so inspiring because they all rose above everything and they've definitely paved the way for people like me."—Remy Wang '22, journalism and public relations major
At the Helm of the Women's Leadership Conference
We have our conference co-chairs and our Steering Committee to thank for making the Women's Leadership Conference a resounding success.
Conference Co-Chairs:
LeeAnn Black '83, Chief Operating Officer, Latham & Watkins
Trustee Humera Qazi '93, Managing Director, Morgan Stanley
Trustee Emerita Lois Schlissel, JD, Counsel and Former Managing Attorney, Meyer, Suozzi, English & Klein PC
Steering Committee:
Trustee Loretta Cangialosi '80, Retired Senior Vice President and Controller, Pfizer Inc.
Anita D'Amico, PhD '84, Vice President of Products, Synopsys Inc.
Hatice Dalton '94, MBA '96, Managing Director, Deloitte & Touche
Nicholas Iadevaio, MBA '00, Vice President of Diversity, Equity and Inclusion, L'Oréal USA
Chelsea (Wollman) Imbriano '14, RN, Neurosurgical Intensive Care Unit, North Shore University Hospital
Joseph Moscola, MBA '06, Executive Vice President, Enterprise Services at Northwell Health
Lynda Perdomo-Ayala '78, Administrative Department Head, Renaissance School of Medicine, Stony Brook University
Carolyn "Cari" Quinn '87, Executive Director, Northwell Health, Cohen Children's Medical Center
Christine Tiedemann, NYS Certified Holistic Health Coach
Trailblazing Women in Adelphi's History
Frances Perkins, professor of sociology, 1910–1912
Perkins dedicated herself to social justice after witnessing the Triangle Shirtwaist Factory fire. She became President Franklin D. Roosevelt's secretary of labor, the first woman presidential cabinet member in U.S. history. It was in large part due to Perkins' insistence that the New Deal included progressive reforms such as unemployment assistance, child labor laws, a minimum wage and Social Security insurance.
Annie Marion MacLean, PhD, professor of sociology, 1906–1916
Dr. MacLean was one of the first women to pursue a career in sociology. Her research, including her 1910 groundbreaking study, Wage-Earning Women, painted comprehensive pictures of the conditions and disparities facing working women.
Ruth S. Ammon '42 and Carol A. Ammon, MBA '79, '10 (Hon.), DNP
The Ruth S. Ammon College of Education and Health Sciences celebrates the life and legacy of Ammon '42, a gifted teacher and an inspiration to her daughter, Adelphi University Trustee Emerita Carol A. Ammon, MBA '79, '10 (Hon.), DNP.
Betty Forest '47, PhD
As an undergraduate, Dr. Forest was encouraged by her mentor, Mildred Montag, EdD, to continue her studies. Dr. Forest earned her master's and doctorate degrees and practiced as a nurse before becoming a nurse educator. In 1965, she became the founding director of the nursing program at Quinsigamond Community College in Worcester, Massachusetts, and continued as director until 1990.
Mildred "Millie" Loughlin Kahane '49
One of the University's original U.S. nurse cadets, Kahane became the first executive director of the Alaska Board of Nursing. A trailblazer in her community health nursing field, Kahane credited her scholarship with enabling her to earn a degree and fulfill her career aspirations, and she established several endowments in her lifetime.
Christine M. Riordan, PhD
Dr. Riordan is the first woman to serve as president of Adelphi University. She is an internationally recognized expert on leadership development, team building and diversity and inclusion, and is recognized for her groundbreaking initiatives to personalize and transform the higher education experience.