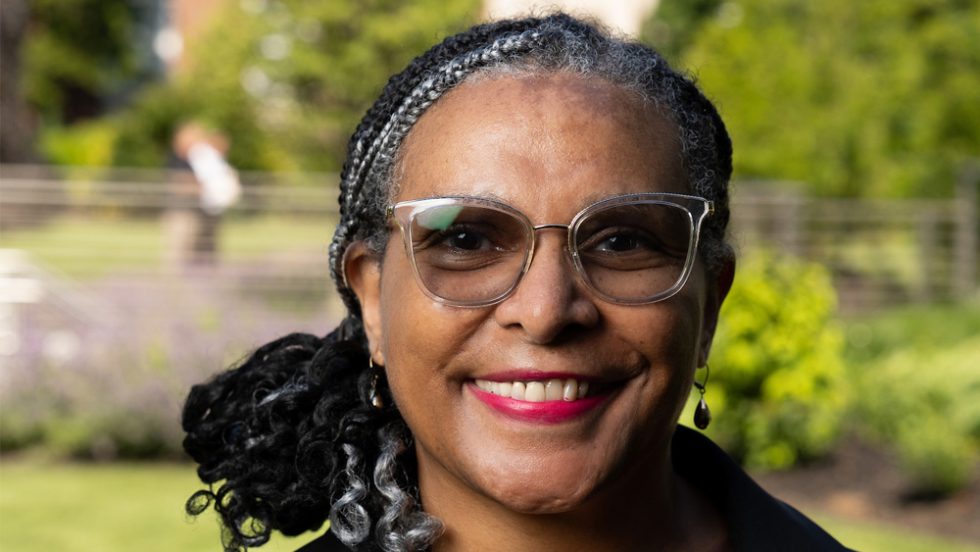 Dear Adelphi Community,
In December 2019, our university was fortunate to gain the service of Dr. Jacqueline Jones LaMon, JD, MFA, as its vice president of diversity and inclusion, bringing with her more than 13 years of prior leadership in the Adelphi community as a professor of English, program director for our MFA in Creative Writing program, chair of the Department of English, and associate dean of the College of Arts and Sciences.
With mixed emotions, I share Jacqueline's decision to retire from Adelphi this coming June 2023. While we wish her well in this exciting new chapter, we will certainly miss her.
Under Jacqueline's leadership, Adelphi has modeled a genuine commitment to diversity and inclusion, growing the division and community's focus to encompass equity and belonging. During her tenure, Adelphi achieved a five-star rating on the Campus Pride Index, was named a Top 40 Best of the Best for LGBTQ-Friendly Campuses, brought Juneteenth forward as an institutionally recognized holiday, supported the expansion of the Hispanic Community College Partnership Program, created our ViewFinders Film Festival with a focus on Social Justice, and spurred the development of school and college level DEI-councils. Jacqueline has offered significant leadership to our Diversity Student Mentoring Program. She has collaborated with the Office of the Provost on the Academic Diversity Implementation Team and Human Resources, Public Safety, and Student Affairs to facilitate training, dialogue, cultural awareness, and campus-wide forums with student leaders, clubs, organizations, and staff.
Thanks to Jacqueline's steadfast commitment to advancing the institution's DEIB agenda, Adelphi has received the Higher Education Excellence in Diversity award for five consecutive years—a national recognition awarded to the top 103 colleges and universities with outstanding commitments to diversity, equity, inclusion, and belonging. Jacqueline has raised our consciousness on social justice issues and has provided guidance on remaining vigilant toward sustaining an inclusive and welcoming campus community. This is just a small sampling of all Jacqueline achieved as vice president. I hope you'll join me in expressing appreciation for her work advancing a more equitable and inclusive Adelphi.
As we pivot to the future, I am pleased to share that Dr. Sentwali Bakari, current Vice President for Student Affairs, will expand his role to Vice President for Student Affairs and Diversity, Equity, Inclusion, and Belonging. With the Division of Student Affairs' recent launch of the University's Multicultural Center and Mindfulness Center—and the array of multicultural programs and events that occur throughout Student Affairs, including multicultural clubs and organizations and interfaith efforts—there is a strong synergy to advance student mentorship and equity-related initiatives, and DEIB work under Sentwali's leadership. In addition, Chotsani Williams West, MA, will expand her role as Assistant Vice President of Diversity, Equity, Inclusion, and Belonging, joining Sentwali and his team in managing the impactful DEIB portfolio.
Thank you, Jacqueline, for your leadership and to Sentwali and Chotsani, for charting our next path forward.
All the best,
Christine M. Riordan, PhD
President