The Wireless Scavenger Hunt concluded, and the results are in!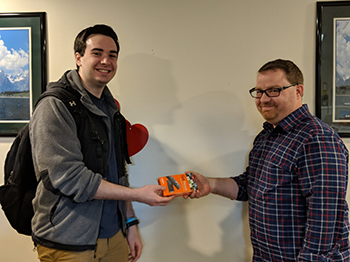 The Wireless Scavenger Hunt has concluded, and we want to thank everyone who participated and helped make it a success! The information received has helped us find a few weak points of access on campus, and we're currently reviewing how we can best address these spots and improve them moving forward. 
As promised, three winners have been awarded for their participation:
Eric McEvoy won an Amazon Fire Stick for successfully guessing that the Nexus Building had the most wireless access points on campus. There are a few people who guessed the Nexus, but McEvoy was selected at random as the lucky winner.
Kelly Hipp was also awarded an Amazon Fire Stick for winning our "Price is Right" style contest. Hipp guessed that we have 200 access points around campus, which was the closest without going over, but we actually have 486 different access points on campus. And thanks to continuous efforts by the networking team to upgrade wireless coverage, that number will only grow as time goes on. 
Awdifa Abdin won our grand prize, the Amazon Echo Dot, for helping us identify a wireless dead spot at the C-level stacks in Swirbul Library. 
Although the scavenger hunt is over, we encourage all to fill out our WiFi signal strength reporting form if you notice any weak spots on campus. Filling this form out will allow us to keep on top of the wireless network and ensure that any issues are resolved quickly. 
Follow us @AdelphiTech on Twitter and Instagram to keep up with what's going on with technology on campus!
---
For further information, please contact:
Todd Wilson
Strategic Communications Director 
p – 516.237.8634
e – twilson@adelphi.edu