The personal touch of the Adelphi International program gives students who come to Adelphi from abroad a pathway to success.
To travel to a new country for college or graduate school takes courage. To thrive in such an adventure takes the right support. That is where Adelphi International (AUI) comes in.
Launched in Fall 2016, AUI gives students who come to Adelphi from abroad a pathway to success. AUI is designed to help students acclimate to a new school, a new culture, a new language. The AUI advising team goes above and beyond to help students from across the globe feel at home on campus and in New York—the great city on Adelphi's doorstep.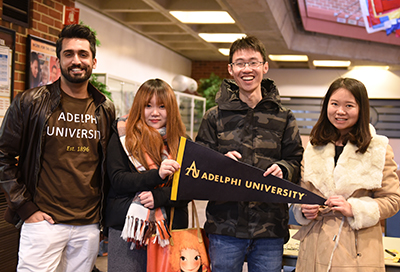 This January, AUI welcomed 160 students from 16 countries and four continents, bringing the total number of students in AUI to around 300. The students began their Adelphi experience with a weeklong orientation that encompassed everything from information sessions to social events.
"We hope to give our students a comprehensive glimpse of what they have in store for them at Adelphi University," said James Boney, Ph.D., managing director of AUI.
The students typically choose Adelphi because of its reputation and proximity to New York City, and what they find often exceeds their expectations.
An example: For students who live in the residence halls, AUI ensures that their beds are made even before they get to campus so they feel welcome the moment they arrive.
Beyond small classes, AUI students are paired with advisers who go out of their way to get to know them personally and ensure that they are feeling connected. That means helping students find places to eat that serve familiar food, and identifying temples, churches or mosques to join.
"Our approach at AUI is relational as opposed to transactional," said Dr. Boney. "In other words, we focus on cultivating a truly collaborative relationship with the students that goes well beyond the delivery of English language instruction."
What's the proof that this personal touch is working? "I am happy to report that our current satisfaction rating is north of 95 percent," Dr. Boney said. He also pointed out that the Net Promoter Score (NPS)—the likelihood that someone would recommend the program to someone else—is "at the level of companies like Google and Apple."
To learn more about AUI, visit adelphi-international.org.