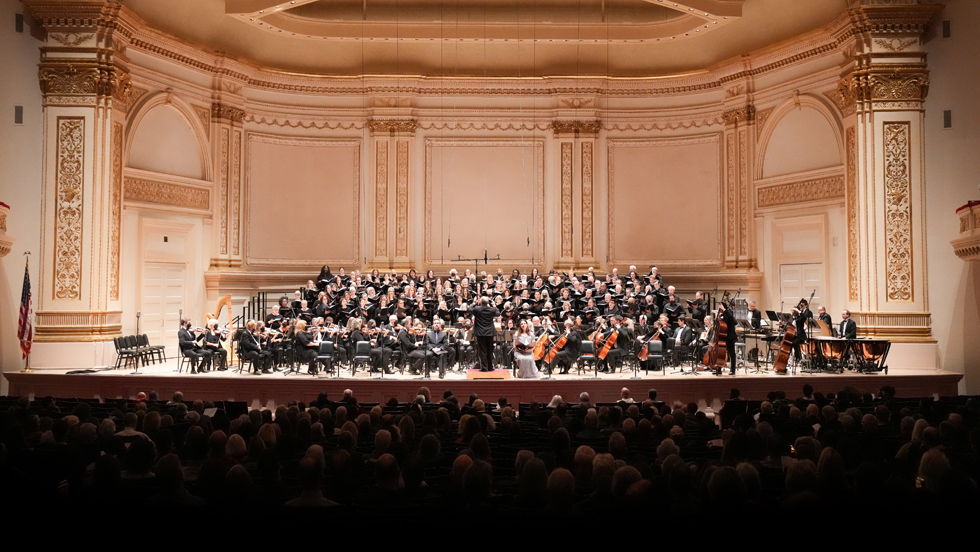 Adelphi faculty explore a century of American immigration through art, music and film.
Since the early 20th century, foreign-born people have accounted for anywhere between 5 and 15 percent of the total American population, but individual names and faces have rarely featured in the national conversation about immigration. This erasure inspired Adelphi faculty members to find creative ways of bringing the immigrant experience to life.
A Day on Ellis Island
In November 2022, Carnegie Hall presented the world premiere of a new oratorio, A Nation of Others, by Paul Moravec, DMA, University Professor of music, that dramatizes the stories of immigrants passing through Ellis Island on a single day in 1921. While Dr. Moravec and librettist Mark Campbell based their characters on real figures from the historical record, Dr. Moravec calls the piece "a work of imagination that offers a musically dramatic way of experiencing history."
Dr. Moravec chose the oratorio form, which features an exceptionally large chorus and orchestra, because it has traditionally been used to tell epic stories of timeless themes (think Handel's Messiah). "The story of American immigration is a big saga," he said. It's the story of most Americans at one point or another, but I also think of it as timeless and universal."
The piece, Dr. Moravec's fifth at Carnegie Hall, is part of his series of American historical oratorios, all of which spotlight the experiences of ordinary Americans involved in extraordinary events and circumstances.
Life as a Syrian Refugee
In 2015, Joan Stein Schimke, professor of communications, and her colleague John Drew, assistant professor of communications, were planning to make a film about migrants. "When we saw the image of the 2-year-old Syrian boy who washed ashore in Turkey, a boy who was trying to escape war-torn Syria with his mother and brother," Schimke said, "we asked ourselves: Why aren't we making a film about what's happening with Syrian refugees?"
The result is Saeed, a short film that Schimke reports would not have been possible without the dedicated group of Adelphi students who helped with production. Saeed tells the story of a family separated by the Syrian civil war and the lengths to which they must go to be reunited on Long Island. Since its release in 2019, it has screened in more than a dozen festivals around the world.
"I think people get so caught up in the terminology of immigration that they don't see immigrants as people anymore," Schimke said. "But seeing their stories in a film like Saeed will help people remember to humanize immigrants and hopefully lead to changes in immigration policy."
The Promised Land No More
The film El Padrino, written and directed by Terrence Ross, professor of communications, captures the experience of immigrants being hunted by U.S. Immigration and Customs Enforcement (ICE) agents—and shatters the myth of the American dream.
Ross turned to Adelphi alumnus Christopher Alvarez '20, a bilingual disability activist, reporter.
and filmmaker who was born with a rare form of thanatophoric dysplasia, to lead the cast. Alvarez plays Eduardo, a young disabled man who, after his parents are deported, helps a young woman evade ICE and flee to Canada for safety.
Faced with his own physical limitations as well as the lurking horror of immigration enforcement, Eduardo decides he is going to become "El Padrino," "the Godfather." Although he eventually wins the day, the moral of El Padrino is clear. "This movie shows that even though America used to take pride in being a nation of immigrants, we are no longer a refuge for them," Ross said.
The Border: Reimagined
In her multimedia art installation, Borderlands, Hannah Allen, associate professor of art and art history, combines inkjet and screen prints, video captures, and sculpture form to reimagine the U.S.-Mexico border. "This photographic landscape project depicts the border as a site that exists as both a symbol and as a physical place," Allen said. "The work invites audiences to question the nature of our borders and, in our increasingly digital and virtual reality, consider their relevance."
When the national debate on immigration exploded during the 2016 presidential election, Allen began studying the California-Mexico border wall on Google Earth. After several physical trips to the border, she merged the photographs she took there with Google's virtual images. This approach allows viewers to simultaneously confront the physicality and the abstraction of the border—and invites them to consider how it might look and function in the future. "It's just a fact that more populations will migrate and, as a result, the United States will continue to change," she said. "I hope viewers will embrace these changes."